It's officially spooky season and we are so excited to start planning some Halloween festivities.  To make your event special and memorable, make your own photo booth part of the celebration!  We've interviewed an expert, Avery Teichman of Nostalgia Photobooth to get you started.
Q: How do you go about setting up an at home photo booth?  
A: An at home photo booth could be built easily with a camera – either your phone camera or a DSLR camera and a tripod! Depending on what you want your lighting to look like, you could also use an external flash or additional light that can be turned on and off to nail the mood you're going for! 
What I use is a tablet that connects to a DSLR camera. Download the software called Dark Room and allow your guests to tap to start their own shoot!
Q: Any tips on getting the lighting right?    
A: Lighting all depends on the style that you're going for and what time of day that you're operating your booth. If you want a more bright, airy look then you would want to set up your booth near a well lit window or in a place with lots of overhead light. You can also get a lamp from around your house and place it close to where the subjects will be standing.
If you're looking for a moodier look you can go for a darker space and use a flash. This flash could be on your phone, your DSLR camera or you can purchase an external flash that you can connect to your camera. The external flash is what I have found to be the best option because it gives you the ability to adjust the brightness of the flash, the length of the flash and sometimes the temperature of the flash. It is best to have semi-direct light, especially whenever it's dark outside or in the space that you're taking photos in.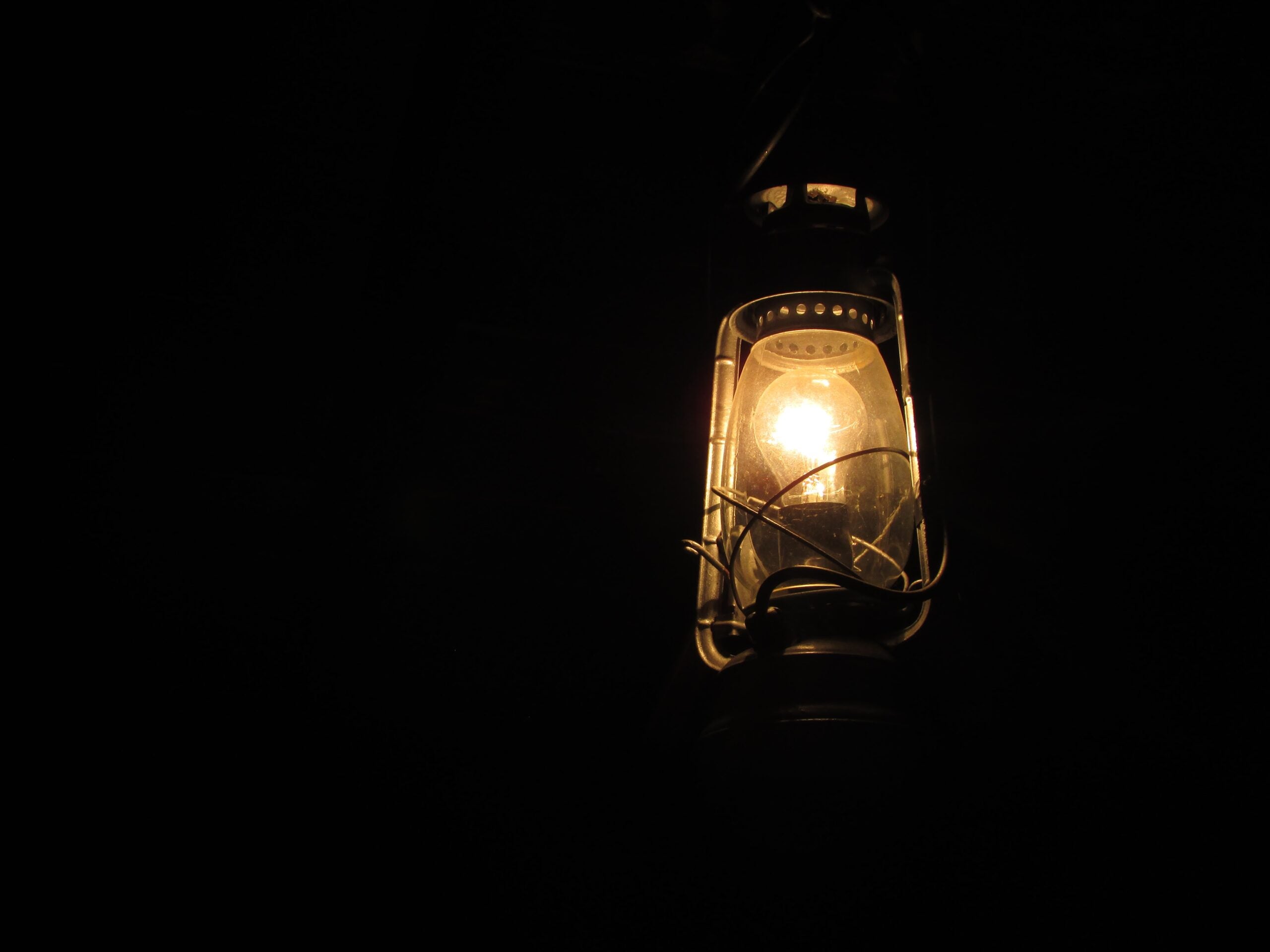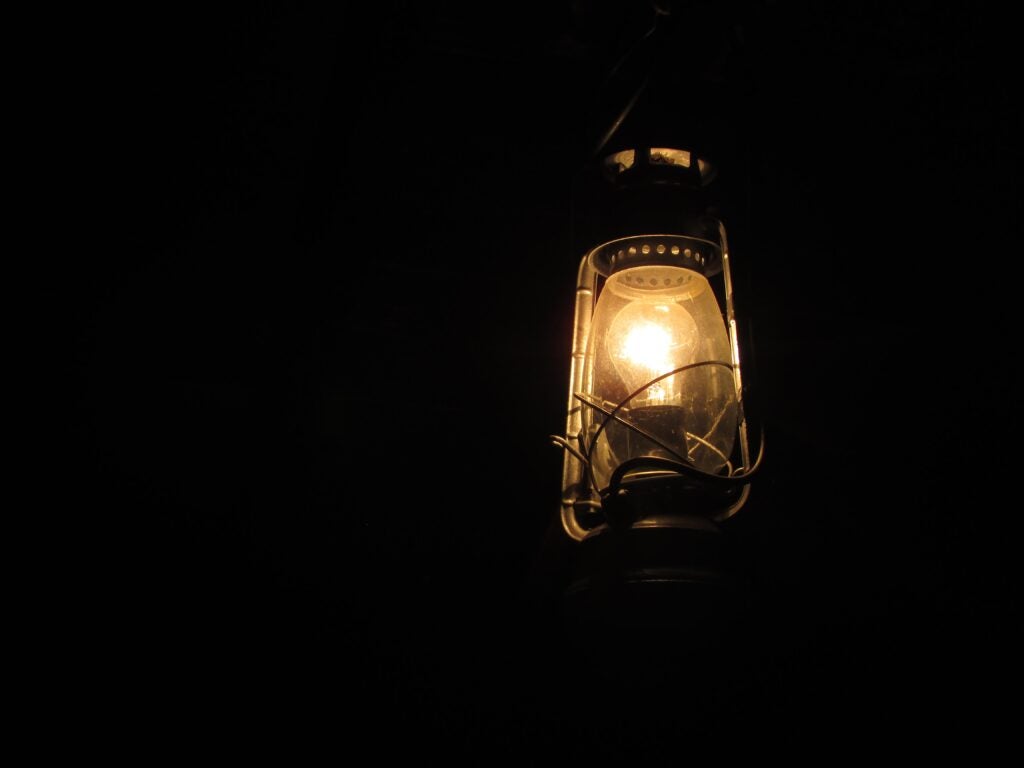 Q: What are some troubleshooting tips? 
A: I would suggest being sure that the focus is right at all times, as I know that as people get in and out of the booth things get jumbled around.  A lot of times the software that you can use will automatically send you a text and photo of the pictures that you've taken or you can just save the photos to your camera roll and send them to yourself after you leave the Photo Booth.  Don't forget to do a trial run, you don't want to be dealing with issues during the party!
Backdrop and Decorations
Now that you have the technical part sorted, time for the fun part -decorations!  Here are some ideas and tips.
Keep it simple.
It is easy to go a bit overboard with the backdrop, but keep in mind that your guests might already be in a crazy costume! So make sure your backdrop isn't too busy to the costume can be the main focus.  For a little kid's party, make sure it is not too scary!  A pumpkin patch with a bail of hay and some smiling skeletons wound go a long way.  For older kids, you can go gross – think bucket of eyeballs or pumpkins spewing guts.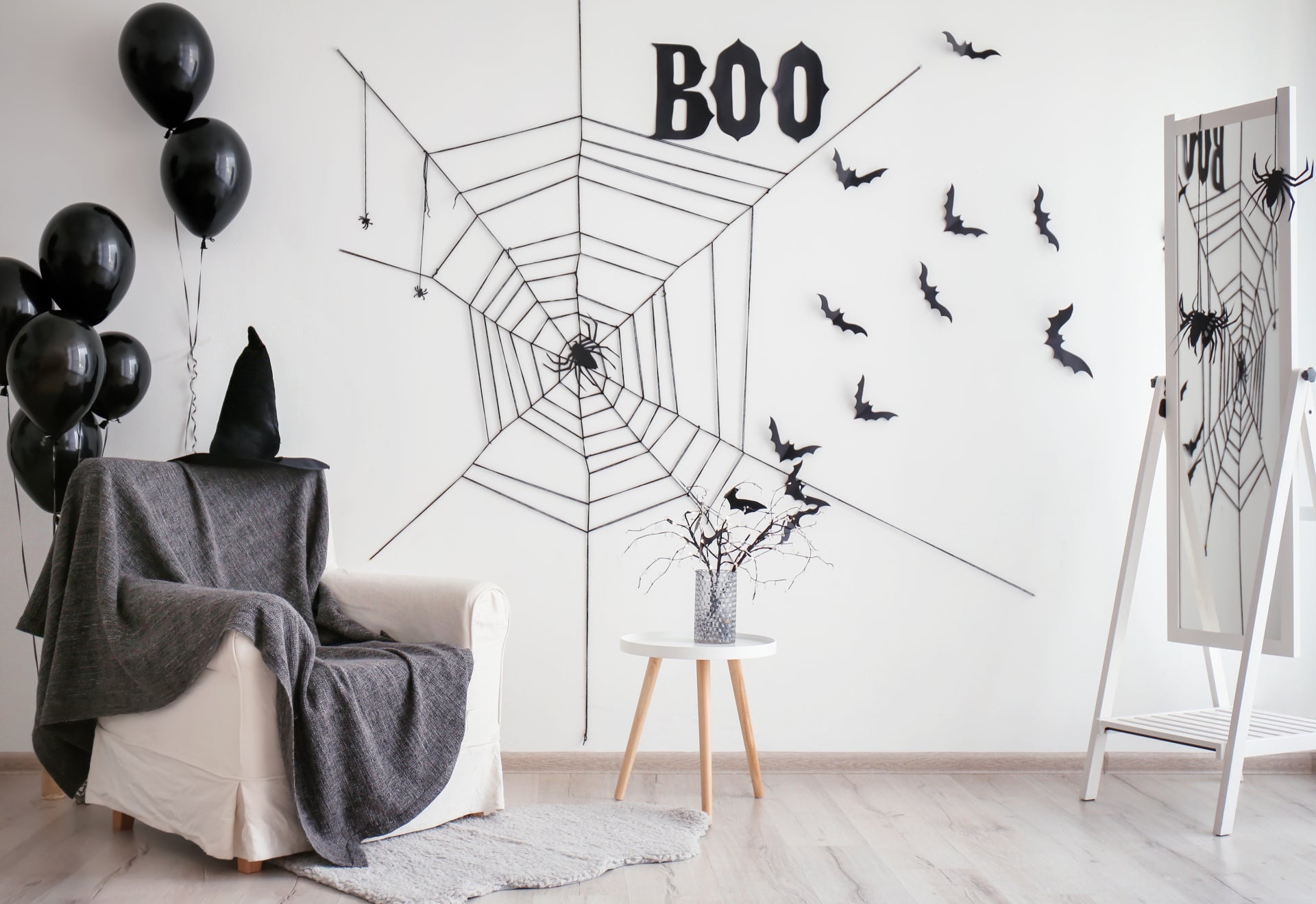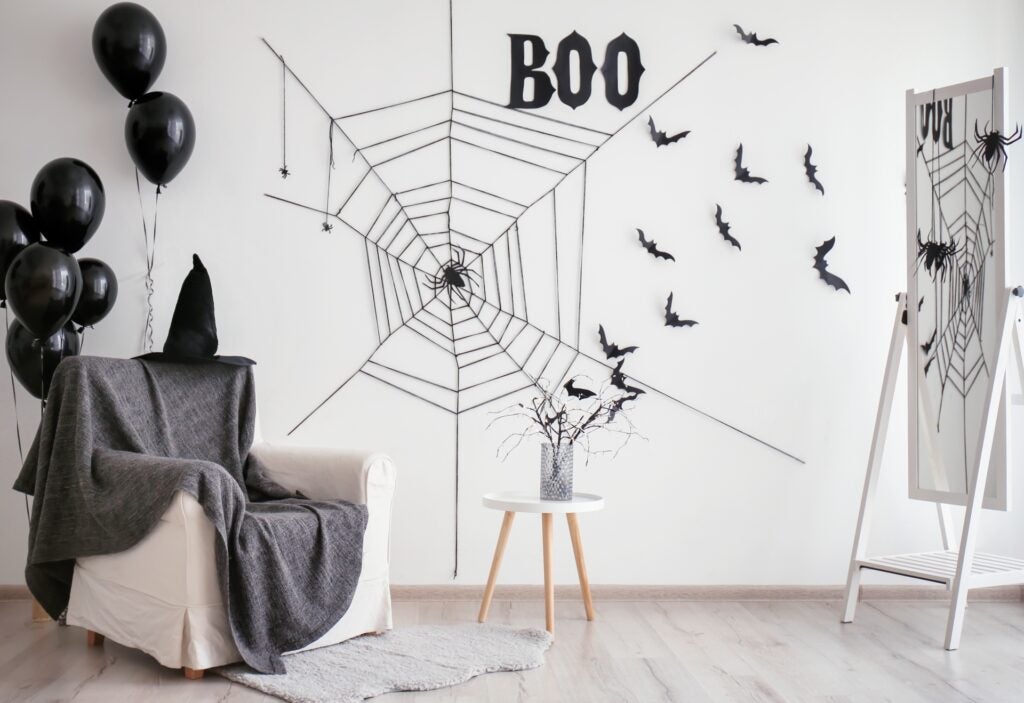 If your party guests are not the dressing-up type, set up a backdrop with a cutout for guests' faces.  You can find these online or, if you are crafty, make your own!
Keep it classic by placing an easy chair in front of a light colored backdrop and hang plastic spiders from the ceiling. 
Find some fun printable images that you can cut out and use for props.  Attach a paper straw to the back to make it easy to hold.  A fun one is masks inspired by classic horror movies!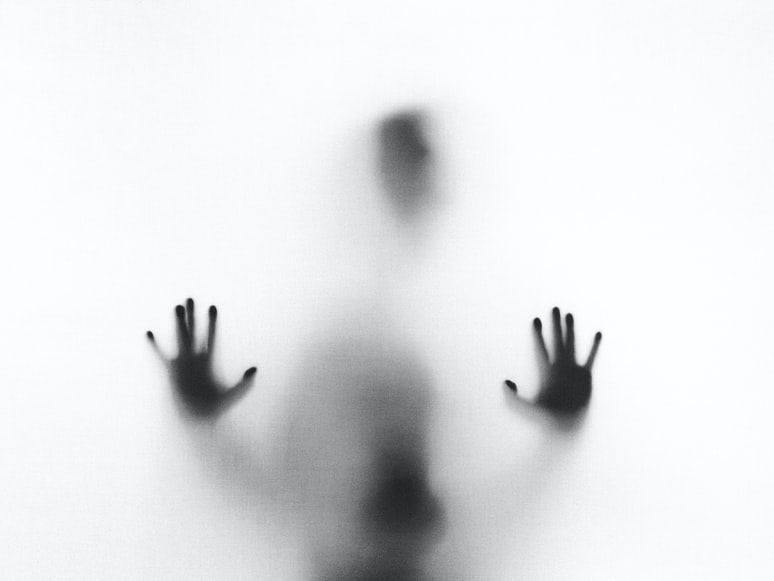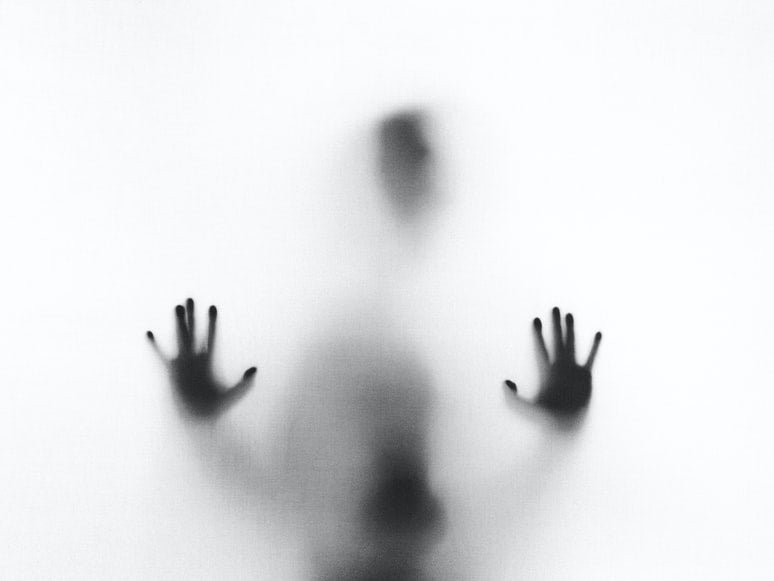 An easy backdrop idea is a bedsheet. Try to find one with a creepy tiny floral pattern or another old fashioned style.  This looks especially nice with black and white portrait photography. 
If you want to go extreme, make a mini haunted house.  You can rig a monster to jump out or bat to drop down and capture the fright on your guests' faces.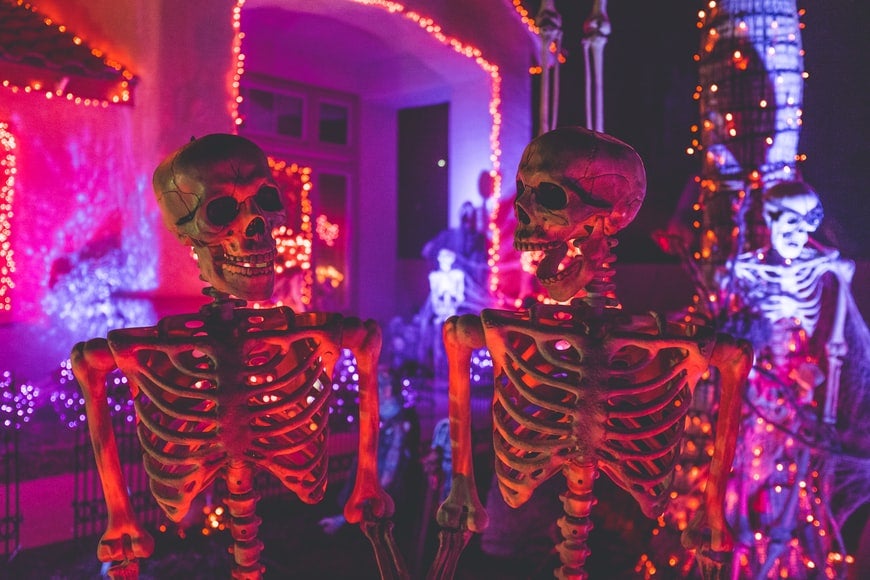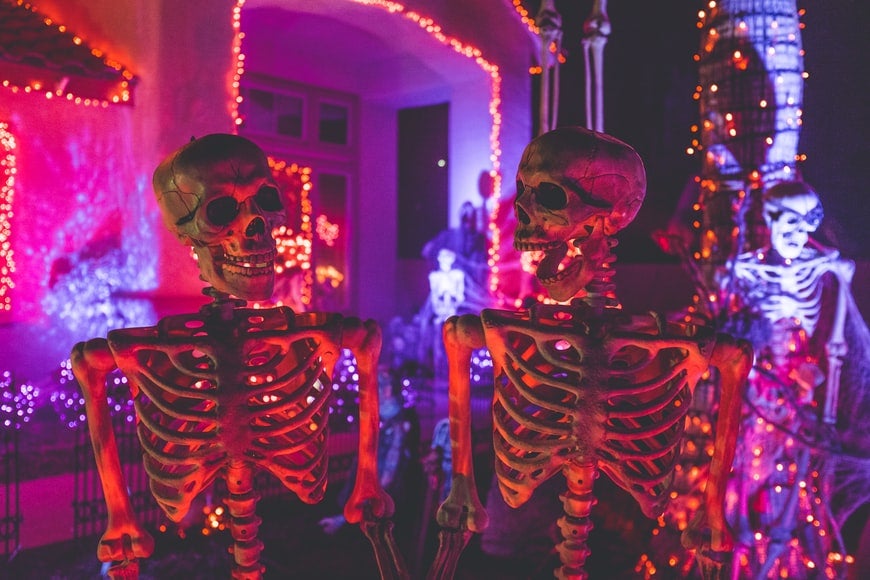 A graveyard can make a nice background.  Make some cardboard headstones, paint them grey and write an epitaph for the hosts and maybe some of the guests.  Add a fog machine for maximum effect.
Another easy but creepy idea is to get a bench and line up baby dolls.  All shapes and sizes work, preferably the old ones with the dead eyes.  Leave a spot in the middle for your guests to sit for their portraits.
Don't forget to send your pics to your guests, you can print out for them or send them the link to purchase the awesome book you can make.