It's Shark Week Y'all! Imagine diving underwater to capture stunning images of one of the ocean's most beautiful creatures – the shark! In the real world to get those kinds of photos, you'll need the right photo gear,  perfect timing and most importantly, nerves of steel. Grab a cup of coffee and pull up a chair as we spend some time with Sony Ambassador, James Ferrara the ocean and shark photographer.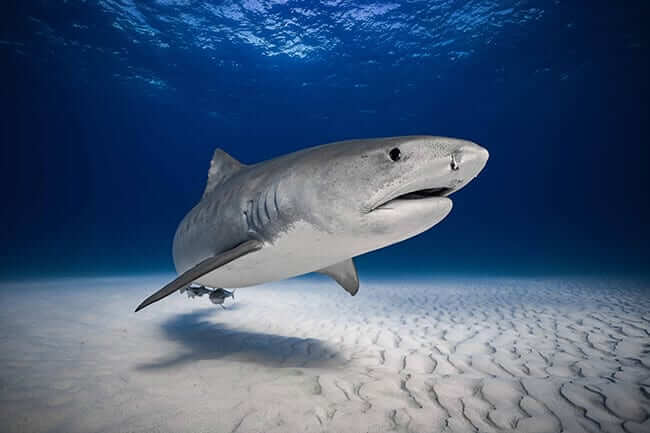 Tell us a little about yourself.
I'm a 35-year-old resident of South Florida. Living on the east coast has given me access to a life centered around the ocean. I grew up fishing, diving, and playing sports during my free time. I graduated college with a Business Degree from Florida Atlantic University, and have been working as a Firefighter Paramedic for the past 11 years in my hometown. I consider myself very fortunate to have a job I love that also allows me to travel and pursue my passions.
How Did you start in Photography?
Two and a half years ago, I only used a head-mounted action video camera and knew nothing about photography. I wanted to share my underwater adventures the way I saw it through my own eyes but found it hard to capture those moments through a video screenshot. A photographer friend of mine watched me struggle to edit these screenshots and said, "you've got a good eye for photography, you just need some better gear to produce a quality image
that you can perfect in post-production." The next week I bought my first Sony camera and underwater housing and have been hooked ever since!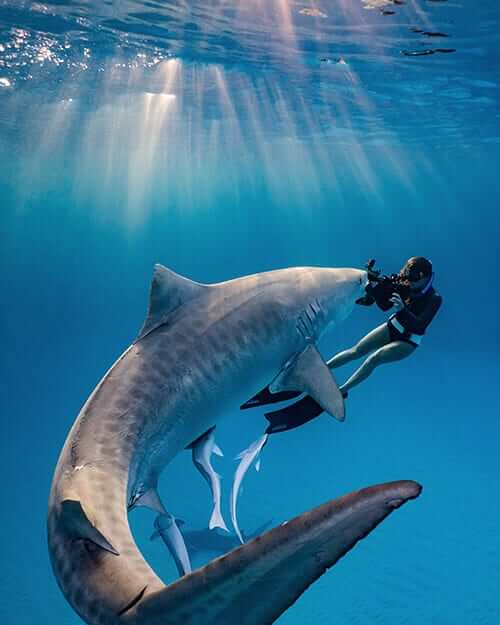 What is your go-to Camera and Lens combo?
Right now I'm shooting with the Sony A7rii, with an 18mm 2.8 Zeiss lens and Nauticam underwater housing. I enjoy the challenges of shooting with natural light, especially because it's more conducive for freedive photography.  I know you shoot a lot of pano underwater photography.
Can you walk us through how you plan and prep for such a day? All of my photography is shot while freediving, with one breath of air (no scuba tanks involved.) Because this is so physically demanding, I need to prepare the day before with proper hydration, rest, and nutrition. The weather forecast is an important part of planning any underwater shoot, as the wind, tides, and sunlight will drastically affect clarity conditions. Before entering the water, I do a complete check on the housing to remove dust and prevent leaks.
When shooting sea life, I don't plan any shots; I prefer to just wait and see what happens. Being dynamic is important because you don't always know what a wild animal is going to do. Their movements are unpredictable at times, so framing can be a challenge. The more time I spend in the water, the more I can maximize my opportunities. An underwater freedive shoot can last eight hours of the day with up to 80 dives to get the best shots.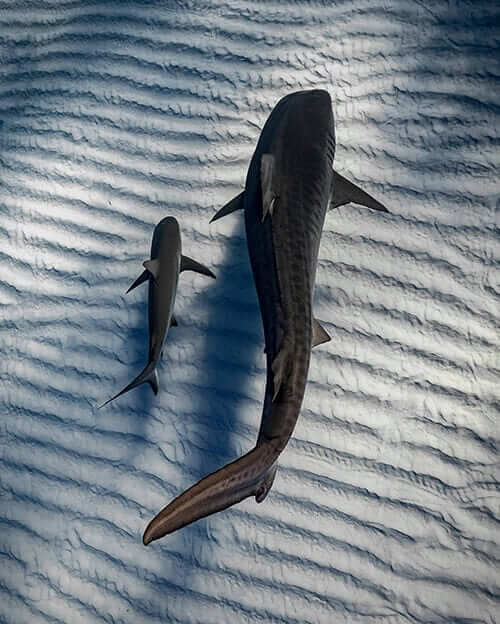 What type of training does someone go through to prepare themselves to swim with sharks?
Sharks are not the monsters that media and television make them out to be; but make no mistake, they are still wild animals that need to be respected and approached with proper understanding, knowledge, and demeanor. Stay calm and make your movements purposeful, while always keeping your head on a swivel. However, before you can even dream about swimming with sharks, the most important step is to become certified in the underwater discipline you enjoy. Whether it's scuba diving, snorkeling, or freediving, please get certified by a reputable agency. Safety is of utmost importance, and there are core concepts of diving that cannot be learned solely on the internet. Diving is significantly more challenging when coupled with photography, so you need to be
comfortable in the water before you can prepare to dive with apex predators. The more experienced you become at diving, the better your wildlife interactions can be. I hold an instructor level freedive certification and it has positively impacted my interactions with sharks. When you feel you are experienced enough to swim with sharks, choose a licensed shark dive operation with years of experience.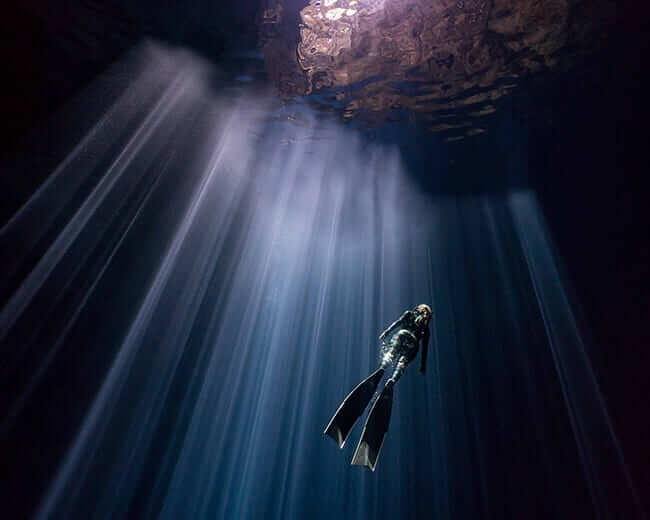 Best advice for new and upcoming photographers?
Number one advice is to decide what kind of photography you want to focus on, and then research the equipment that will help you achieve the shots you desire. The internet gives us endless information at the tip of our fingers, use it! Secondly, I realize we all have budgets and limitations, but it will pay off, in the long run, to invest in quality gear because you'll notice a difference in the outcome of your photos. Third, get out there, practice constantly, try new
techniques, and push your gear to its limits. I've had days when I've shot over 2000 photos and maybe only 3 were keepers. It's all about learning what works and what doesn't.
Thank you James. This interview originally appeared on the Sony blog. You can read the full article HERE. If you would like to see more of James' work you can follow him on Instagram at: @jferrara_photo or check out his website at:www.jferraraphoto.zenfolio.com