Which team are you on? Do you like a beautiful gallery wall in your home or would you rather keep it all contained to a picture ledge? Before you say gallery wall, you may want to check out our five favorite ways to style a picture ledge.
1. Layers
Layering your prints is probably the easiest way to show depth on the ledge with artwork and photos.  Mix sizes and frame colors on a single photo ledge to create a  dramatic statement piece in your room of choice. It's easy to change out the artwork with each season, and the best part? No nail holes!
2. Classic
So this timeless look is more for those that love an orderly and streamlined view of artwork. Choose either all black and white photos or color photos with the same color scheme. Pick the same size photo, orientation and frame and mat color to create this cohesive look.
3. Mix Objects with Art and Plants
You can infuse more personality into your picture ledge by adding a few pieces of art or personal objects to the picture ledge. Those souvenirs from your vacation? Add them! Your favorite books? Add them! Cute little plants? Add them. Just keep in mind most photo ledges are only a few inches deep and can only hold a certain amount of pounds.
4. Color Pop
Ready to decorate like a pro? Add a pop of color onto the ledge to tie the room altogether. You can either add an object with the color or take a look at your photos to see if you can find the color within the snapshot. As the saying goes, less is more.  One simple pop will stand out more than a shelf full of the same color.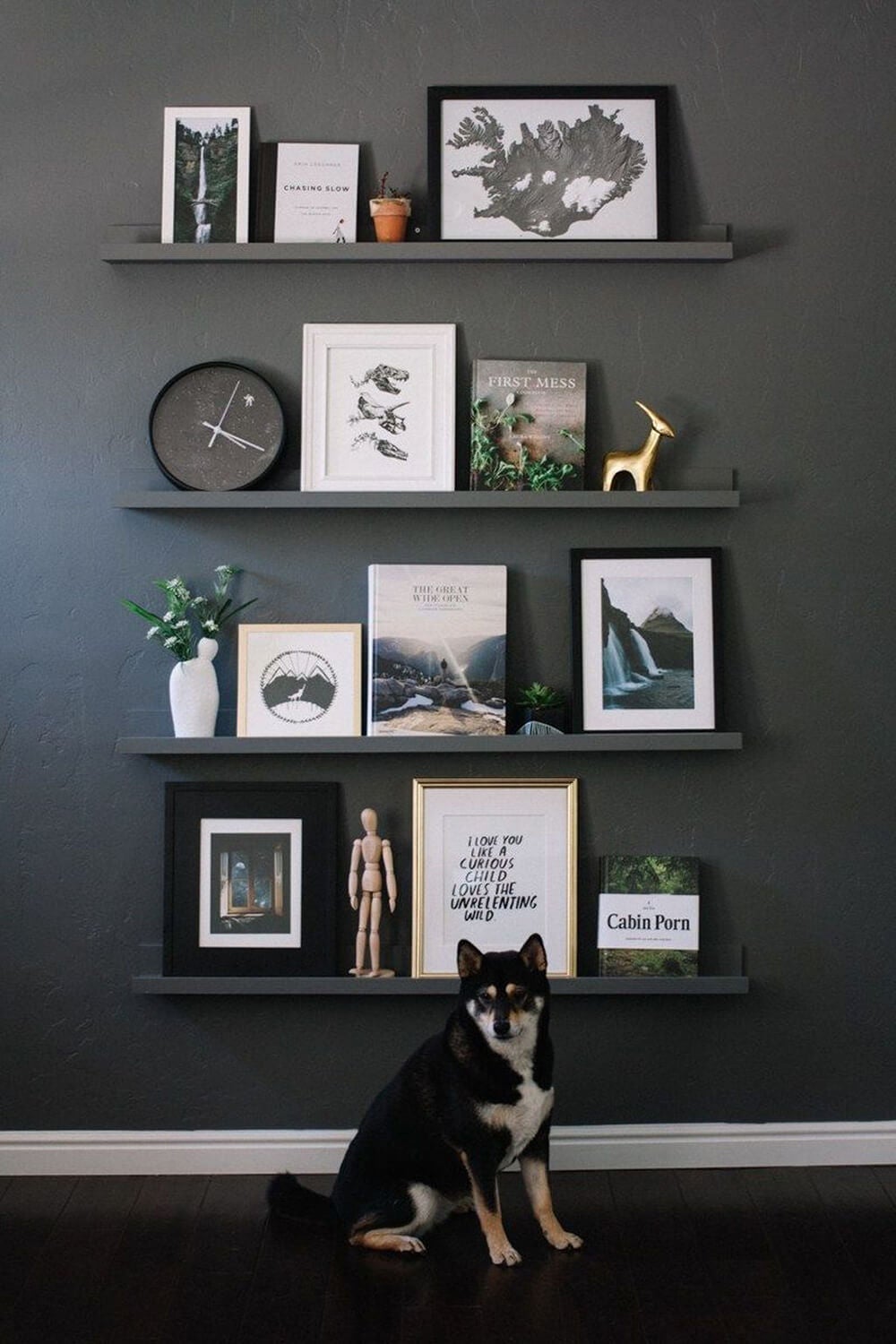 5. High Rise
Go up! This is the perfect solution for tight spaces. You can add more than one picture ledge and add height to your space. For a streamlined look, keep the ledges all the same width and distance apart. Add framed photos, canvas, metal prints, memorabilia, books anything you think looks great and makes you smile when you look at it.
Ready to order your framed prints to add to your picture ledge? Click HERE to start the fun. Still a fan of gallery walls? We can help you with that too! Become your own gallery wall designer by clicking HERE.