It can be a bit daunting trying to figure out how to hang acrylic prints with our stand off posts. You want the modern look, but putting four holes in your wall is not your idea of a pleasant way to decorate. That's ok, we've come up with a solution to still give that look you desire with very little effort. Read on for the full guide on how to hang our acrylic prints!
As many of you know, we have a number of options when ordering acrylic prints. You can choose from no mount, acrylic pedestal, wall mount and now announcing the new EZ Clip Back for our mounting posts. Here's a quick and easy guide on how to order this new option.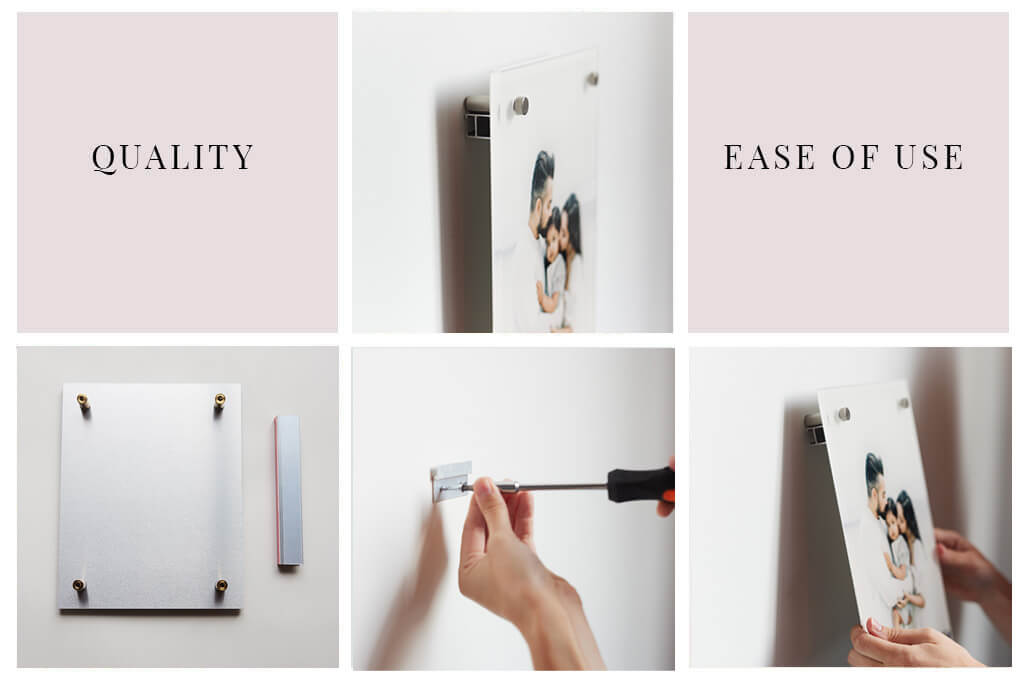 How to Hang Acrylic Prints with Posts
1. Order the mounting posts in your choice of finishes; silver, black, gold. Once you receive your acrylic print, you'll attach the mounting posts as usual.
2. You'll also find a metal cleat in the packaging. Simply, peel off the adhesive and apply it to back of your acrylic print. Make sure it is level and you'll put it on the upper quadrant of the print, preferably right under the posts.
3. Next, measure and attach your z-clip to the wall making sure it's level. On the final step, you'll slide your acrylic print onto your secure z-clip. And that's it, other than taking a step back and admiring your new, beautiful and modern acrylic wall print.
The new system is efficient and versatile allowing members to have the look of acrylic prints with mounted posts, but not having to struggle with the more involved standard hanging methods.
To help kick off the new EZ Clip, we are having a special promotion on sizes 8×8-20×20.
Use code: DECORACRYLIC25 to save 25%* on Acrylic Prints with Stand Off Mounts. Sale ends August 31, 2023 – 11:59 pm EST.
(*Restrictions apply, orders must be over $100)