Printing art is at the heart of what we do every day. Whether it's a snapshot of your family or an image that took you15 hours to perfect in Lightroom, every image is art to Printique. We thought we'd take a moment to introduce you to some of the amazing artists who find the freedom to create every day.
Printing Art – Digital Artwork
Meet Michelle Ellingsworth of Chaos and Wonder Design, a star seller on Etsy. Her on-line store provides digital files of her artwork for print on demand clients. One look at her amazing and whimsical artistry and it's easy to see why she has close to 27,000 in sales.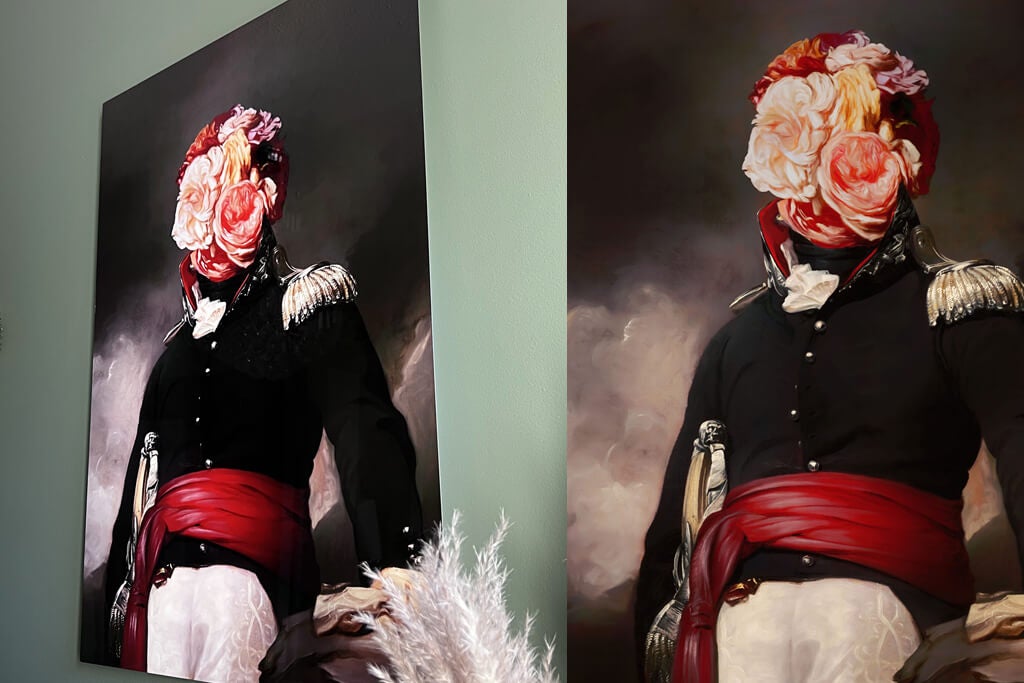 Printique: Where do you get your inspiration?
Art museums and natural history museums are my happy places, and I love old cabinets of curiosities. For me, history is all about storytelling. The use of vintage imagery in my work, whether directly or as a point of reference, is a great source of inspiration. When I look at an old portrait, I'm curious about the person's life, while a collection of butterflies makes me wonder about the collector and their motivations. I also appreciate the unique beauty and imperfections that objects gain over time.
Printique: What is your favorite creation so far?
I often obscure something in my work, be it with layers of texture, collaged objects, or paint. Some of my favorite pieces are portraits with flowers covering the faces of the subjects. It's unexpected and invites the viewer to take a second look.
My other favorites are moody scanography flowers. I use my Epson photo scanner as a camera and scan dried flowers. Then I layer the images with distressed textures from 19th-century Daguerreotypes and wet-collodion glass negatives. I like combining a modern method of capturing images with early photographic processes.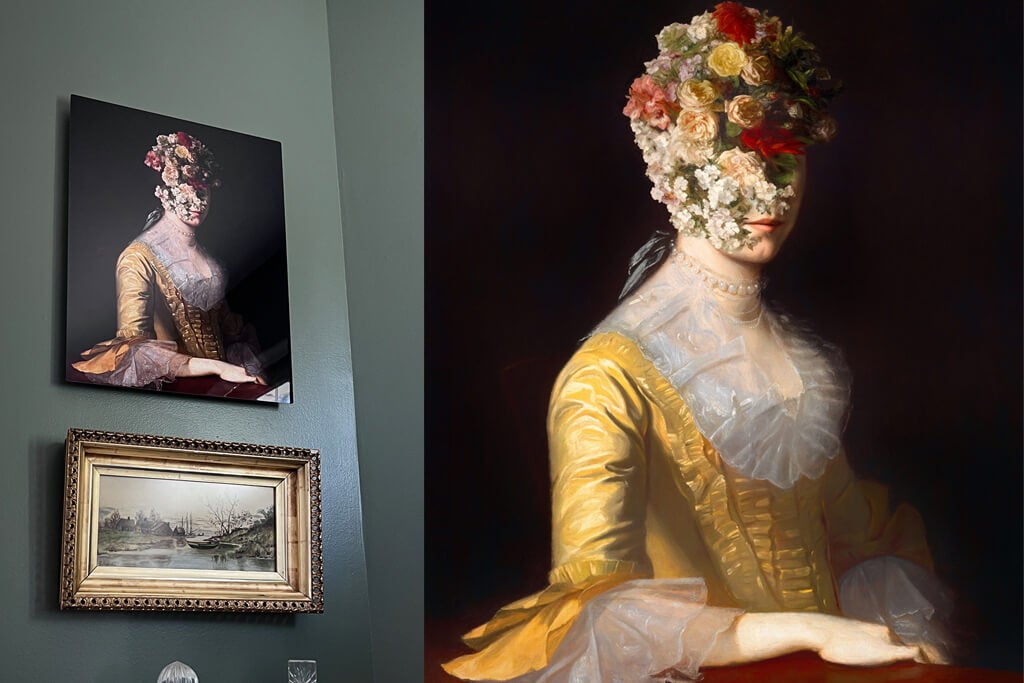 Printique: Why is Printique your go-to photo lab for your artwork?
Before I purchased my Canon Pro-300 printer for proofing, I ordered test fine art prints from Printique. I was impressed with the paper choices, ease of ordering, and the quality of the prints. I mostly print on fine art paper (giclee) and matte and luster photo papers, but I really want to try a metal print.
Printique: What's next?
This summer, I plan to make more monotypes and cyanotypes. Of course, I'll continue to work with portrait imagery and all the plant material and found objects I collect wherever I go!
Thank you Michelle for a glimpse into your world of creating and printing art.
Printing Instructions
The images you see in this post are large, art metal prints from Printique. Finish – white and glossy. When ordering artwork prints fom print on demand stores, you'll receive digital files. Upload those files into your Printique galleries. You can then choose your print product and simply transfer the files to your creation. Make sure your files are JPEG or Tiff in sRGB color space for optimum results.