Before the popularity of drones, photographers took to the skies themselves to get the perfect aerial shot. Let's find out how the freedom to create led one photographer to go high above the city to capture some breathtaking photographs and turn them into amazing, larger than life metal prints from Printique.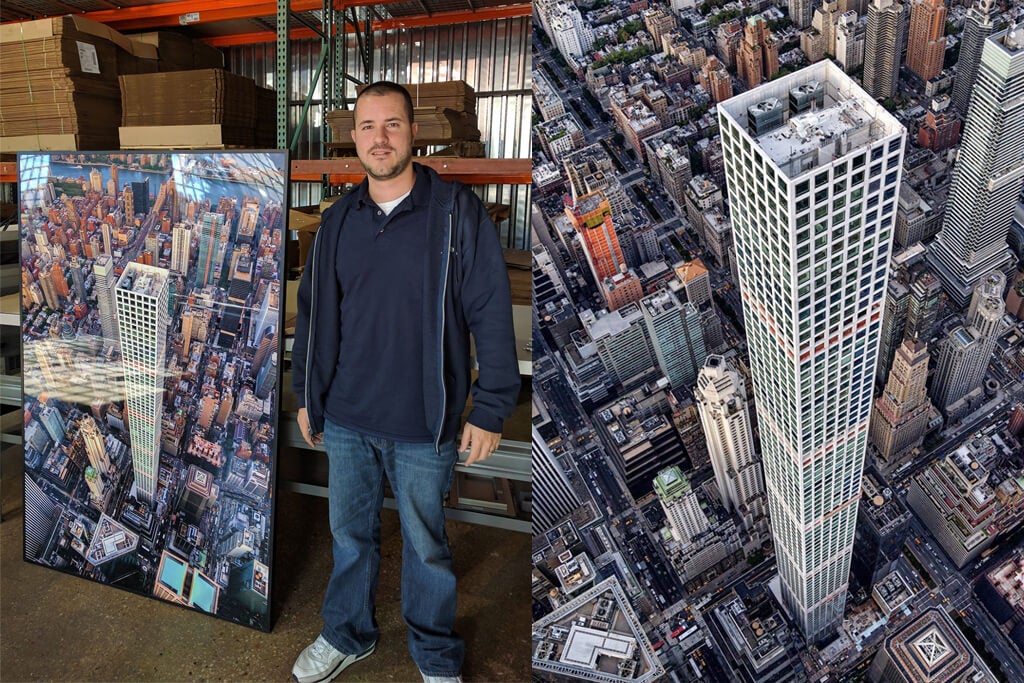 How Did You Get Your Start?
Hello Printique! I am a Brooklyn based freelance photographer for the past 13 years. I picked up photography back in 2009 when I was gifted a Canon Rebel XS and the rest is history. I was very big on capturing the ever changing city we call home. It's funny when I go back now and look at my images how insanely different the city was and how much has changed. In 2013 I got into wedding photography and spent the next 7 years driving all over Long Island every weekend capturing a special day for hundreds of couples. All while doing this I kept my passion of photographing NYC from the ground, from rooftops, from the air!
How Did You Find Your Groove?
I remember the first time I started seeing aerial photos of NYC. It was absolutely amazing. This was before the time of drones and I was always impressed by images photographers were capturing. For my birthday, which falls on July 4th, my family gifted me a trip with a local helicopter company back in 2016 to go up for aerials. My first flight ever was a late sunset flight on July 3rd. Sunset is amazing time to fly because of the colors but also difficult because of how fast night comes on and how quickly you must adjust settings. That flight I went up with two cameras. I had a 24-70 2.8 with me and a 50 1.2. The flight felt like a blur because it was my first time, I wanted to enjoy the views but also was a madman behind the camera shooting as much as possible. The Empire State Building was lit up a dynamic red, white, and blue for the upcoming holiday. I took a photo of the building using the 50mm that would later win their annual photo contest in the fall. From that flight on I was hooked. I have flown more times than I can count. Every time of day. Every time of year. Sunrise, high altitude flights in the middle of winter after blizzards. As we have moved forward with technology a lot of people think my images are all drone based so when I tell them it's by hand from a helicopter they are pretty shocked! It will forever be a passion that I will always try and keep going.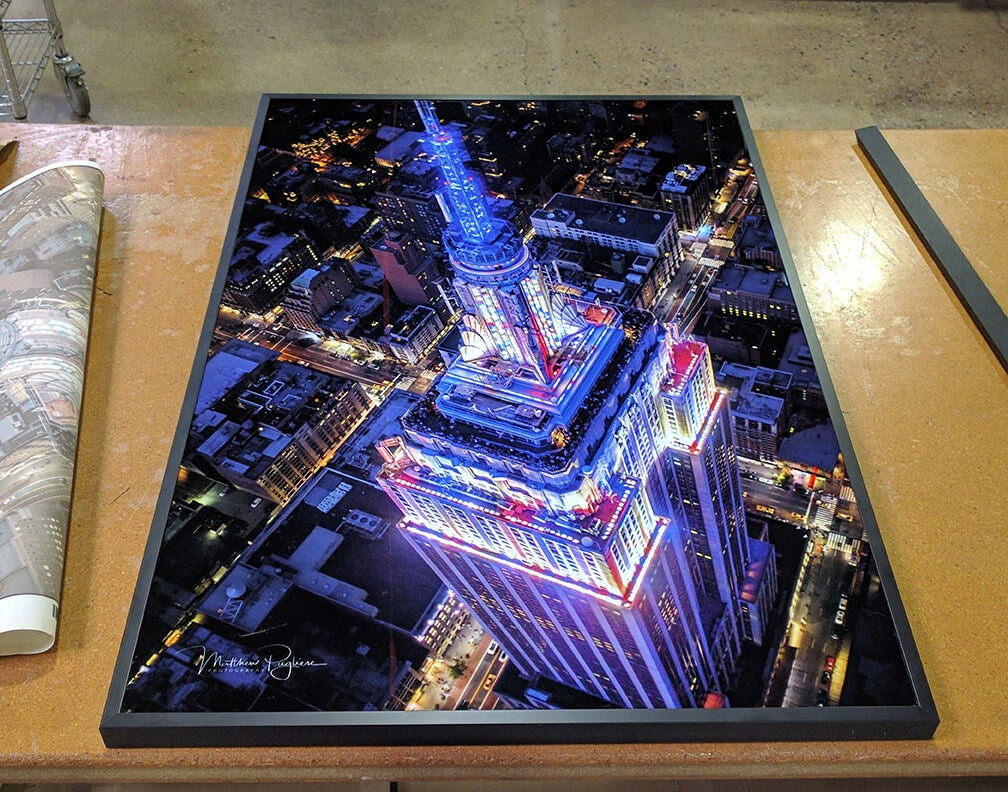 How do you get such clear shots from a moving helicopter?
Getting clear shots from the helicopter isn't as difficult as it sounds. Depending on time of day it can be even easier. A day flight, sunny/overcast, you will have far less things to worry about in terms of settings. Can almost set it and forget it on a flight like that. Sunrise/Sunset/Night where the lighting is changing the entire time you are up there you are changing shutter speeds, aperture, iso often. Those flights you want a fast lens. Night flights I always recommend a very fast prime. 35/50mm has been a nice sweet spot for those but because it's a prime your focal length is very limited based on where the helicopter is. During a private flight vs a public flight you can have more control over that situation by planning or even speaking to the pilot during the flight to direct them where to be. My look down shots of specific locations like the Empire State Building, Chrysler, World Trade Center and other super talls were all strategically planned over months of flying and seeing what I want or what I missed. I would go up with all intentions of getting "that shot." I would work with pilots for them to make agressive turns that bank the helicopter at and angle where I am basically looking straight down allowing me to capture that view by hand from a fast moving helicopter. Hold down the shutter button and keep firing. Don't waste time with checking files during the flight. Only if you have down time on your side of the helicopter other wise you may simply miss the greatest shot you will take.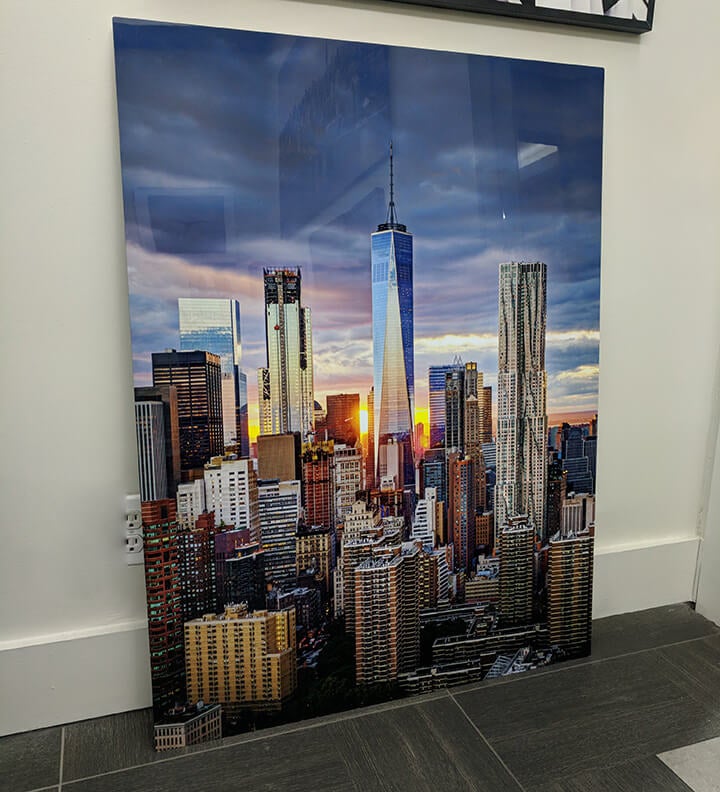 What's next for you?
I am actually starting to venture in real estate photography on top of capturing the city. I also work with local Brooklyn artist Tom Fruin who creates colorful, vibrant displays of water towers and houses that get set up in various areas of the city. I'm forever printing my work. I sell hundreds of prints each year to people all over the country who find me on Instagram and through a small Etsy shop. I've always been tempted by the idea of setting up a booth in the city numerous times to get my work even more seen which is something I may consider soon. Until then I will continue my passion of photography and capturing NYC. If anyone ever has any thoughts or questions regarding aerial/helicopter photography you can always toss me a DM through Instagram @mattpugs.
Printique Printing
Matthew prints on Printique Metal Prints. He prefers the white/glossy finish to bring his images to life. Like a true artists, he always signs th corner of his creations before giving it to his clients.