Ohara Koson (also known by Ohara Hōson or Ohara Shōson) is a celebrated Japanese painter who saw the peak of his career during Japan's shin-hanga (new prints) movement. He created more than 500 illustrations during his life, crafting a collection full of lively, naturalistic scenes – from birds and big cats to creatures of the sea. His artwork is full of energy and color, simply begging to be brought to life in print.
Could you be the printer these images have been waiting for?
Note: The download pages for each of the images below are linked in their accompanying text!
---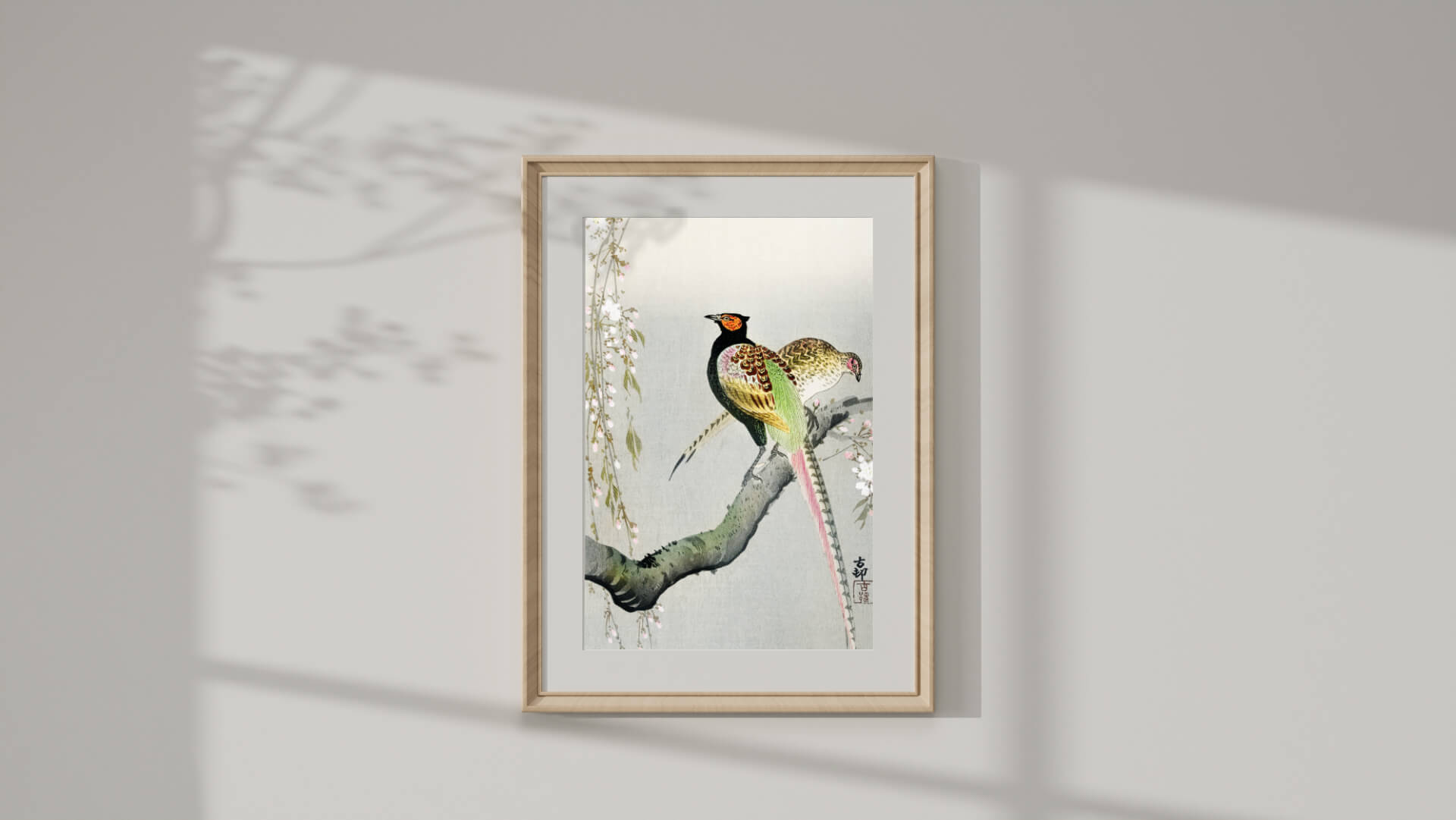 The Pheasant in the Tree
The delicate and vibrant nature of pheasant feathers makes these stunning birds the perfect muse for a wood blocking illustration. With the use of a gray background, Koson was able to give contextual boldness to the whites, light pinks, and light greens he laced throughout the illustration – and we can't help but applaud a job well done!
Get a free-to-use copy of this illustration here!
---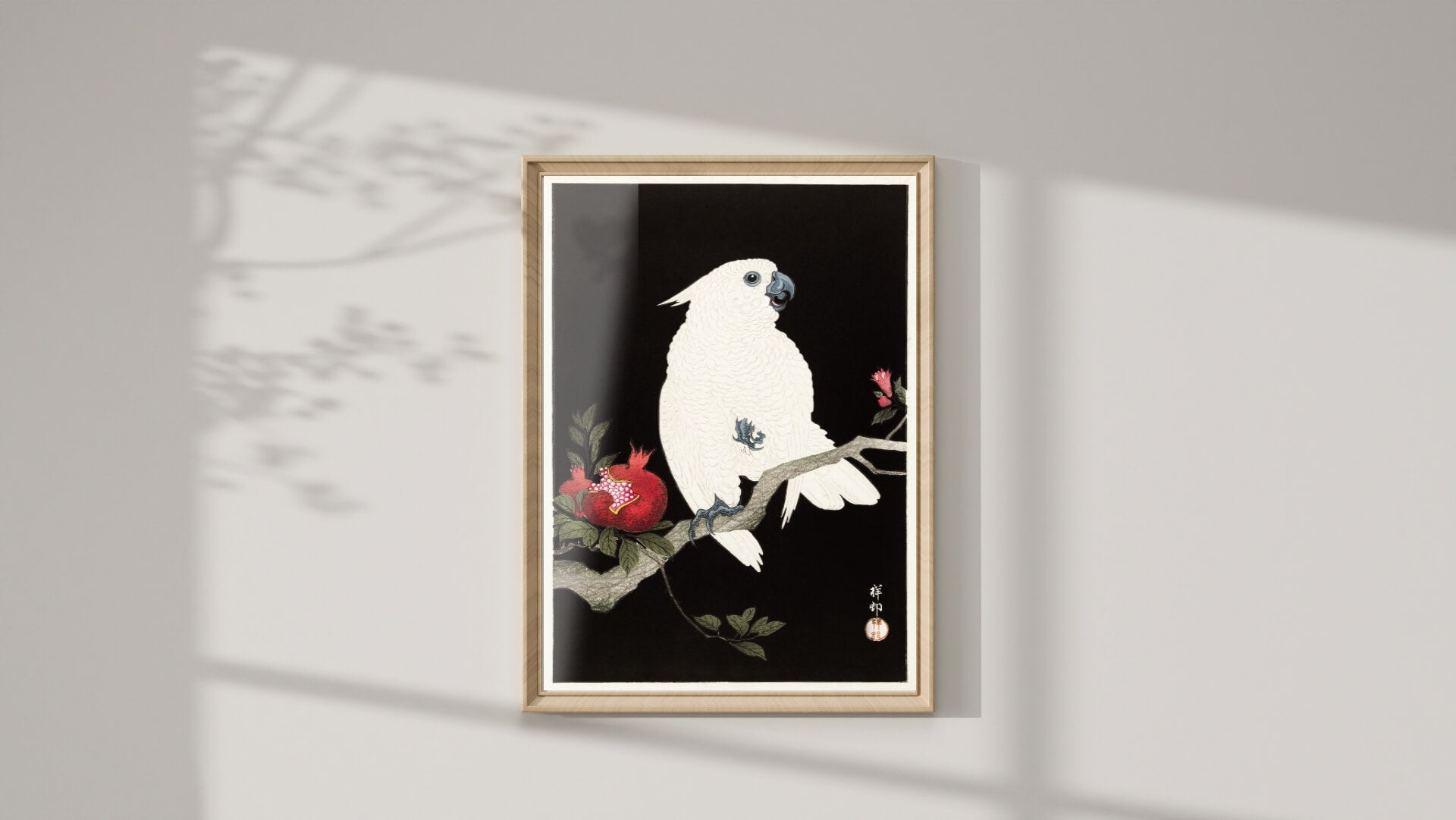 The Dancing Cockatoo
Add both character and beauty to your wall with this playful cockatoo illustration. Its deep black background makes it the perfect illustration for either a light-toned room seeking depth, or a dark-toned room seeking art that can hold its own.
Looking for a set? Pair this cockatoo painting with a painting of a cockatoo duo and another solo illustration.
---
The Kingfisher
The kingfisher is a fascinating if not peculiar bird, and Koson has done its idiosyncrasies justice through his work – on a number of occasions! If you have an adoration for this unique bird of prey like we do, there's no question whether you should make room for Koson's kingfisher illustrations among the art in your home.
Download a copy of the illustration above here, and see a second kingfisher illustration here!
---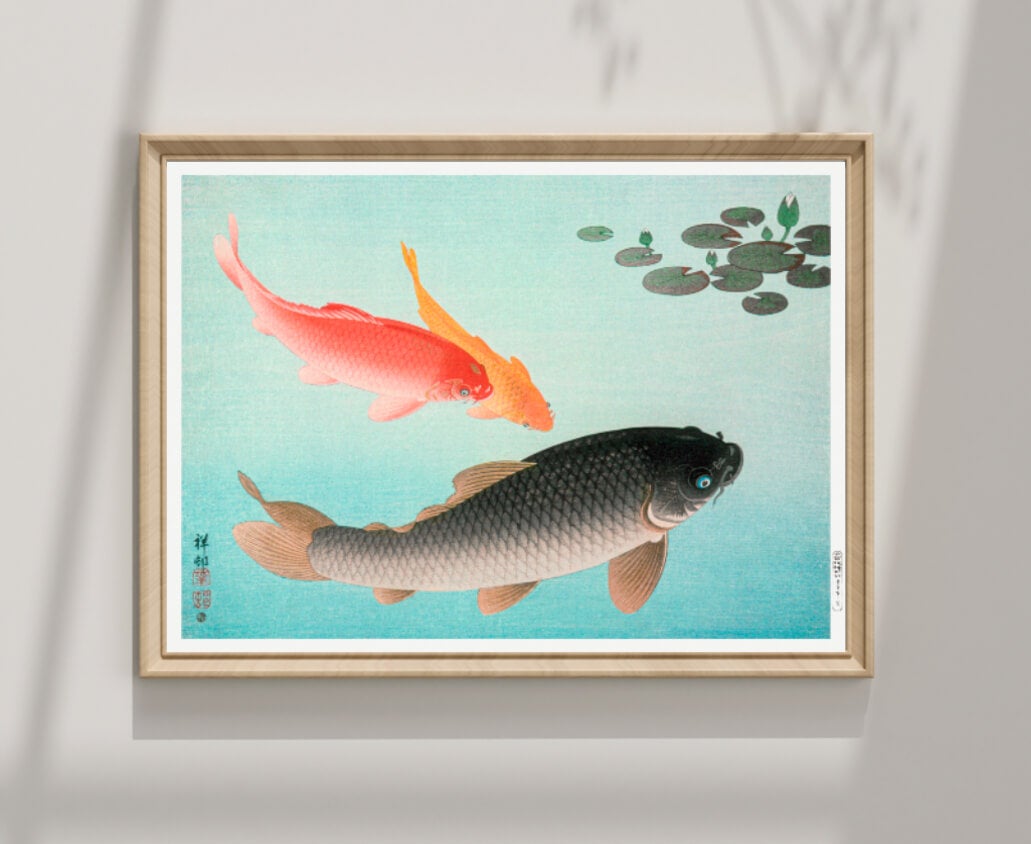 The Common and Golden Carp
Nothing makes an elegant splash like the mesmerizing blues of a watercolor aquatic eco-system. The flashy reds and oranges of the golden carp give this illustration the edge it needs to win a spot on our list of favorites. Paired with a golden frame, this glittery yet simple piece of art would be fit to add glam to any room.
Download your own free-to-print copy here!
---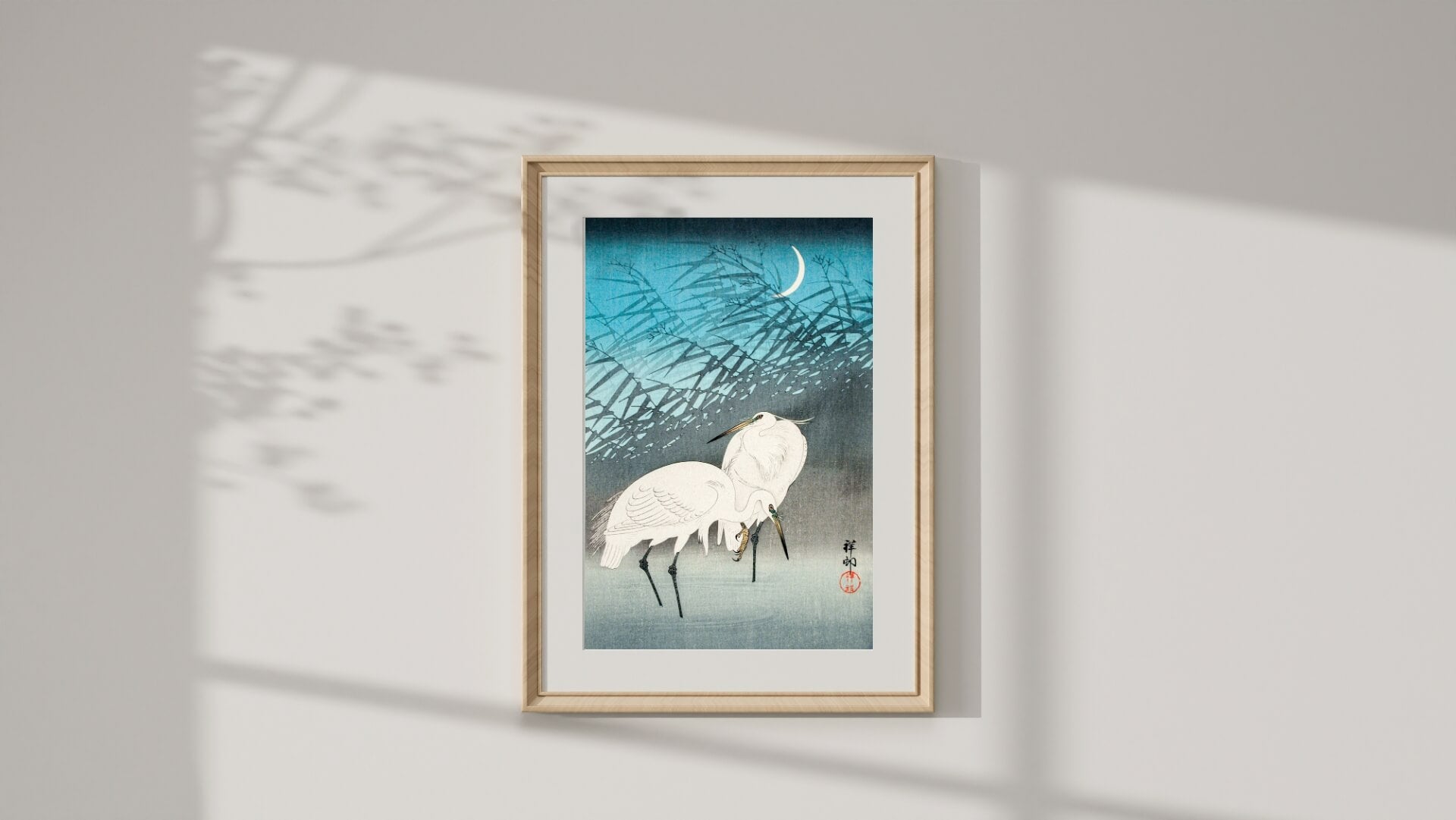 Egrets in Moonlight
Capture the eternal glow of moonlight with Koson's illustration of egrets basking in still water. With their long limbs and graceful motions, these mysterious white birds have become a symbol of elegance and mystique. We are so glad that Koson used his talents to capture them in the light of Japanese style artwork; The results are simply striking.
Download your own copy of the print above here, or try out a different egret painting by clicking here!
---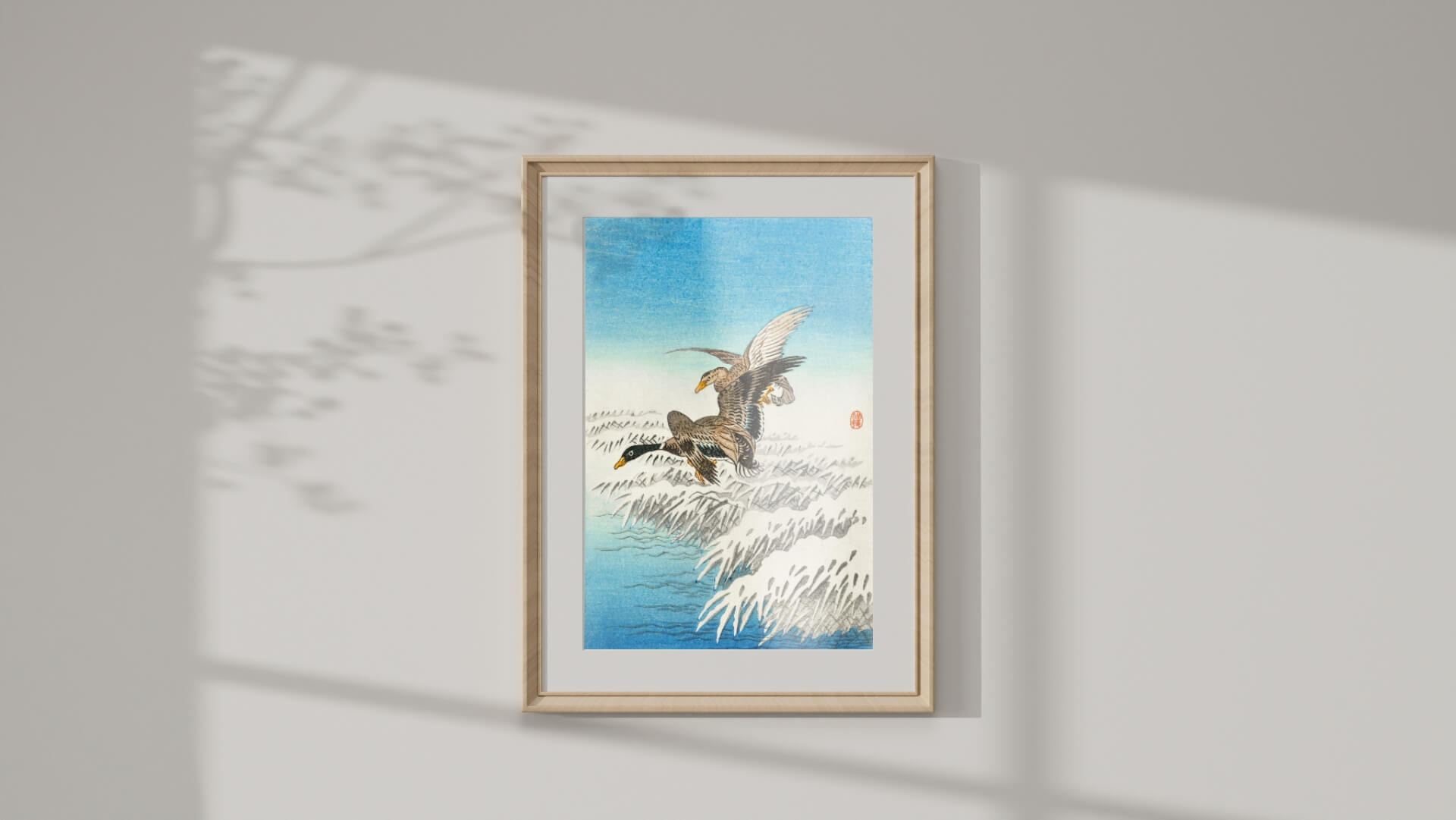 Ducks in Flight
Gorgeous blues and glistening whites drew us to this seemingly inconspicuous illustration. Through his entrancing artistry, Koson managed to turn the underwhelming sight of ducks taking flight into an art piece filled with motion and vibrancy.
Download your own copy of Koson's colorful duck illustration here!
---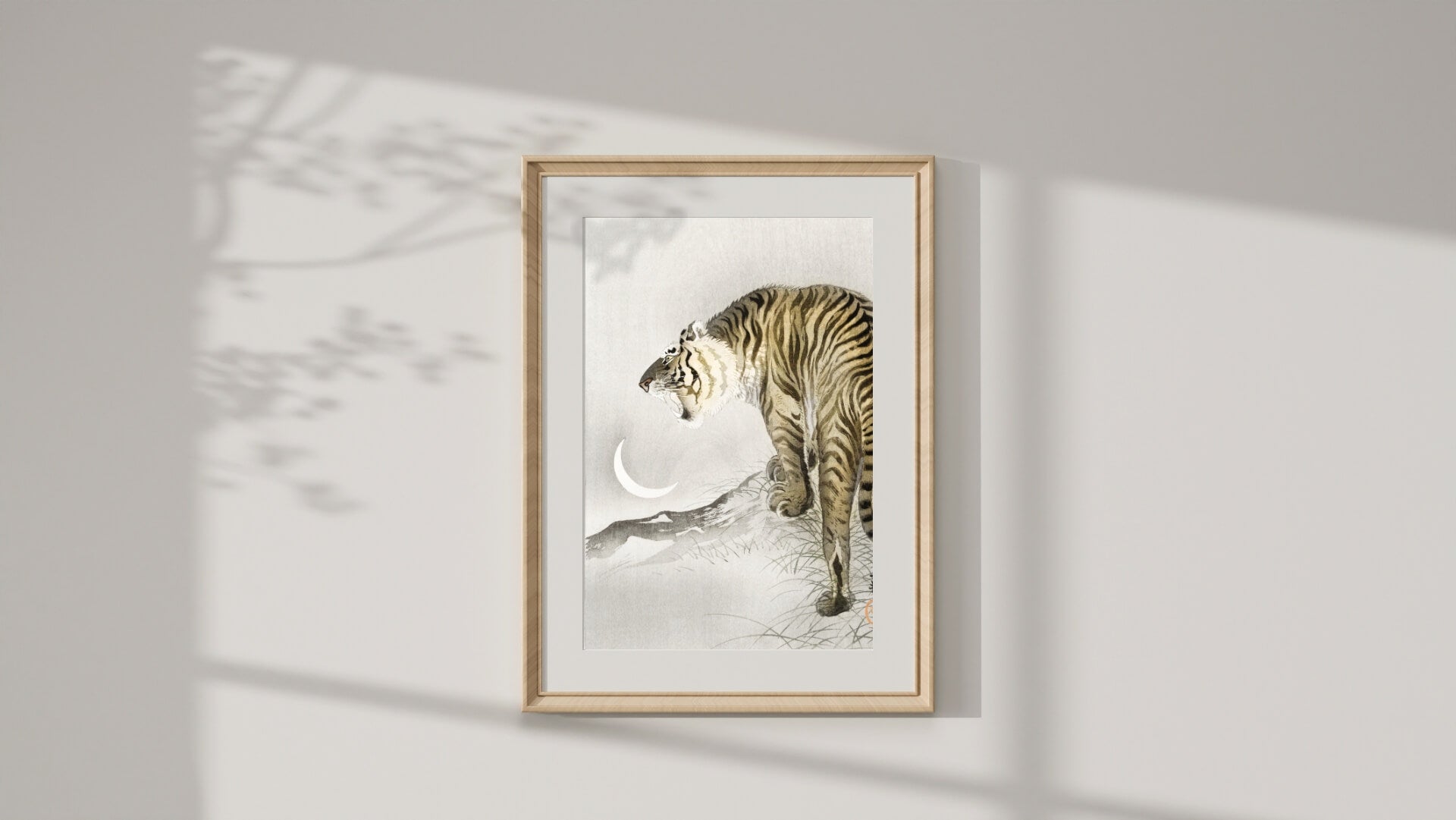 The Roaring Tiger
Last but far from least, we have Koson's incredible illustration of a roaring tiger. We are completely entranced by the power and allure held by this image; It's the perfect print for anyone looking to add an invigorating yet visually gentle piece of art to their space.
Download your own copy of this magnificent print here!
---