French painter Georges-Pierre Seurat is celebrated for his charming illustrations of France's riverside scenery. From snippets of a Sunday afternoon to the landscape of the Normandy Coast, Seurat's artistic representations are the perfect combination of romantic, beautiful, and impressive.
As you explore our top picks from Seurat's incredible portfolio, keep this in mind: All of the artwork below belongs to the public domain! This means they can be printed, shared or altered however you so wish.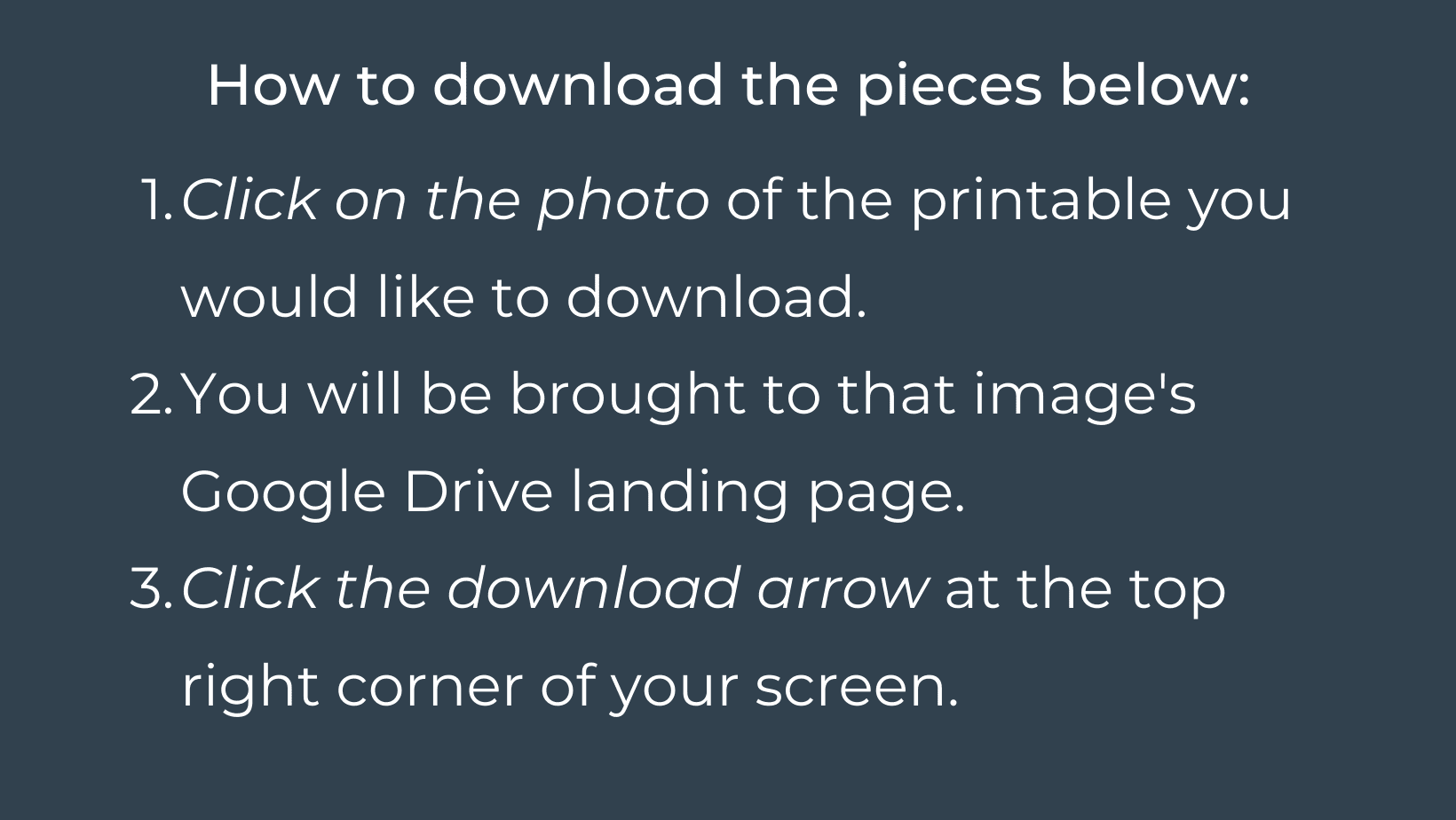 Ready to find the artwork of your dreams? One thing's for sure: we're ready to help you find it!
---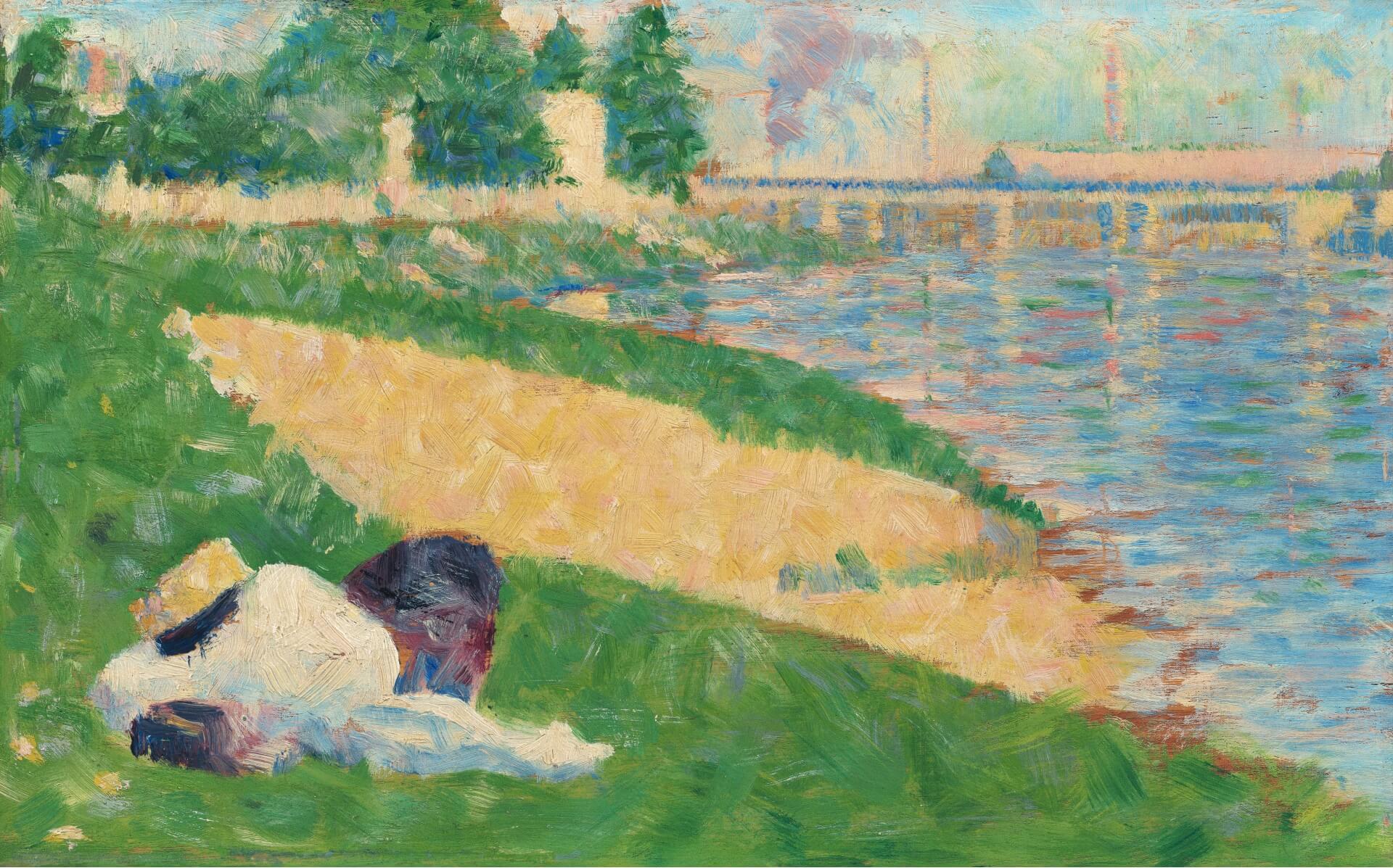 The Seine with Clothing on the Bank (ca. 1883–1884)
Our favorite thing about this illustration is the story it tells beyond the scenery. It turns a simple visual – clothes piled on a riverbank – into the imaginary concept of what's happening beyond the frame; Perhaps a group of friends is frolicking in the water to escape the summer heat; Maybe a lone swimmer floats in peace, escaping the rush of the city center; Perhaps a couple splashes each other just off the bank, falling in love.
Whatever you see or imagine as you stare into this painting, it's almost guaranteed to be filled with pleasantries. Seurat's use of bright blues and youthful greens give this painting the power of a cheerful summer day. It's a piece of art that would complement nearly any living space.
---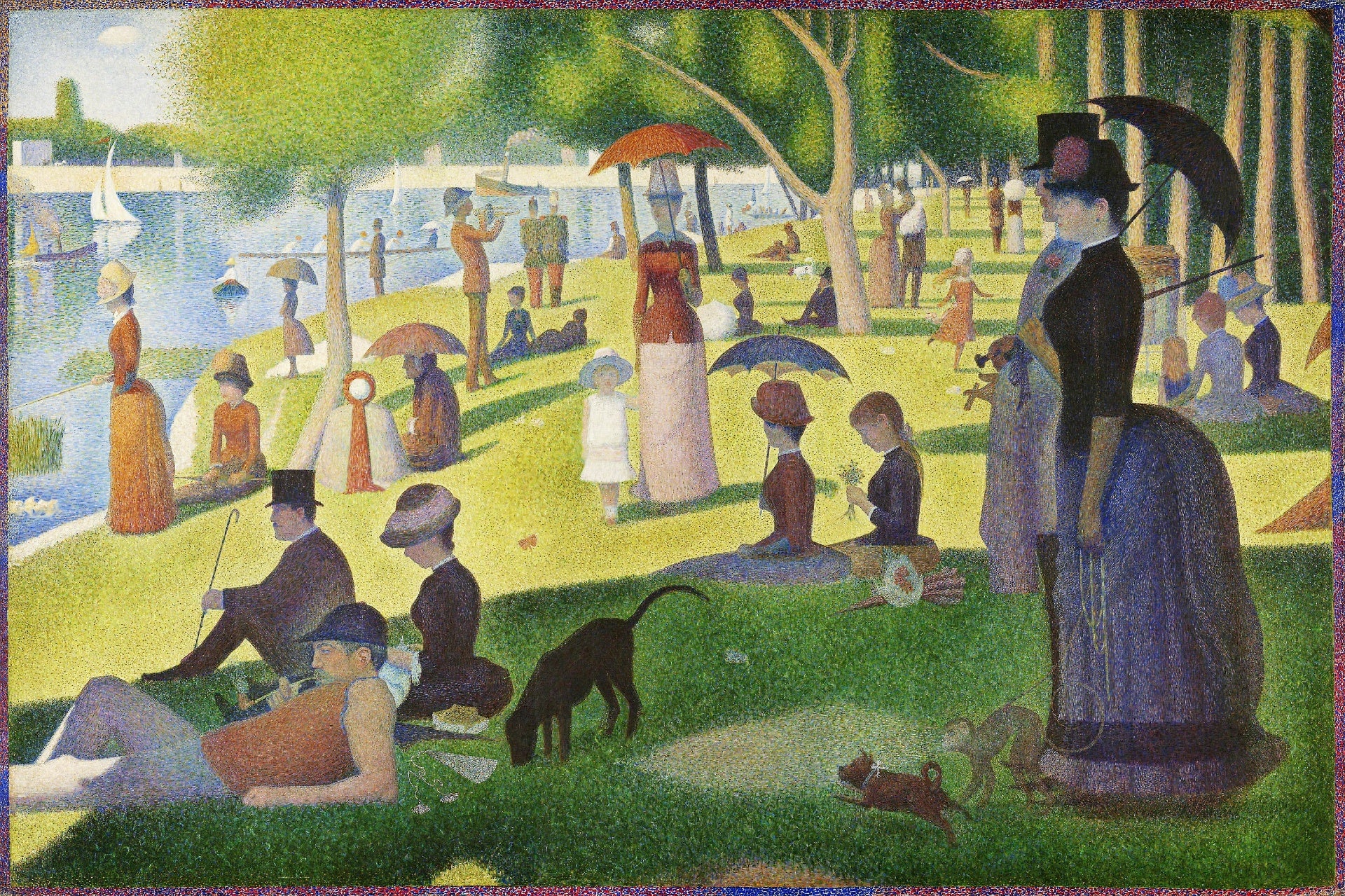 A Sunday on La Grande Jatte (1884)
In what is perhaps Seurat's most famous painting, he captures a Sunday on the riverbank in charming detail. It's a prime example of the unique style Seurat maintained throughout his work, even his more strictly impressionist paintings. Our favorite details in this painting are the pet monkey by the side of the woman in the foreground, the small bundle of flowers being held by the girl near the middle of the painting, and the miscellaneous boating activities taking place within the river.
Bring it to life on a large poster print and enchant yourself with finding your personal favorite details!
---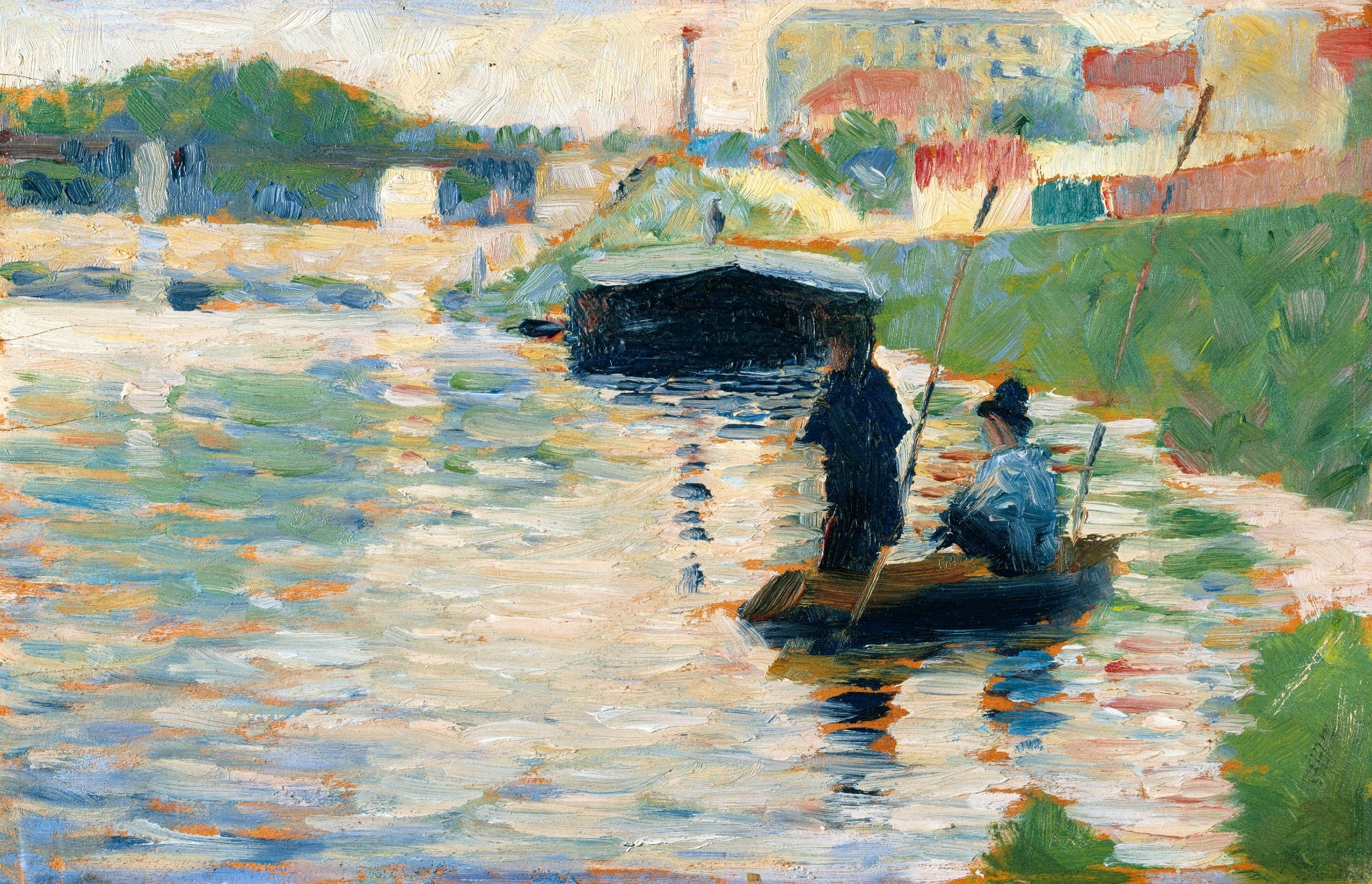 View of the Seine (ca. 1882–1883)
Seurat exercised his artistic expertise to create an enchanting reflection atop the surface of the Seine River in this painting, View of the Seine. Bring it to life on an acrylic photo block to make the most of Seurat's vibrant color selections.
---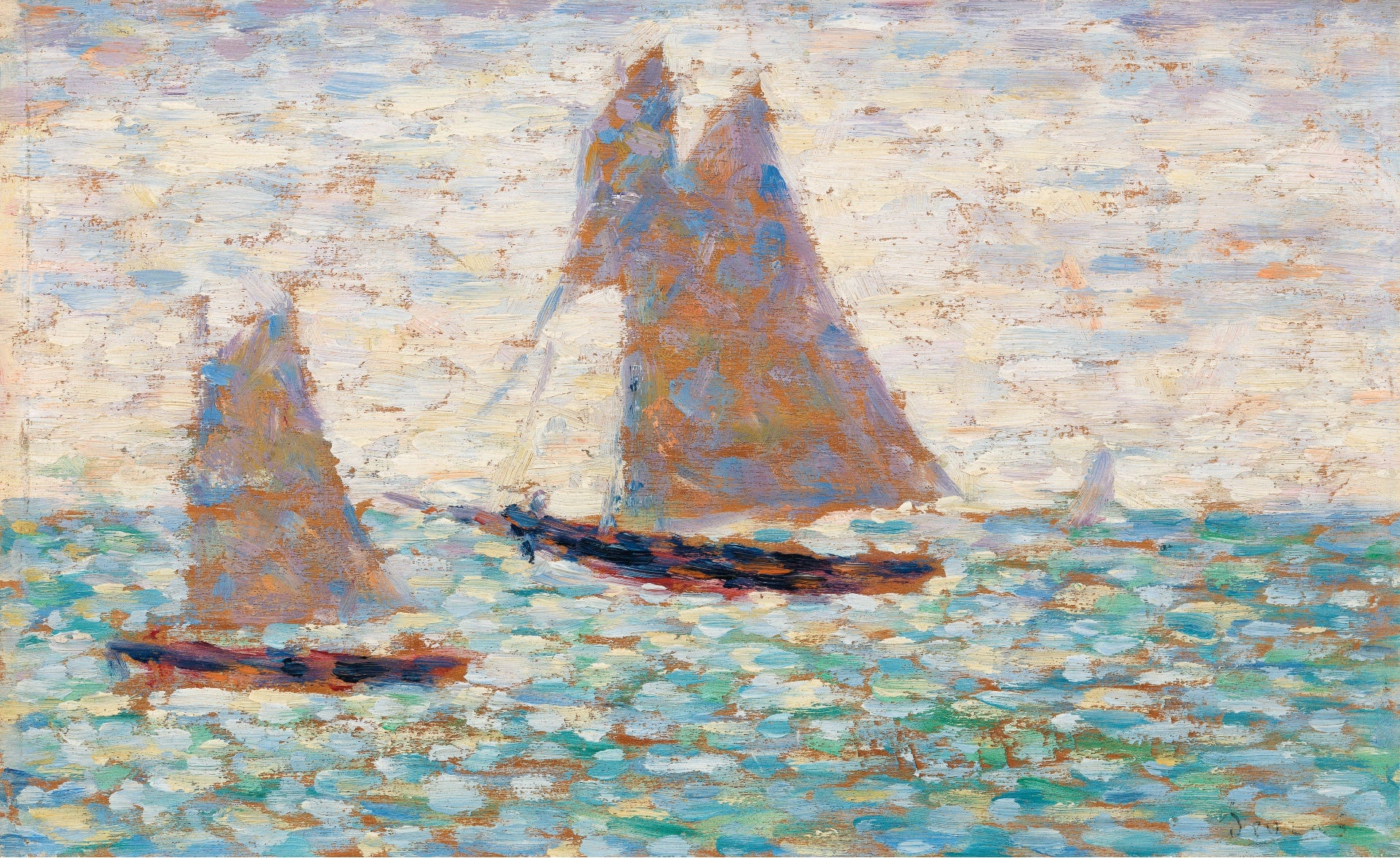 Two Sailboats at Grandcamp (ca. 1885)
Who would have thought that blue and beige would make for such an enticing color pairing? We would love to see this stylistic painting brought to life on a wood print, or turned into the ultimate nautical puzzle.
---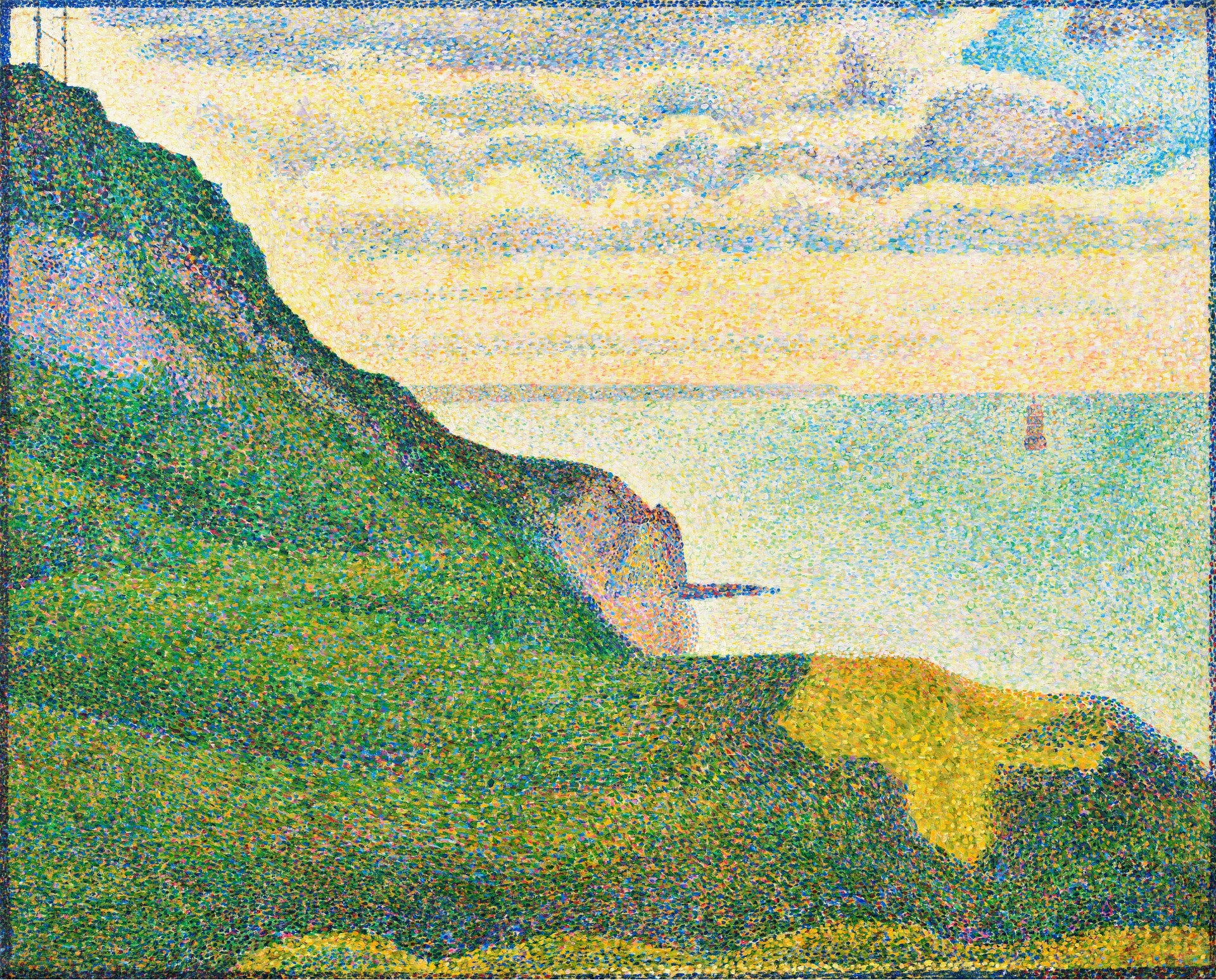 Seascape at Port-en-Bessin, Normandy (1888)
Seurat demonstrates his knack for pointillism in this illustration of a Normandy cliffside. If landscape illustrations with oceanside views make your heart sing, the paintings of Georges Seurat are hard to beat.
Bring it to life on a 16x20in mirror-wrapped canvas print.
---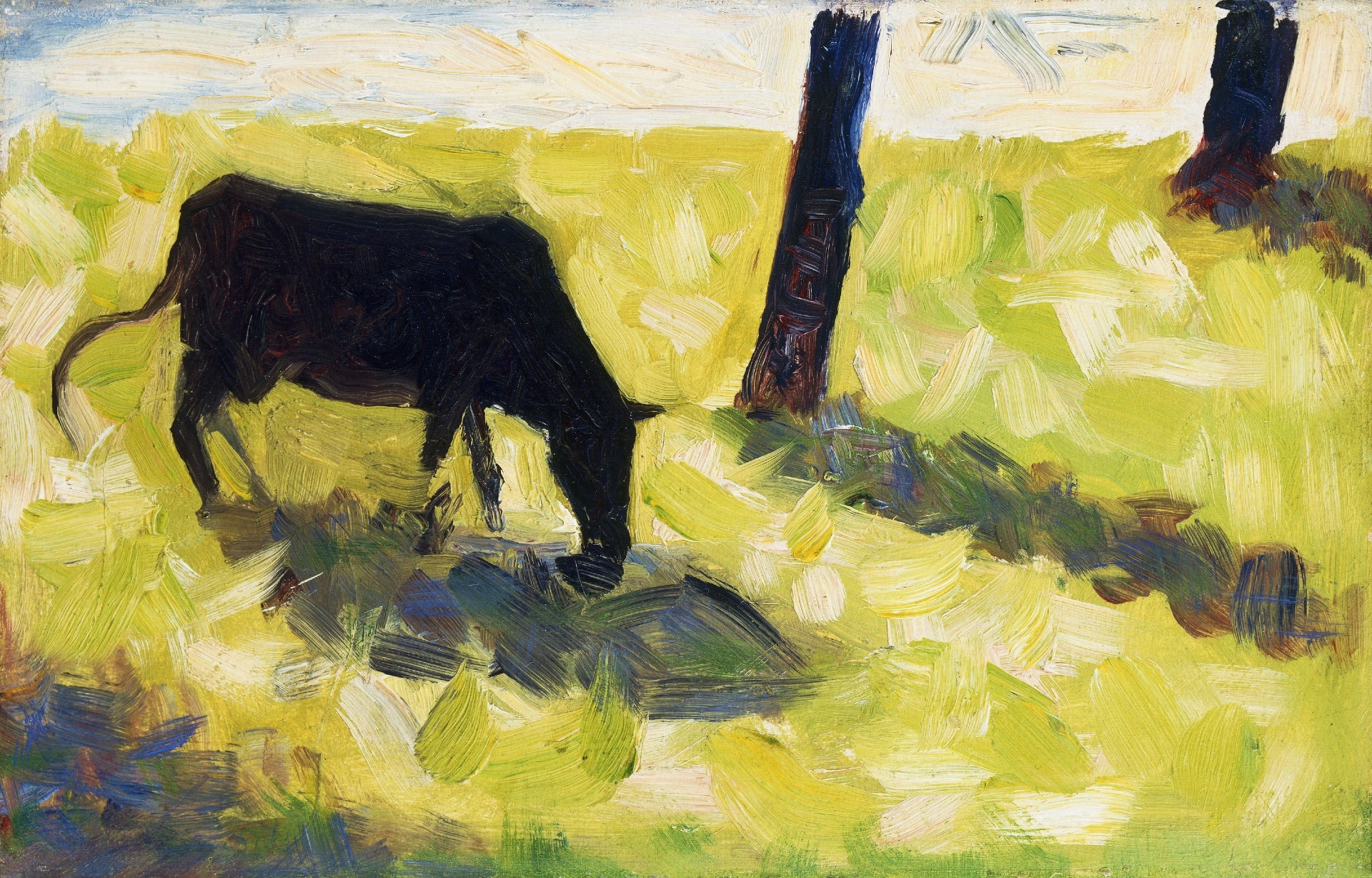 Black Cow in a Meadow (ca. 1881)
Cows don't often make an appearance in fine art, but when they do we can't resist! There's something undeniably dramatic, anticipatory, and moody about this illustration – and we're sure someone reading this will be enamored by exactly that effect!
We would love to see this piece added to an eclectic gallery wall display, in whatever medium you see fit!
---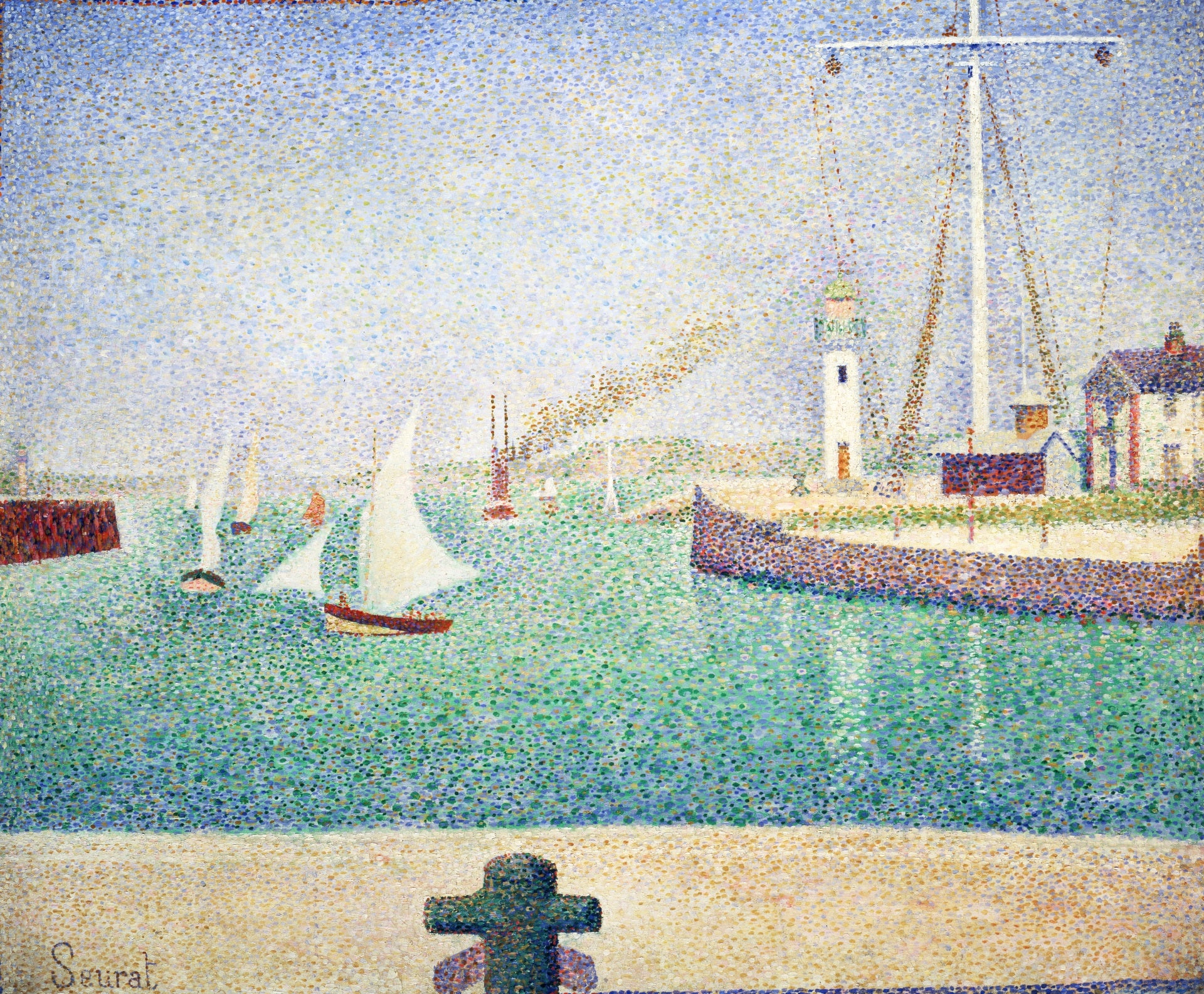 Entrance of The Port of Honfleur (1886)
We never get tired of a sunny coastal view, especially not one sprinkled with crisp white sailboats, billowing steam boats, and quaint harborside buildings. This simple yet enticing illustration makes for the perfect addition to a nautically styled home. Whether you're looking to add color to a bathroom, a guest room, an office, or a kitchen, this dotted painting has all the character needed to do the job.
---
Man Leaning on a Parapet (1881)
Seurat veered from his usual bright and vibrant colors to create this dramatic and enticing painting of a person looking out across the water. If your interior design aesthetic utilizes a more neutral color scheme and plays to dark tones and textures, this painting will add to your decor effortlessly.
Bring it to life on a 20x24in metal print.
---