When George Barbier's glamorous illustrations first caught the public eye in 1892, he was immediately pulled into the world of fashion, theatre, and design. His drawings are adorned with elements of ritz and romance, reminiscent of the high society of Barbier's time. They're the perfect way to add a splash of charm and mystique to any room – and they just so happen to belong to the public domain!
We've curated a collection of our favorite Barbier illustrations. To view an artwork's download page, click your preferred image. The best sizes for each particular download are included in the file name! Feel free to experiment with alternate sizes, but be aware that larger print sizes may slightly affect the image's quality.
---
Symphonie Automnale by George Barbier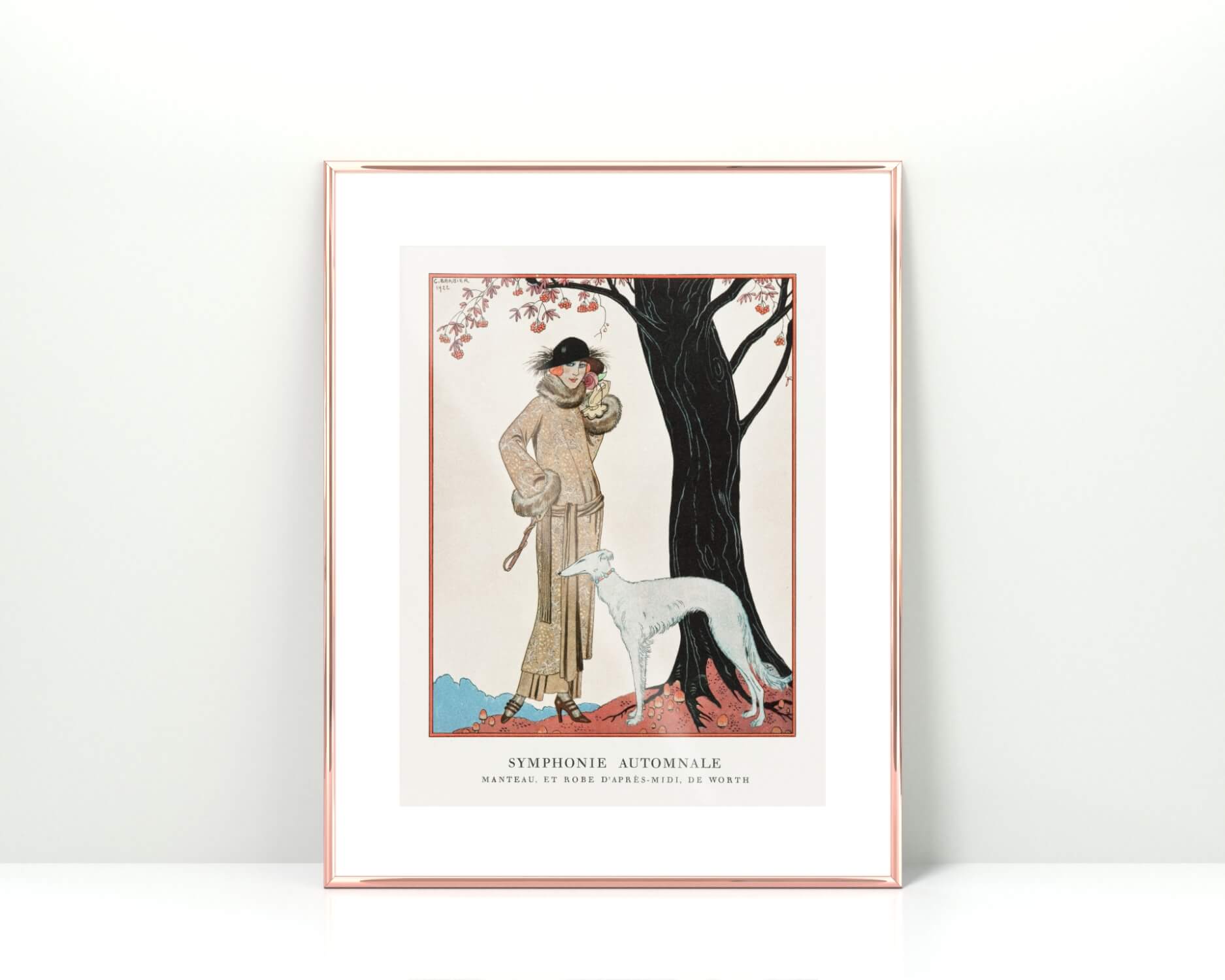 Pulled from a journal designed for Paris' elite in the 1920's, this illustration of a woman and her elegant Persian Greyhound lacks anything but elegance.
While we're aware that it's not based in Manhattan's Central Park, our New York minds couldn't help but take us there! The anonymity of the location makes it the perfect piece for anyone seeking a slice of glamour, no matter where they reside.
---
Rosalinde by George Barbier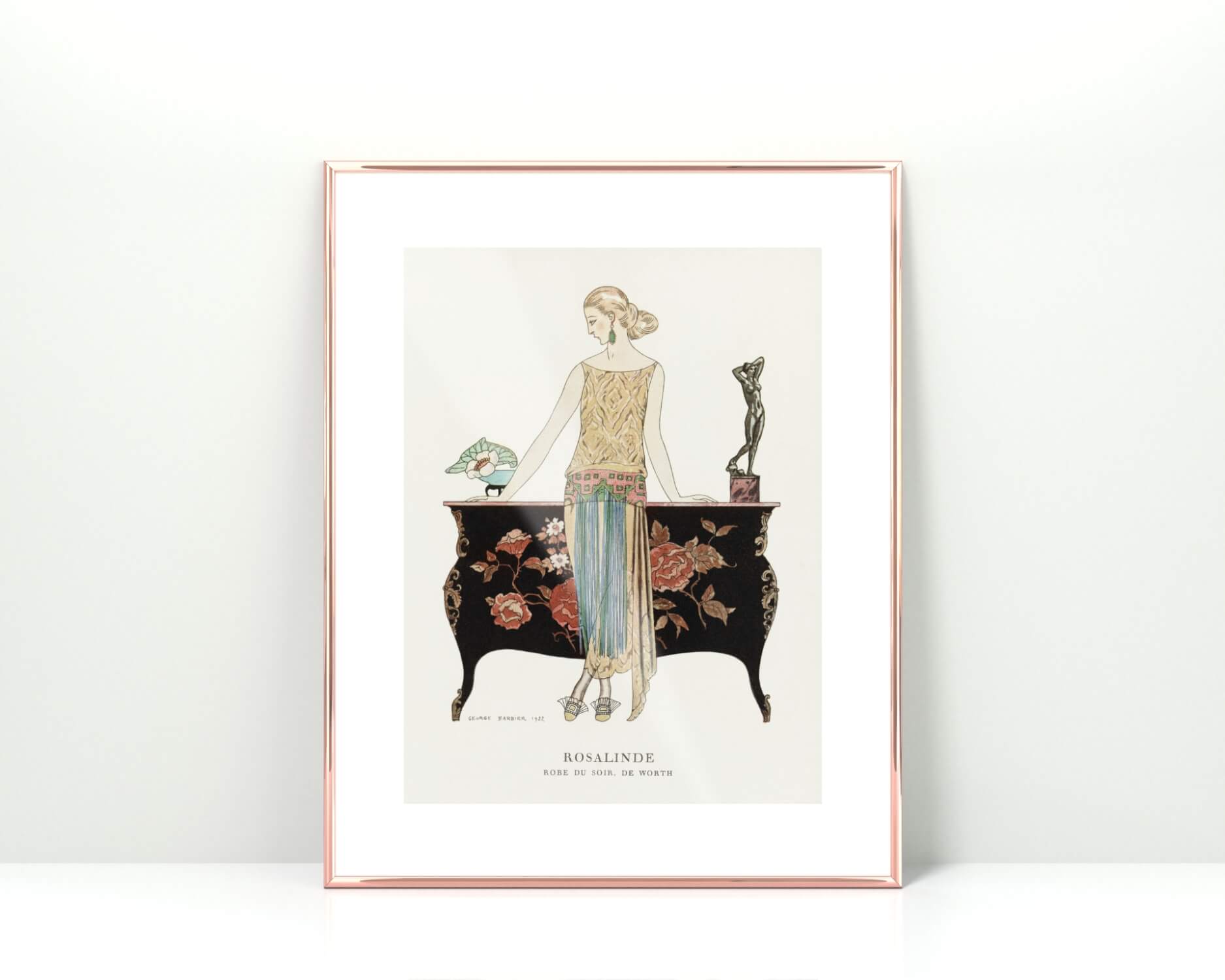 With its blend of artistic patterns, Rosalinde captures enamoring levels of extravagance while maintaining an air of simplicity. It's the perfect piece for a neutral toned bathroom or dressing room.
---
Psyche by George Barbier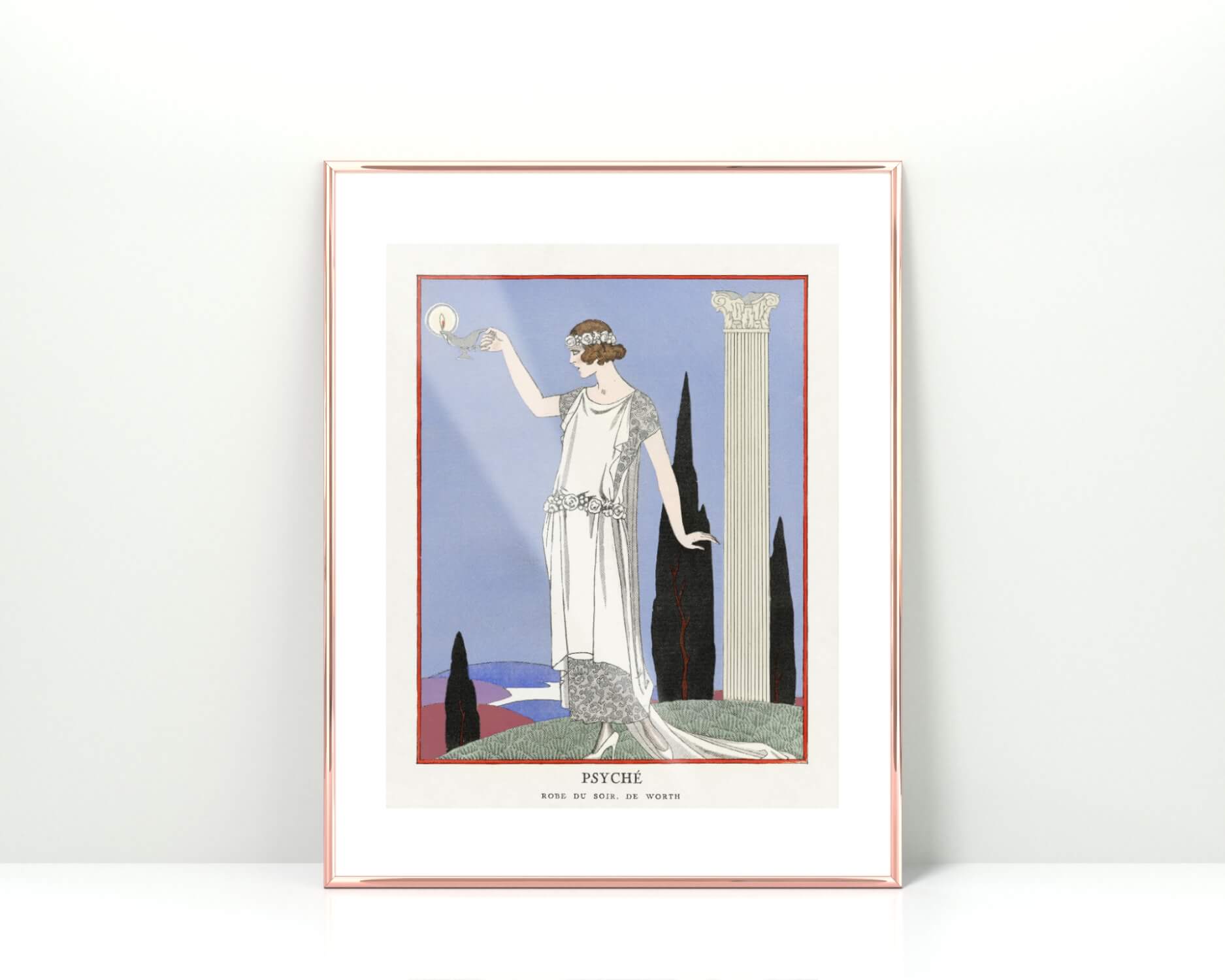 Take a walk in the moonlight with this mystical piece. It features Barbier's signature flow of materials, accompanied by romantic and deep end-of-day hues; And we can't help but to adore the underlying meaning of the name Psyche.
---
La Belle Dame Sans Merci by George Barbier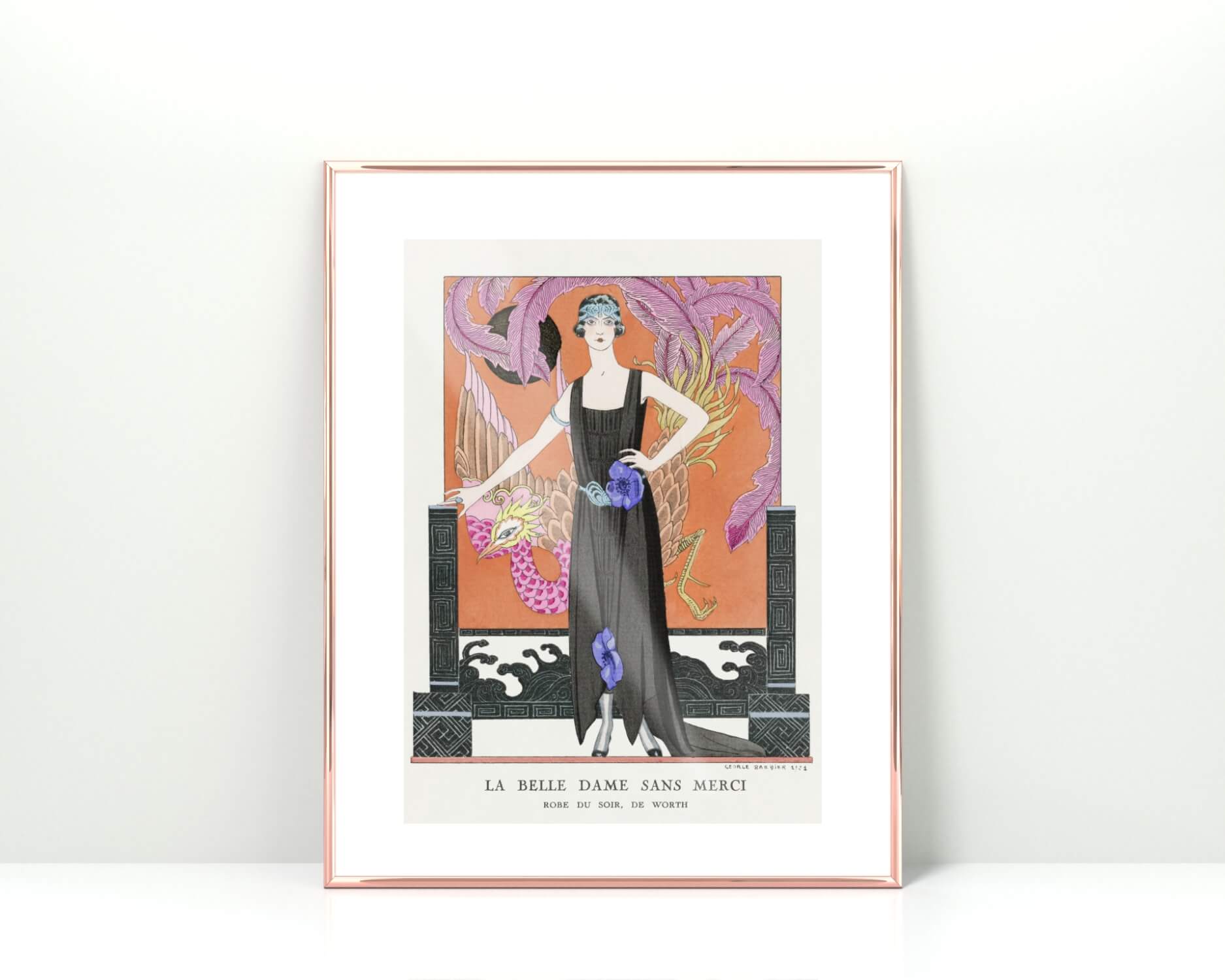 Barbier goes bold with his use of colors in La Belle Dame Sans Merci – and we love it! It's the perfect design piece for an eclectic and colorful space.
---
Amalfi by George Barbier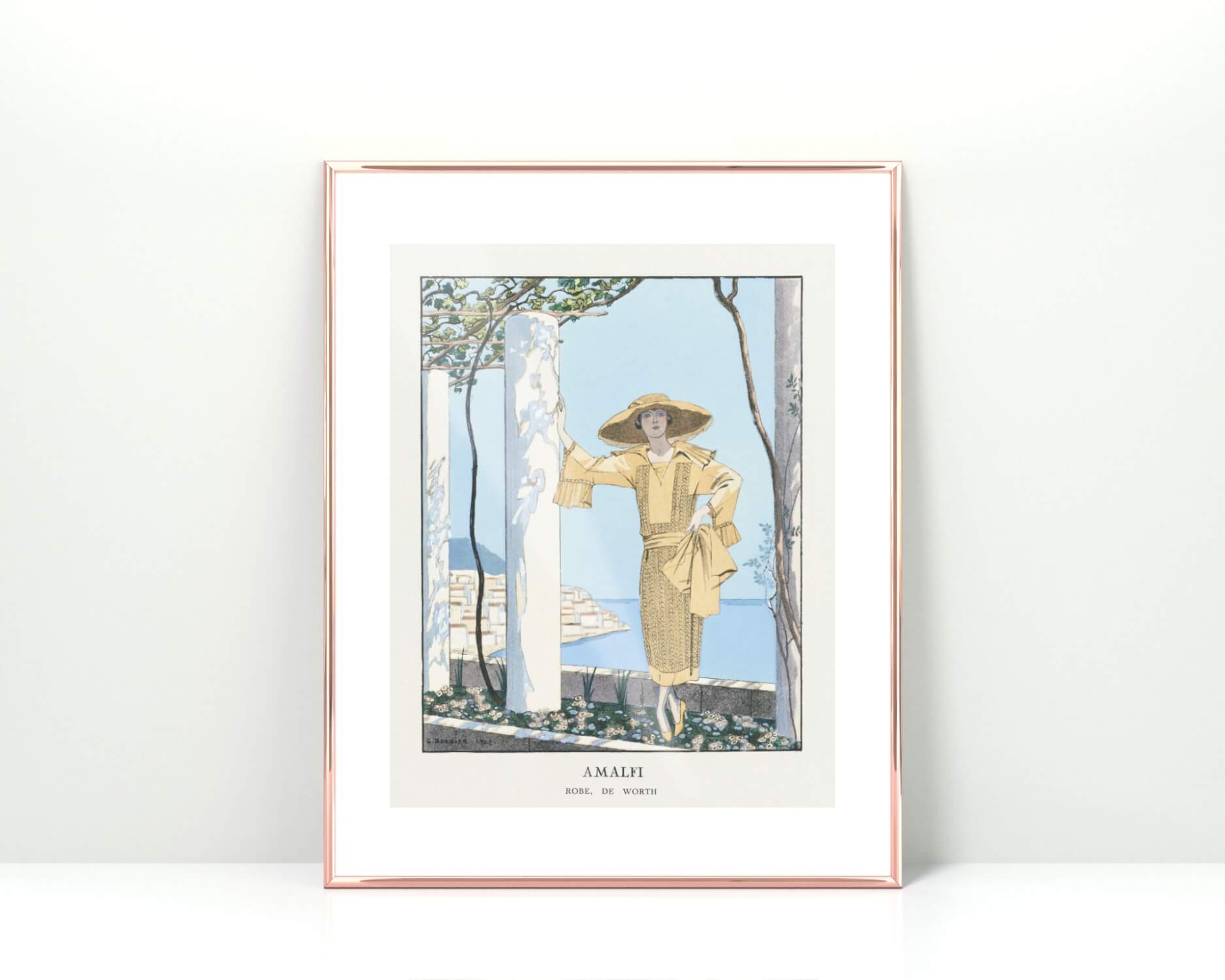 What says high fashion like a chic yellow sunhat? The bright whites, light blues, and spry yellows make this a can't-miss piece of art, fit to add color and style to any room. It's all the better if the Amalfi coast has true meaning in your life.
---
L'Arbre De Science By George Barbier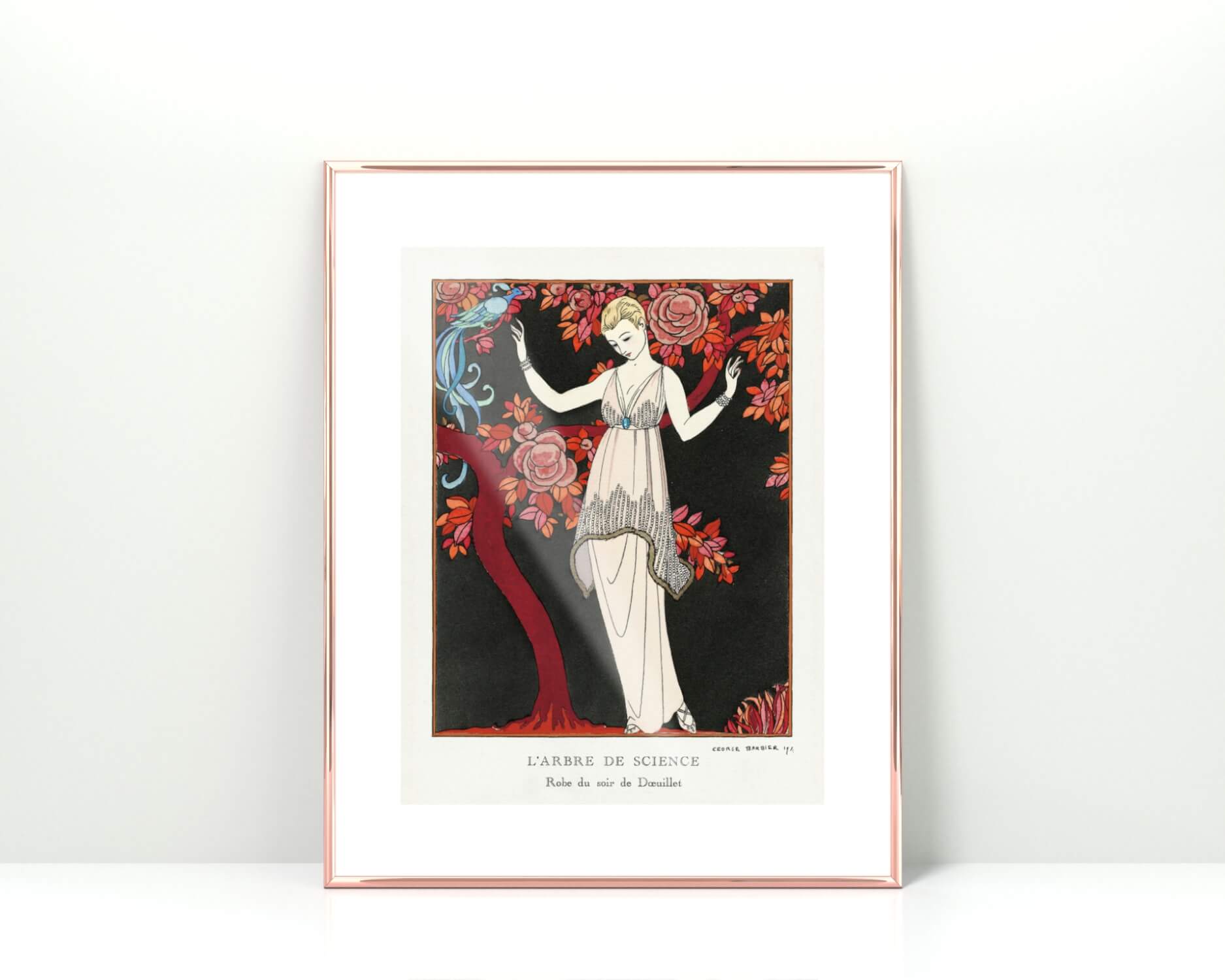 Barbier takes a dark turn with L'Arbre De Science – thematically of course! If you're a fan of deep blacks and dark reds, this is surely a piece you'll adore in your home. The bright blue bird in the top left corner adds an extra hint of magic and mystique, earning this extravagant illustration a place on our list!
---
Fumee by George Barbier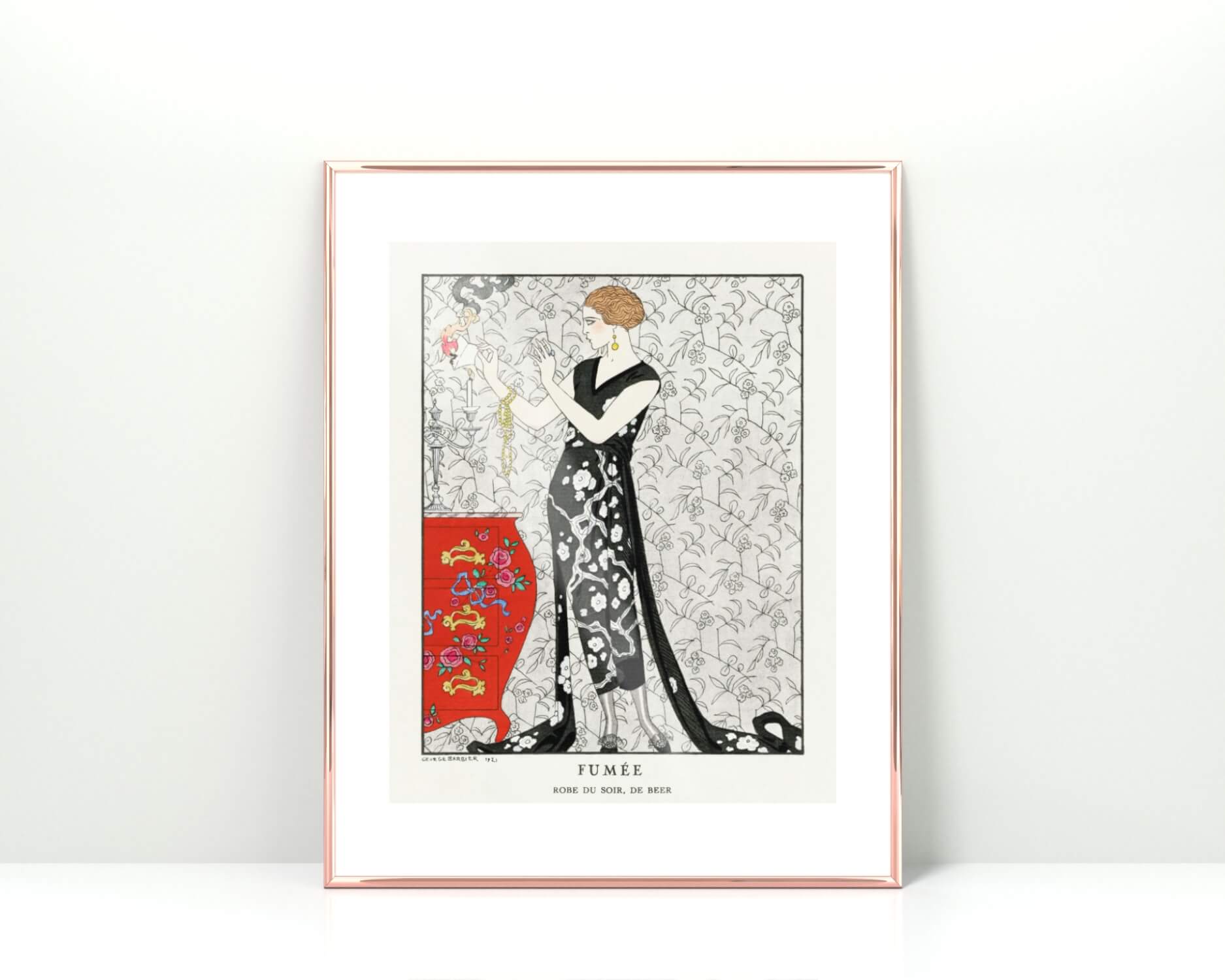 We adore this piece for the story that seems to lie behind its lines, with an elegant and undeniably mysterious woman pictured burning a letter in a candle flame. If you love décor that depicts forever unanswered questions, this is the piece for you.
---
Au Revoir by George Barbier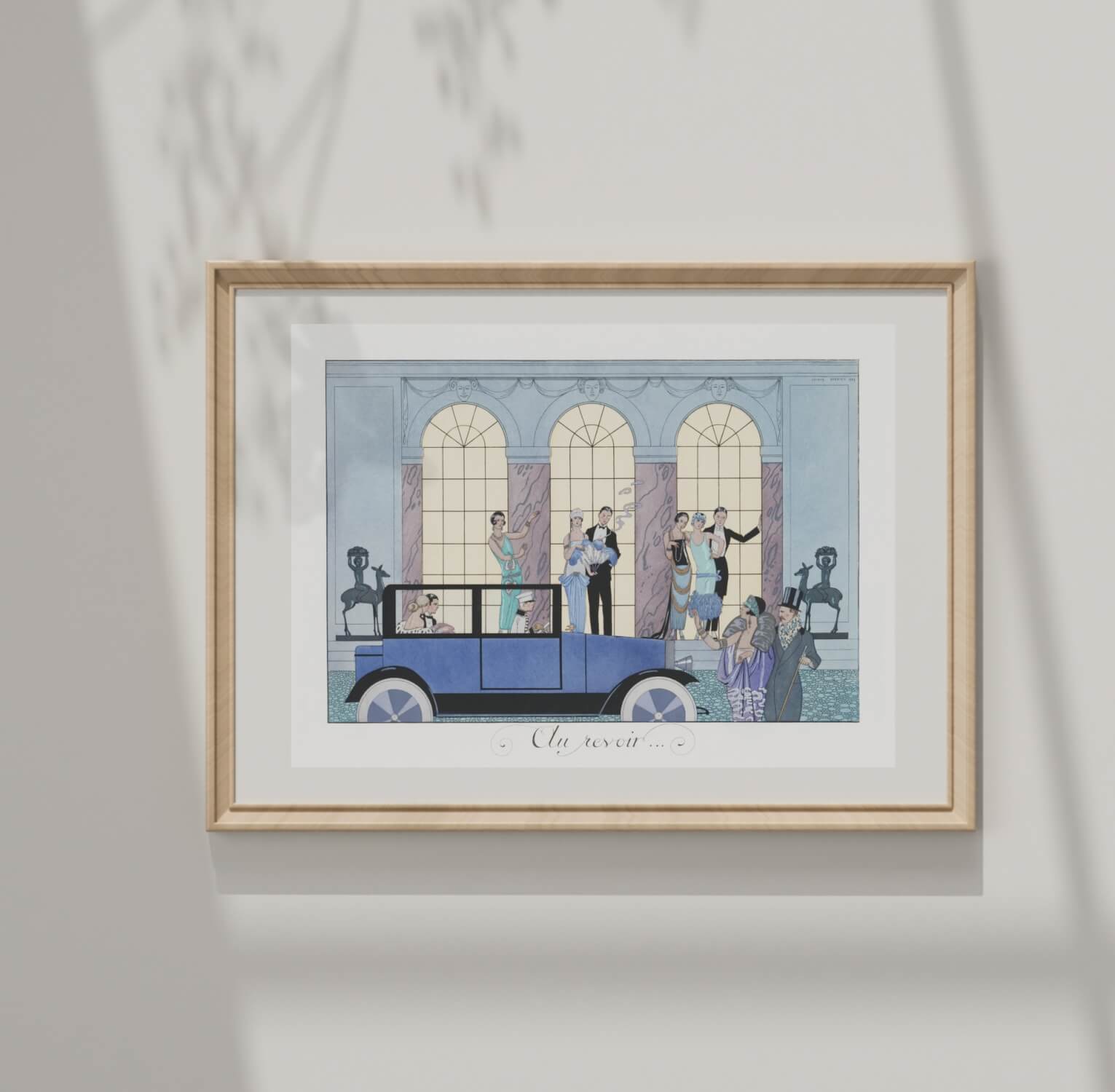 It's a celebration! Barbier flawlessly captures the feeling of a night approaching its end with this illustration, draped with glitter and glam. While we have yet to attend such a Gatsby affair, we wouldn't hate to live vicariously through this mesmerizing piece of art.
---
La Fortuna de Coquillages by George Barbier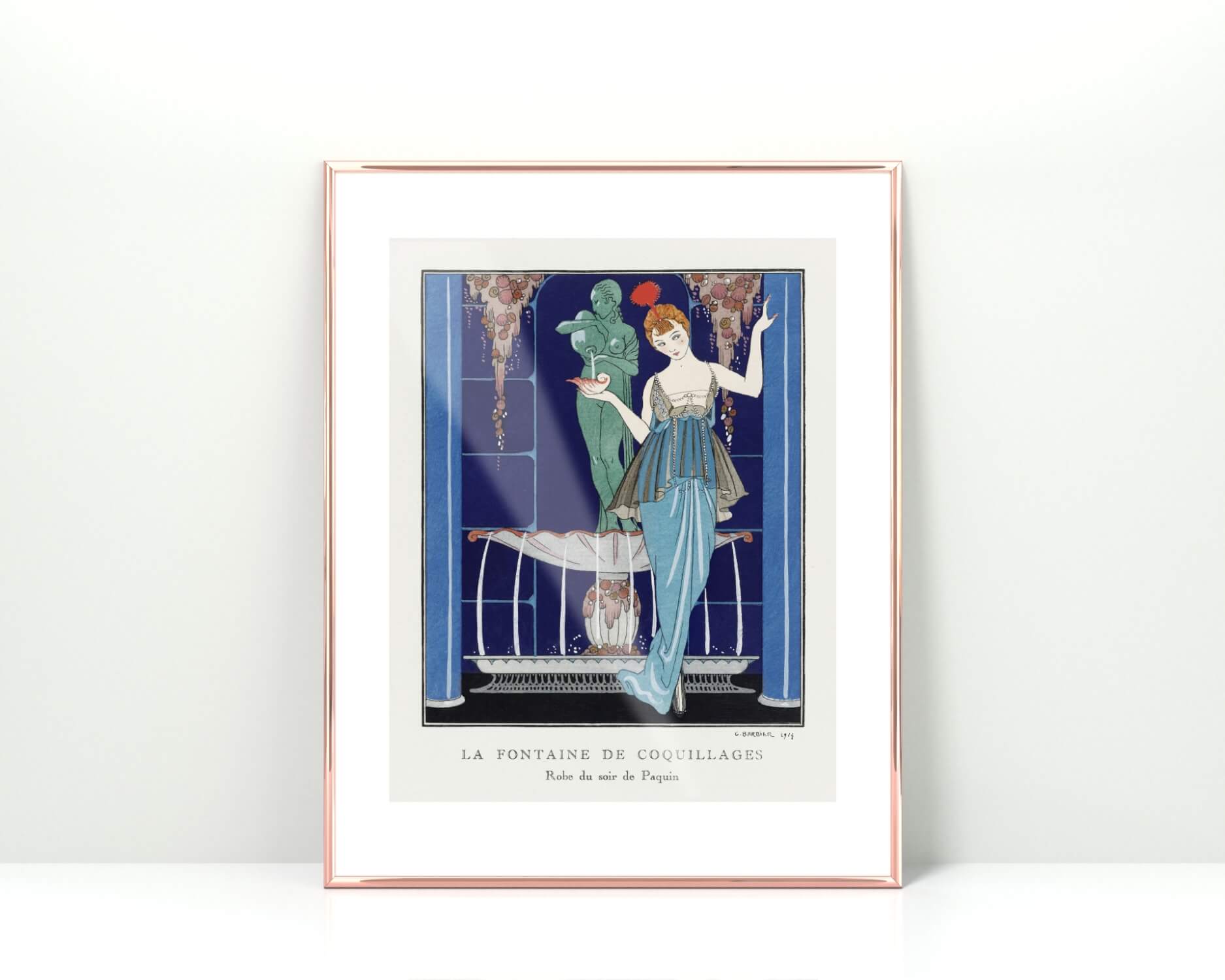 Barbier's ability to capture mystique in his artwork peaks in this incredible illustration. From the woman's majestic gown to the statue's glamorous sculpture work, this glimpse into a fashionable roaring 20's evening is more than worthy of a permanent space on any wall.
---
Isola Bella by George Barbier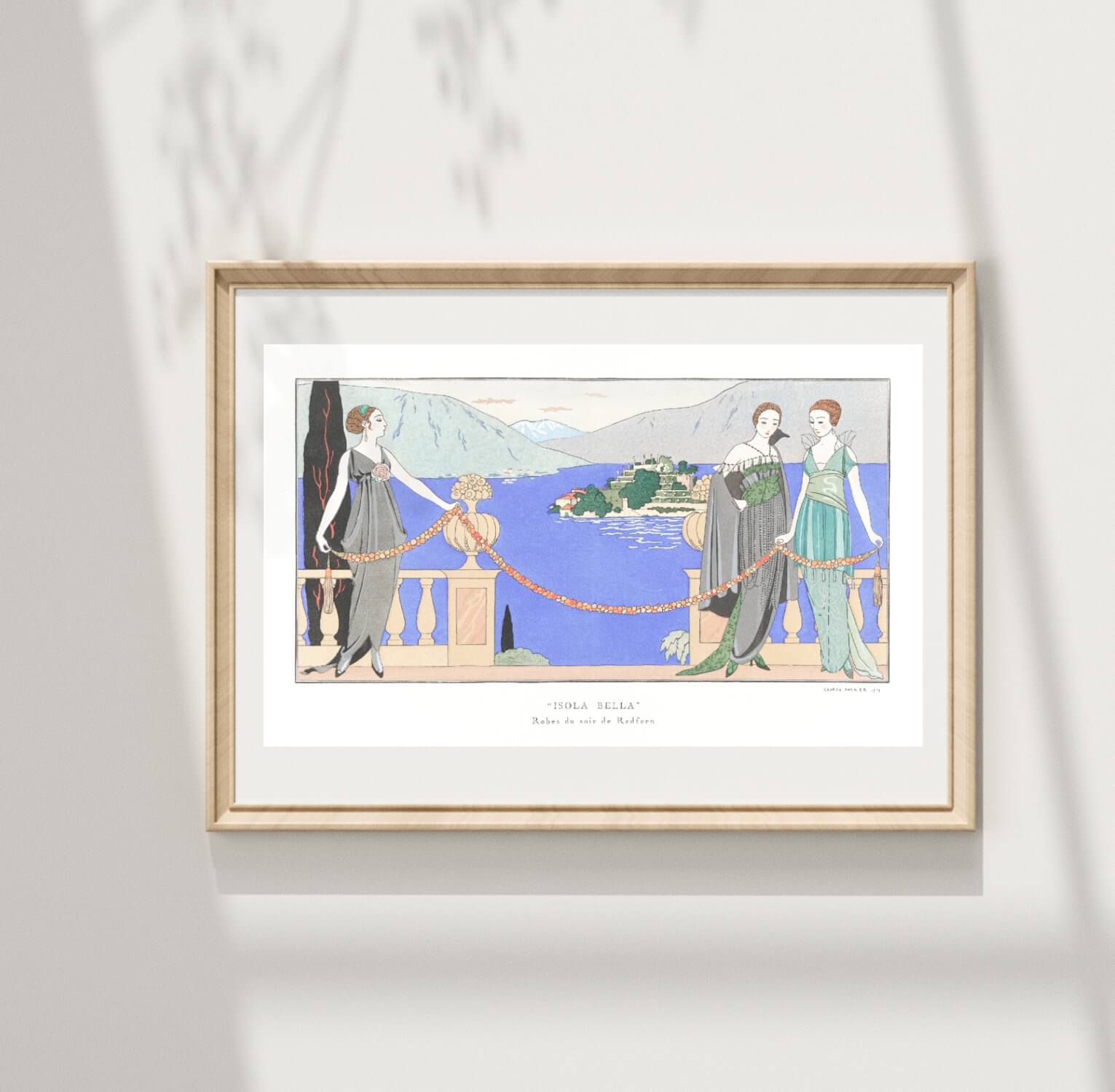 We couldn't wrap up this collection without one more stunning horizon-oriented illustration. With its beautiful landscape feature, Isola Bella stands out amongst Barbier's other pieces. Three stunning gowns and an enchanting view of the European coast? Yes, please!
---