Danish-French impressionist painter Camille Pissarro is known for his ability to record the world around him; With his paint brush at the ready, Pissarro has frozen the beauty of the French countryside in time. From rolling farmlands to the magical blur of city streets, Pissarro turned the visions that surrounded him into artwork that influenced generations of painters.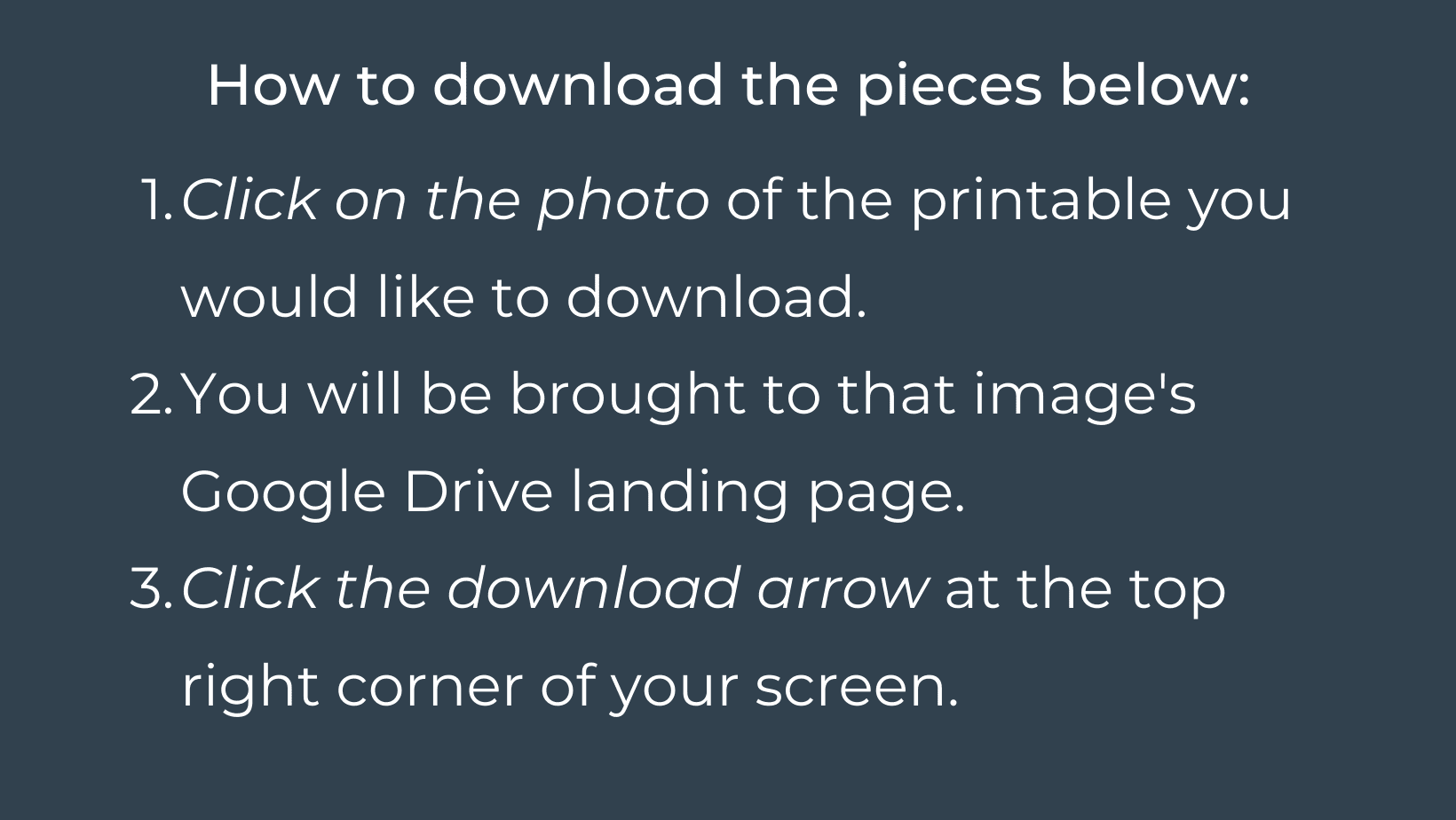 All of the stunning illustrations showcased below belong to the public domain – meaning they're free to download, share, alter, or print however you so wish. To download your own copy of the images below, simply click on each image. This will direct you to the image's unique download page. Happy printing!
---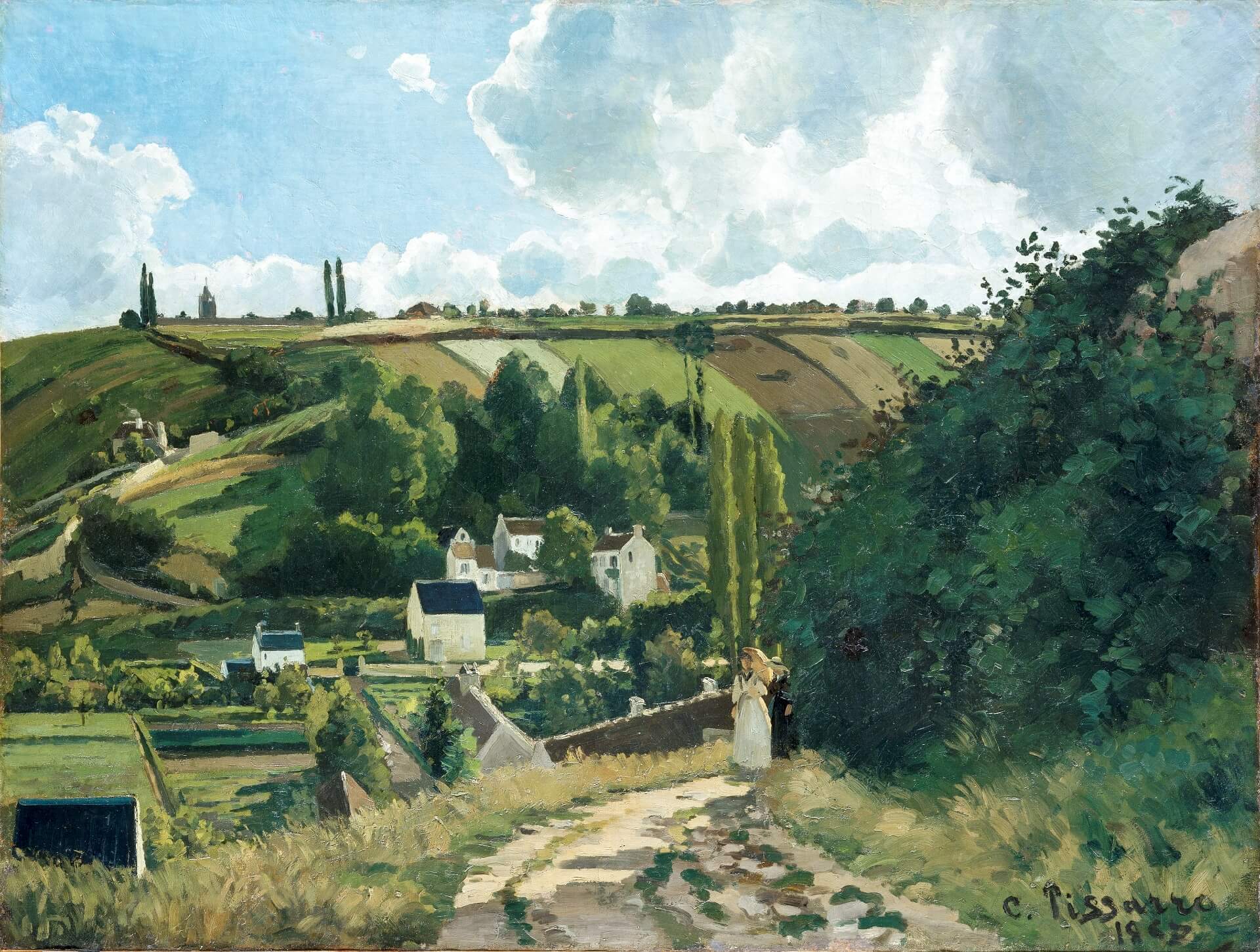 Jalais Hills, Pontoise (1867)
Rolling farmlands will never fail to take our breath away, but Pissarro's glistening depiction of an early-summer sky takes this painting to new heights.
We would love to see this illustration printed on canvas and displayed in a bedroom or workspace – or any room that calls for a touch of artistic magic!
---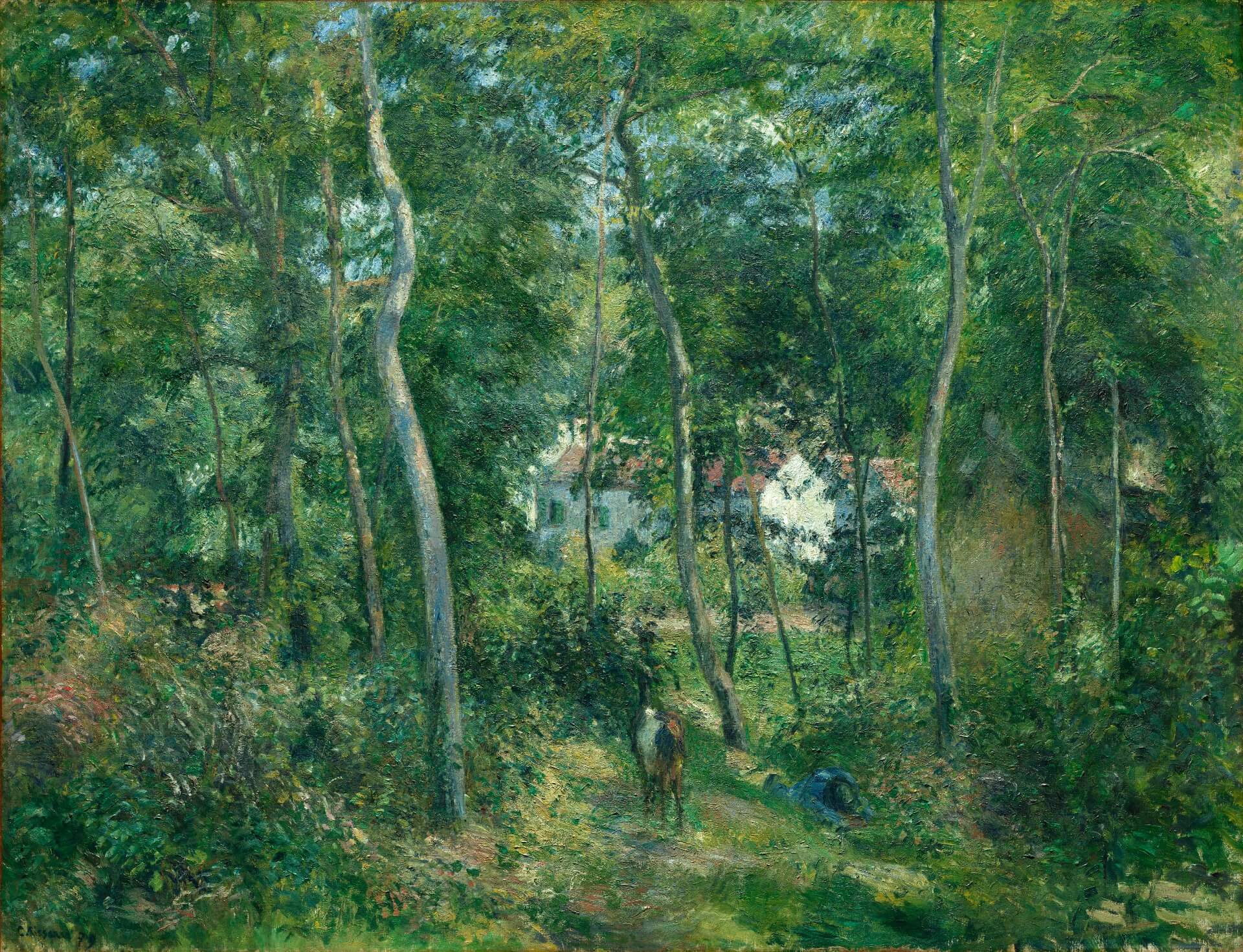 Edge of the Woods Near L'Hermitage, Pontoise (1879)
What drew us to this painting is the way its slightly blurred details seem to capture the sensation of a memory; What more could you hope for in your decorative art?
Capture the awe of your guests with a large canvas display of this dream-like illustration.
---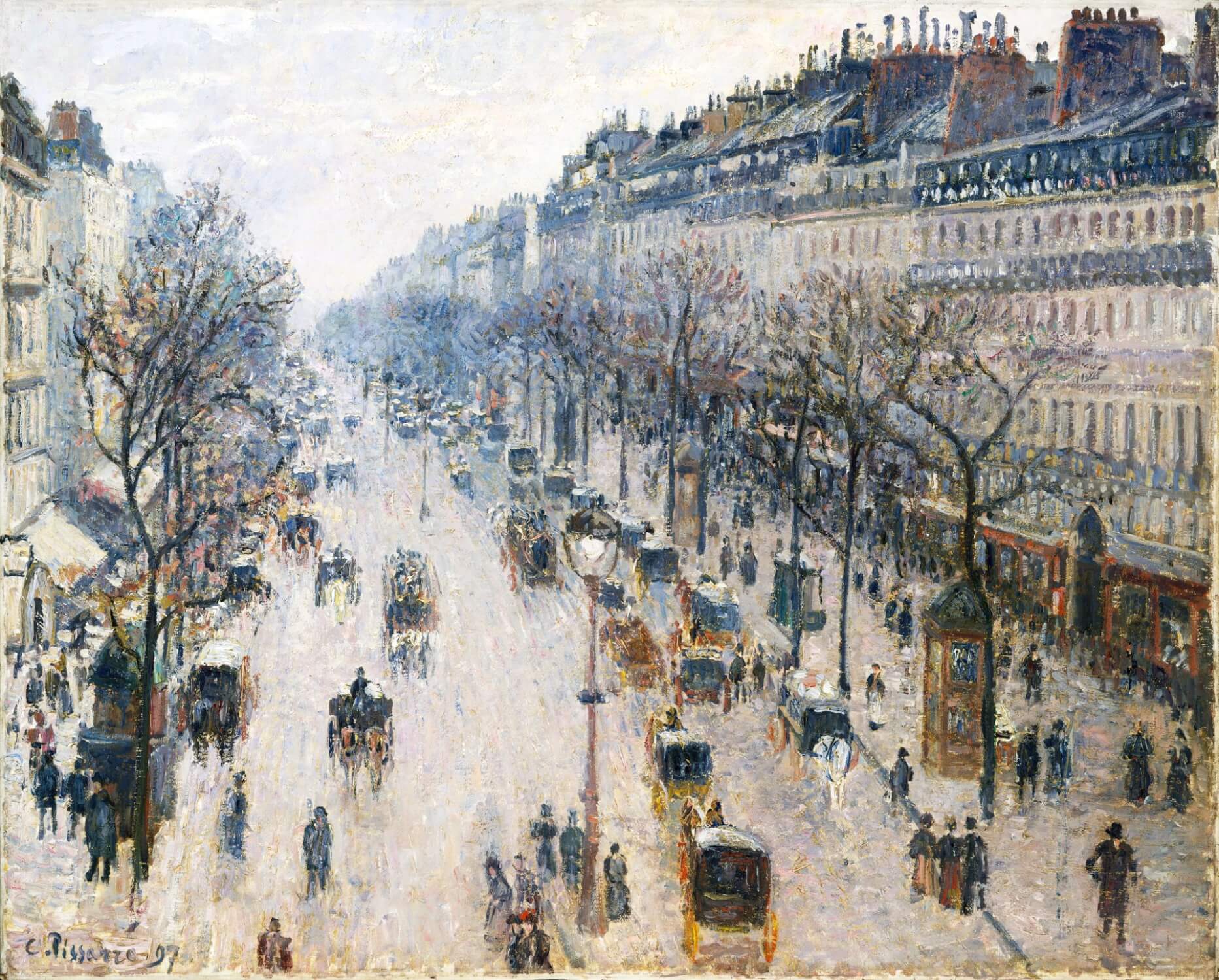 The Boulevard Montmarte on a Winter Morning (1897)
The lull of a winter morning makes for an incredible piece of art – even in the throws of summer heat.
Brought to life on an acrylic block, this illustration makes for a gorgeous and unique piece of decor; Come the holiday season, it will prove to be a photo print that that sets your seasonal decorations apart from all the rest!
---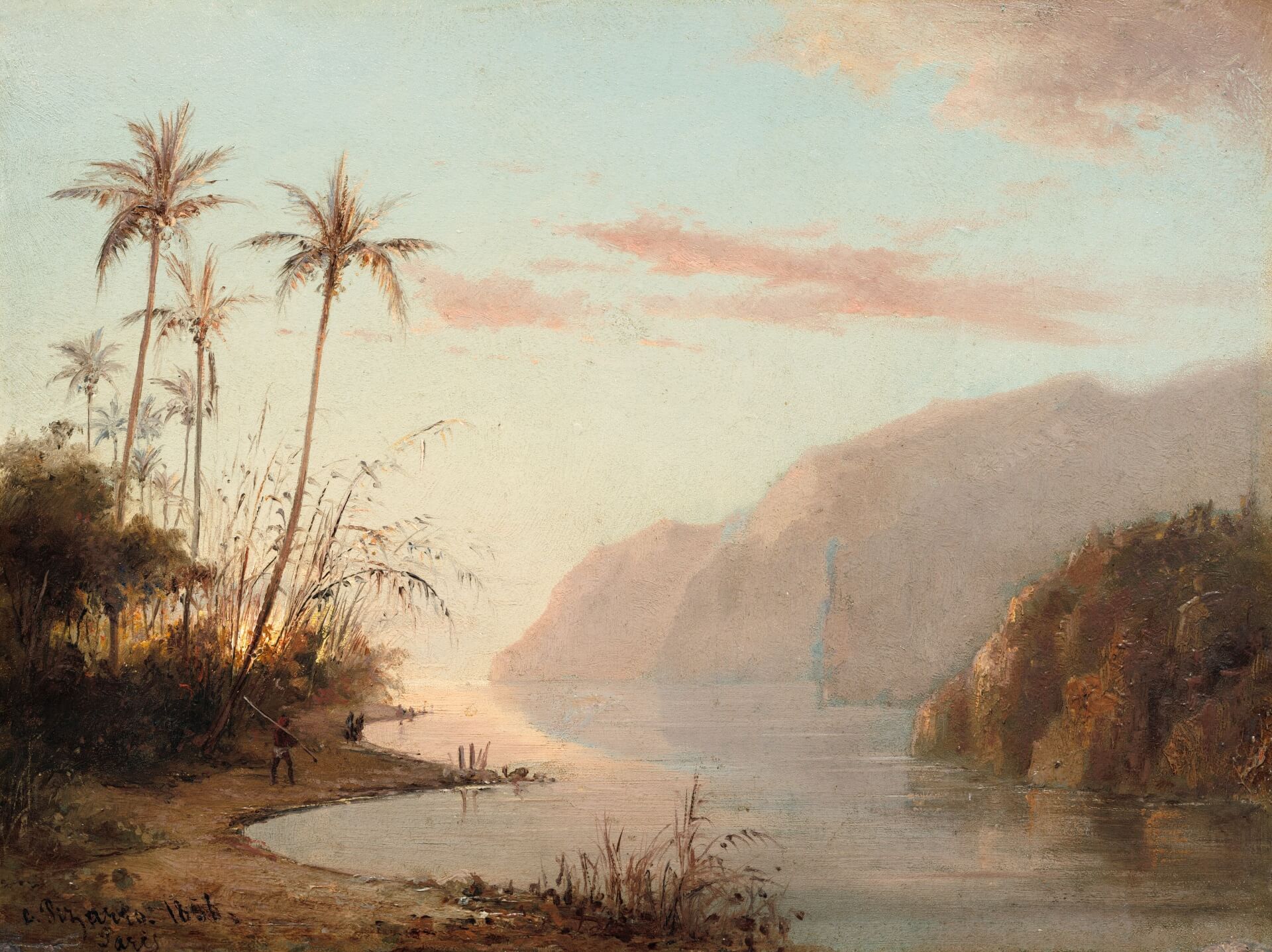 A Creek in St. Thomas (1856)
Pissarro veered from his signature farmland illustrations with this painting, inspired by his visit to the Virgin Islands. In it he proves that his artistic talents go well beyond repetitive compositions and color schemes of green and blue.
Our favorite feature of this painting? The flawless depiction of the haze that sits in the air as the sun begins to tuck itself away for the night. Bring it to life on a custom poster print.
---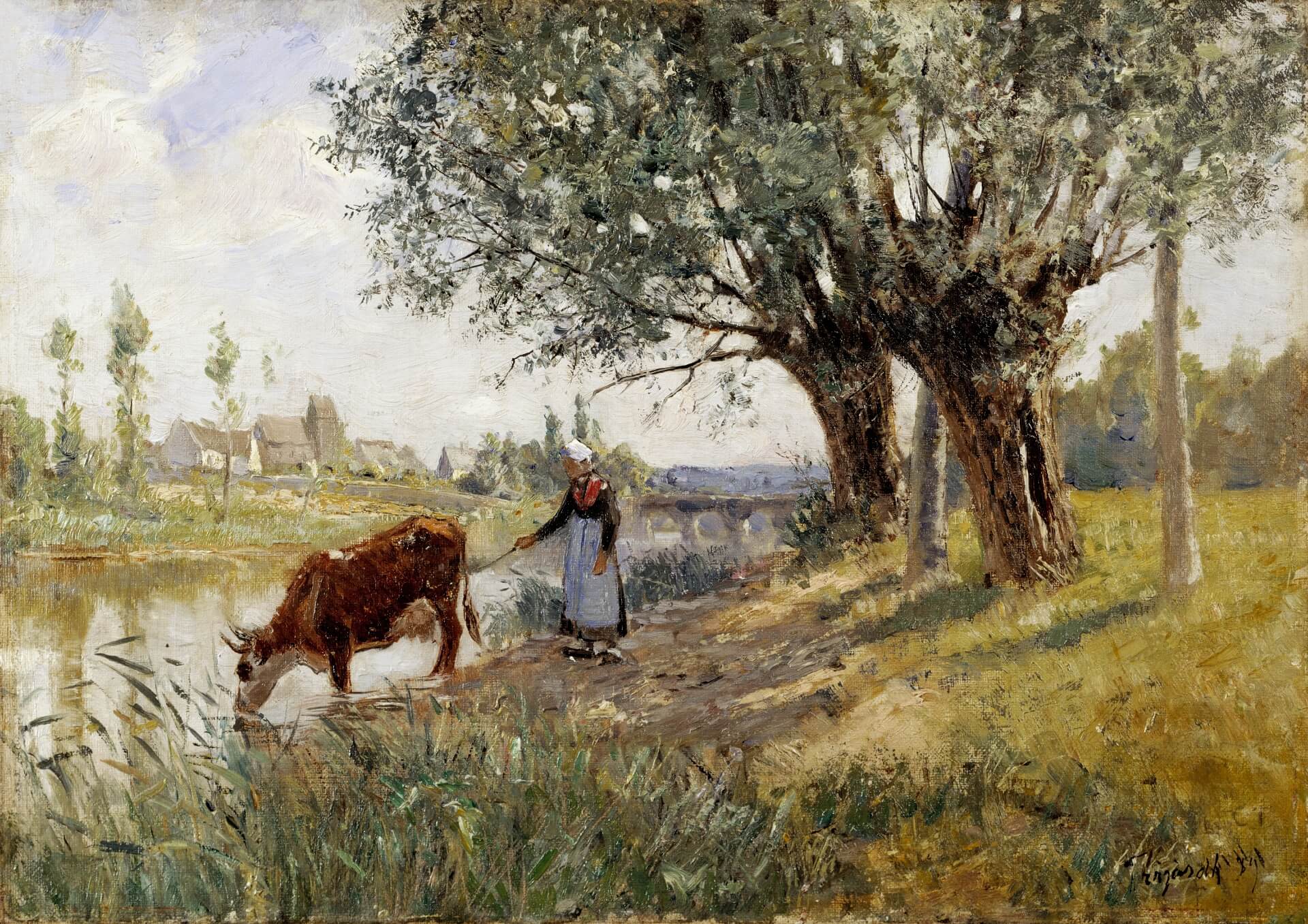 Countryside near Grez-sur-Loing (1889)
You can lead a cow to water, but you can't always turn it into a magnificent painting! We adore Pissarro's use of brilliant golds in this simple yet alluring illustration.
Make all of its golden details pop by displaying it in a dark frame of either brown or black wood.
---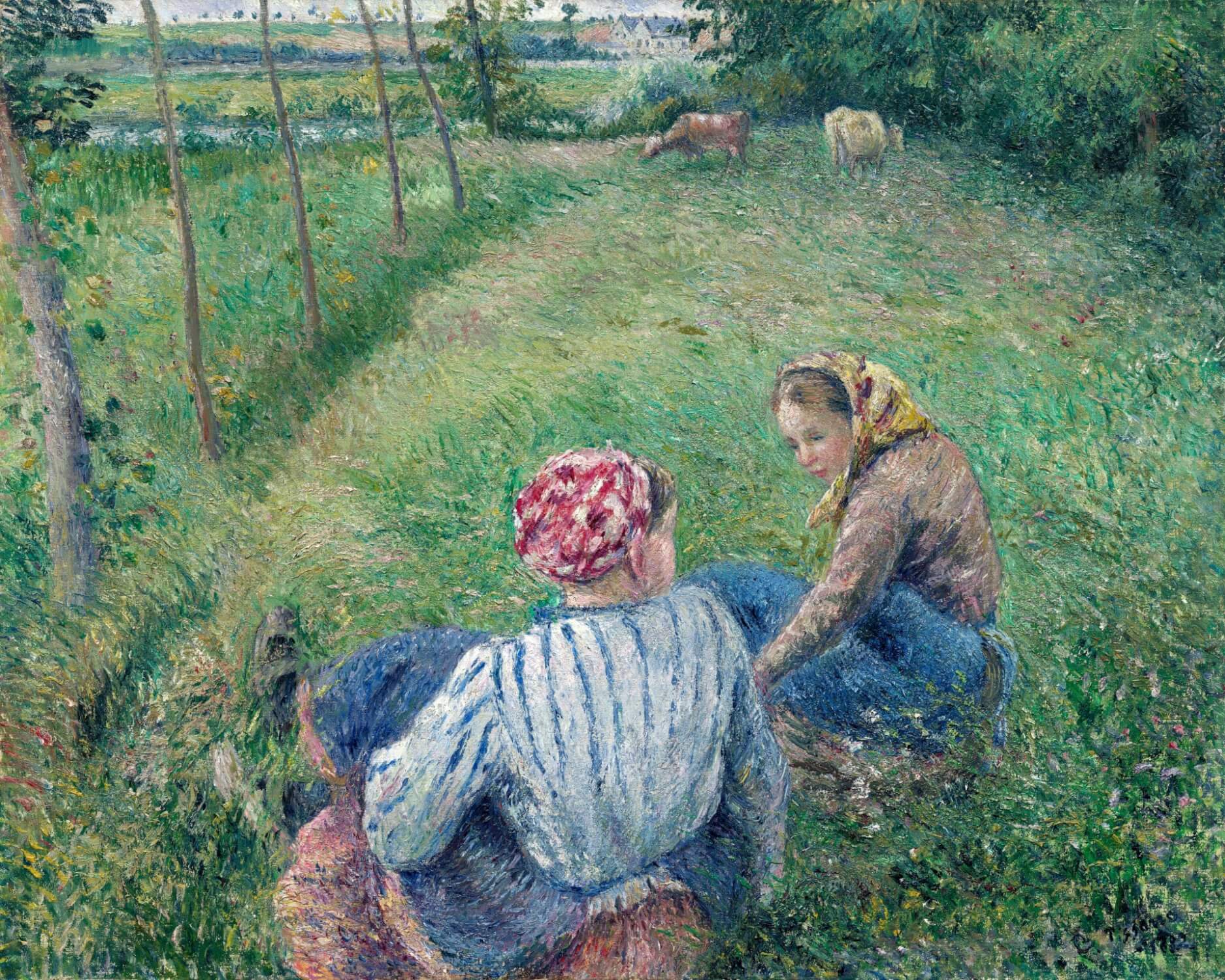 Young Peasant Girls Resting in the Fields Near Pontoise (1882)
In one of Pissarro's best known paintings, he depicts two working girls during a break in a farmland's tall grass. It's a perfect example of Pissarro's knack for finding extraordinary in the ordinary.
Bring it to life on an acrylic photo block to inspire your own discovery of life's extraordinary details!
---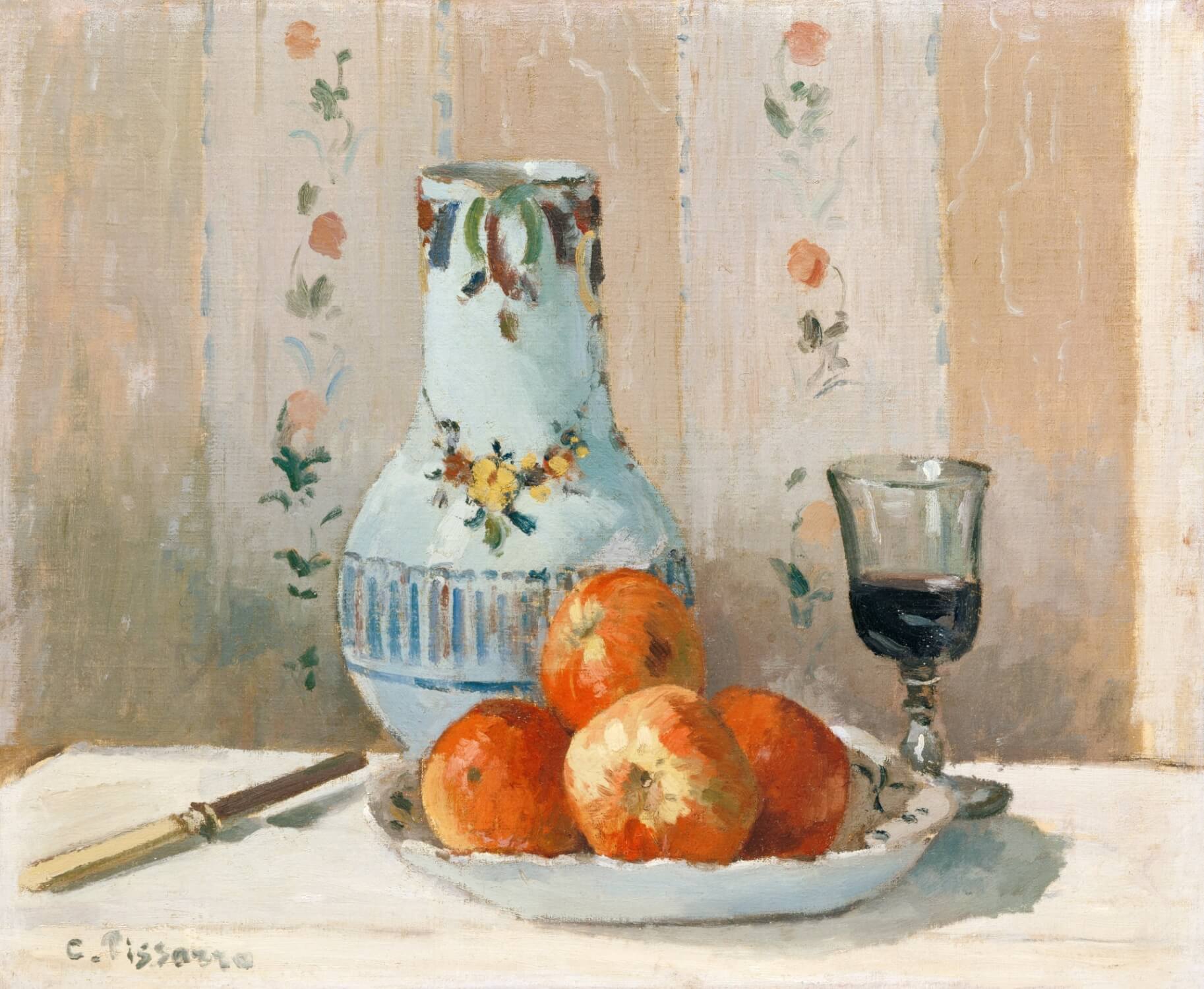 Still Life with Apples and Pitcher (1872)
If you have a love for still life illustrations, don't overlook this subtle yet breathtaking piece of art. With a soft orange hue throughout, it's the perfect piece of decor for anyone looking to add a warm or feminine touch to their space.
Bring it to life on a canvas print to maximize the presence of this painting's artistry.
---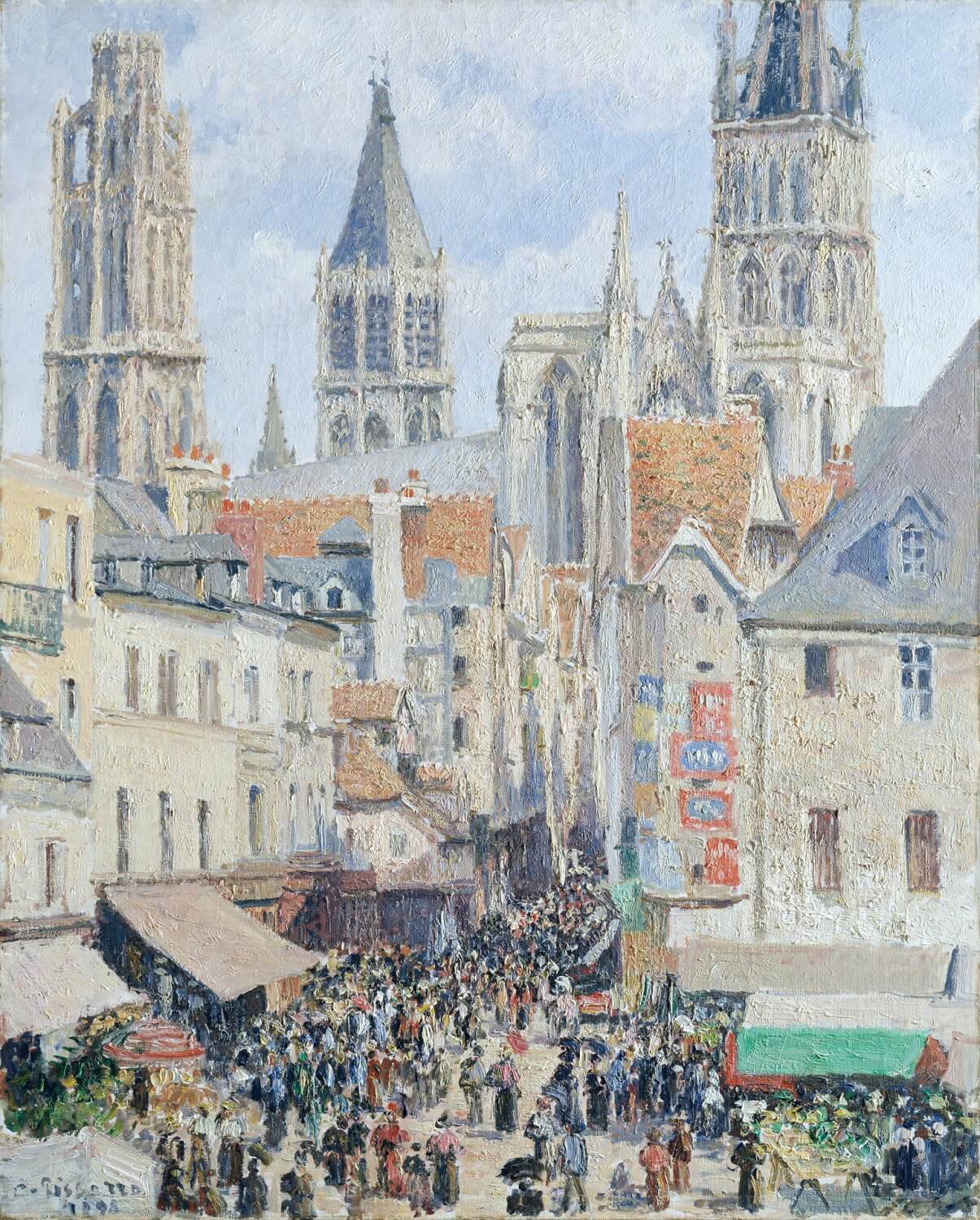 Grocery Street, Rouen (1898)
Who knew the mundane hustle bustle of a marketplace could make for such a mesmerizing illustration? Pissarro certainly did! We are entranced by the way this painting pulls between the strengths of both detail and abstraction.
Highlight its boldest colors on a large metal print, or play to its subtleties with a hand-stretched canvas!
---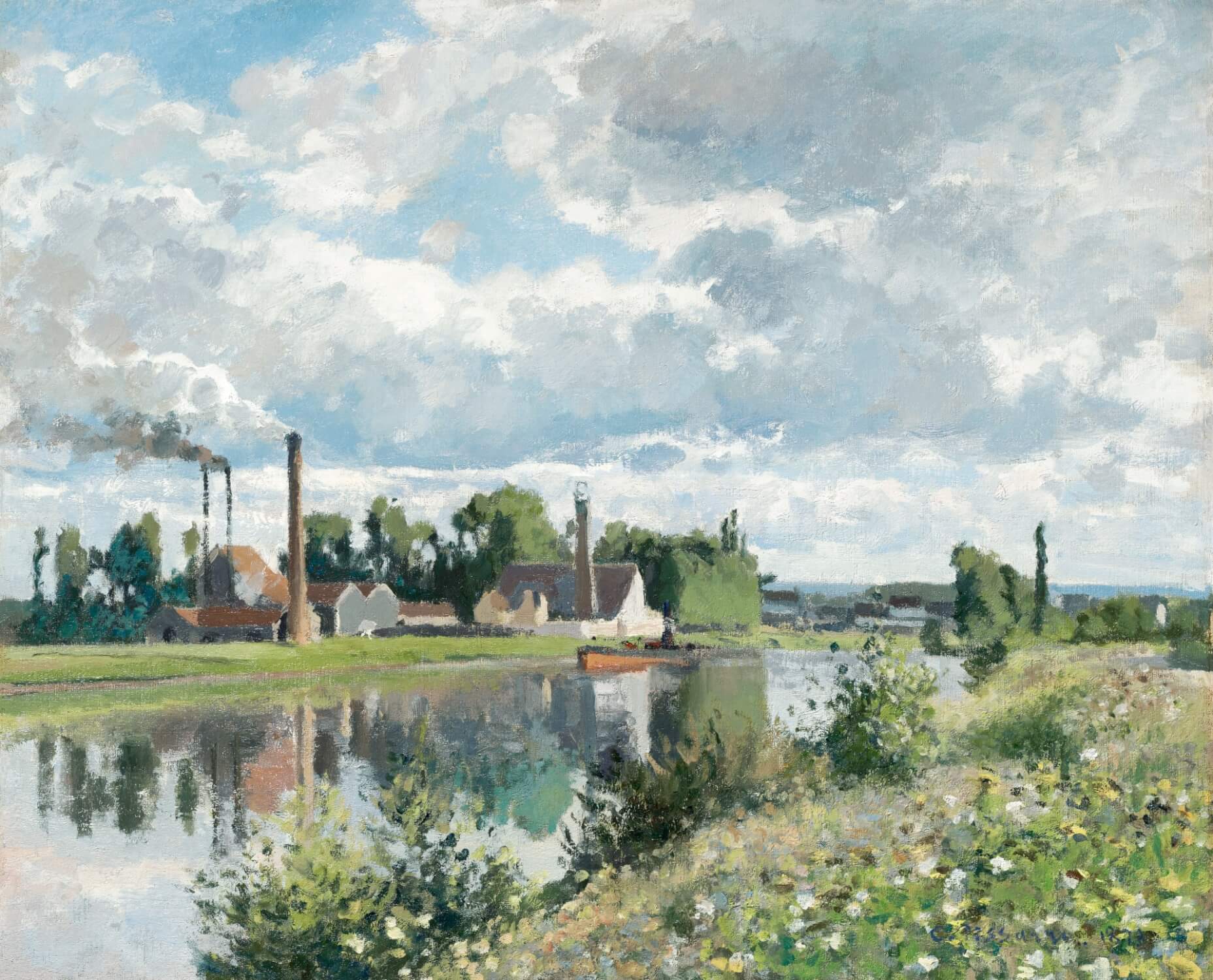 The River Oise Near Pontoise (1873)
In a similar fashion to Jalais Hills, Pontoise (1867), Pissarro captures the beauty of the French countryside in his illustration of the river Oise near Pontoise.
Use this incredible, naturalistic illustration to add artistic greens and blues to an earth-toned area of your home.
---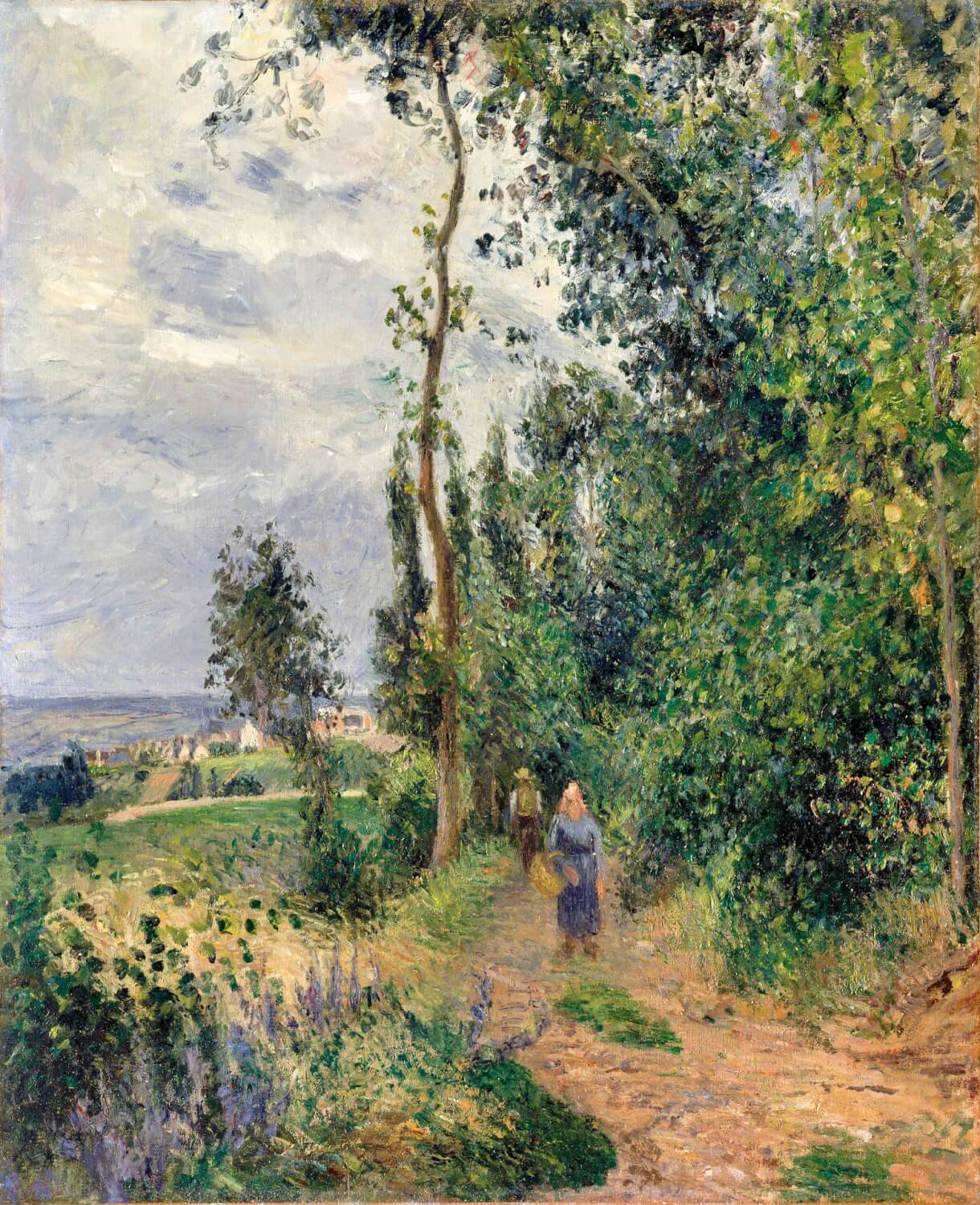 Cote Des Grouettes, Near Pontoise (1878)
Last but not least we have Cote des Grouettes, near Pontoise (1878), in which two people are seen walking along a trail, encased by overgrown farm land. The somewhat messy and fluid composition of this painting makes it the perfect piece to add to an eclectic gallery or intentionally hodgepodge area of your home.
---