Ever scroll through your Facebook feed and stop only to find an image so interesting, you need to know the story behind it? That's exactly what happened to me when I found a post by photographer and artist Tara Mapes. Her dark and moody portraits are intriguing. So grab a cup of coffee and have a seat, let's go behind the scenes of her creative and spooky mindset.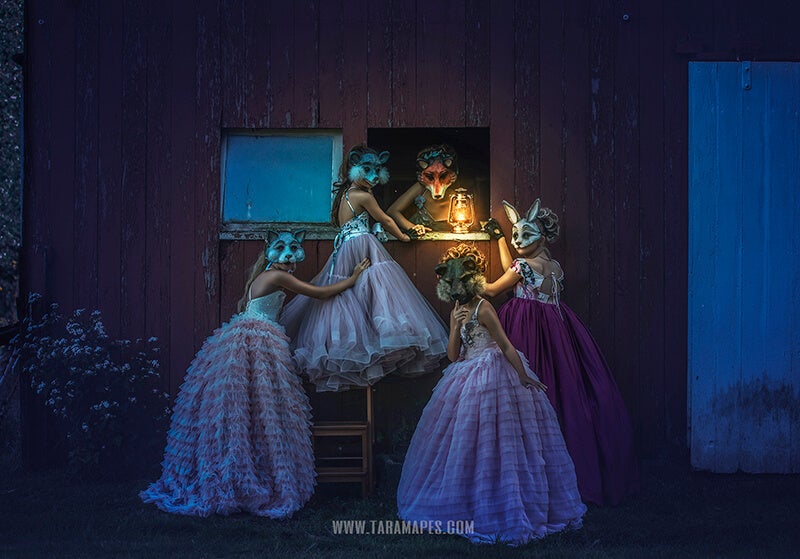 Meet the Artist – Tara Mapes
Hi, I'm Tara Mapes and I own Enchanted Eye Creations ® as well as Tara Mapes Fine Art Photography. I am a mother, twin, writer, and photographer.
As an artist, I always want to tell a story, or portray enough emotion that the viewer can create their own when they see my work. From Fine Art painterly portraits to vintage horror, I love it all. I've been in photography since 2011 but working with Photoshop since 2013. I'm self-taught in Photoshop and learned it with a lil' wine and a lot of swearing.
Recently, I read a magazine that was having a Pet Sematary themed contest. I envisioned what I wanted to create. I wanted a creep-worthy location, papier-mache masks, and Anna Triant gowns.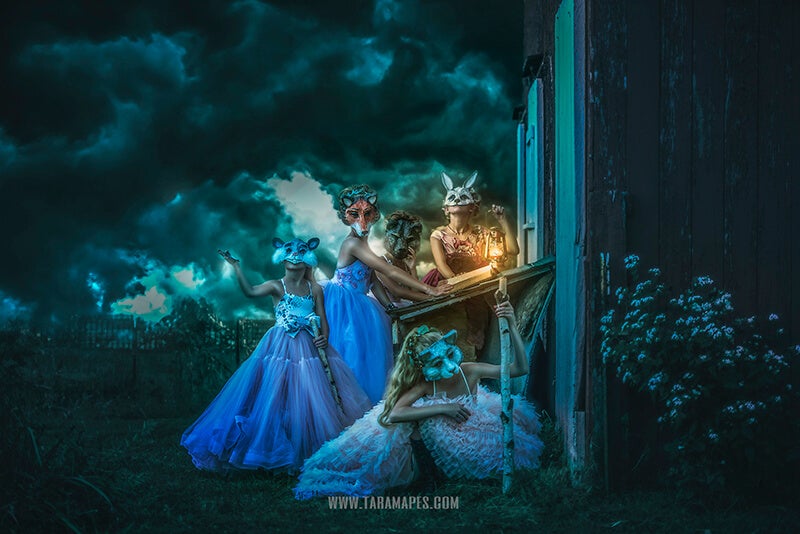 For two months I shopped props, rode around my new state scouting out locations and talking to property owners, planning the models, styling and doing dry runs. Yes….dry runs!
On the day of the shoot, I had one goal in mind: create a story with the images. I didn't just want little girls in pretty dresses and masks.I wanted people to stop scrolling, click on the picture and conjure up a story from the scene they were seeing.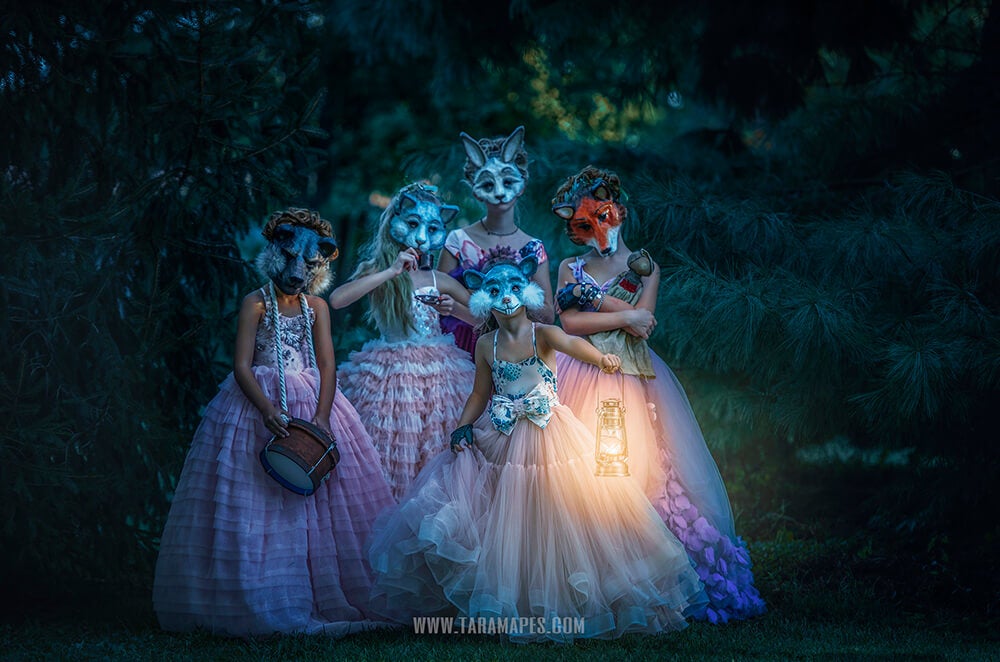 After the successful shoot, I pulled up the images on my computer. I didn't have an exact plan on how I was going to edit, but I knew I wanted dramatic, painterly and eye tickling. I wanted to create a dark & moody with a side of creepy and I couldn't be happier about the end result.
Post Production
When I think of drama I think of dark, contrasting imagery. I think of brooding emotion. I see deep blues, cool cyan and when you add that complementary orange light. I think it's irresistible to the eye.
For the sky overlay, I chose a stormy sky to add some foreboding mystery to the close-up image with the keys and the one by the barn. I will often seek guidance from my trusty color wheel to choose a color palette or theme.
The sky overlay was actually gray. I added cyan via a color balance layer to give it a cool and menacing look. Then I added a pop of complementary orange light in the lantern to bring focus to the girls and add visually appealing complementary colors.
For the image with all five girls around the book by the barn, if you look at it, you can almost see the strike of lighting that is being called down by the little mouse. I don't think you'd feel the image the same way without the sky overlay and the night adjustments. For the images that didn't have a sky opportunity, I used adjustment layers to summon the night.I reduced saturation overall, added several curves layers to build darkness without overwhelming the girls.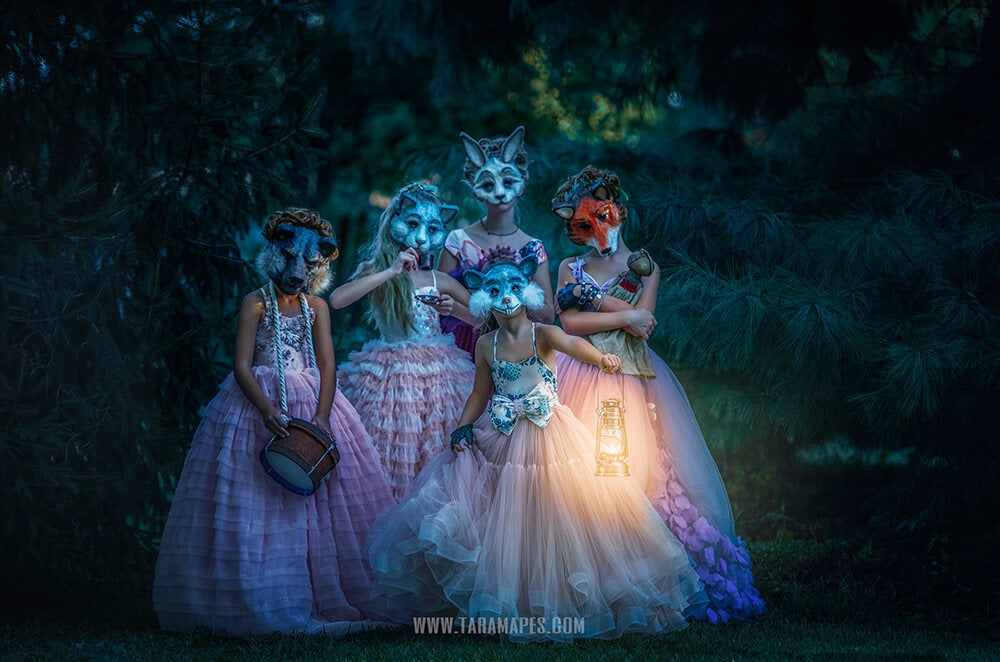 I used color balance layers to push cyan and blue into the shadows and then, where applicable, used the complementary orange light. I also painted the light onto the girls using a layer in overlay blend mode, which created an illustrated/painted look that I wanted with this set.
For advice on shooting for a night conversion, most people might underexpose their image to make it easier. I don't recommend this. It will give you a lot of grain and make it more difficult to achieve a painterly look.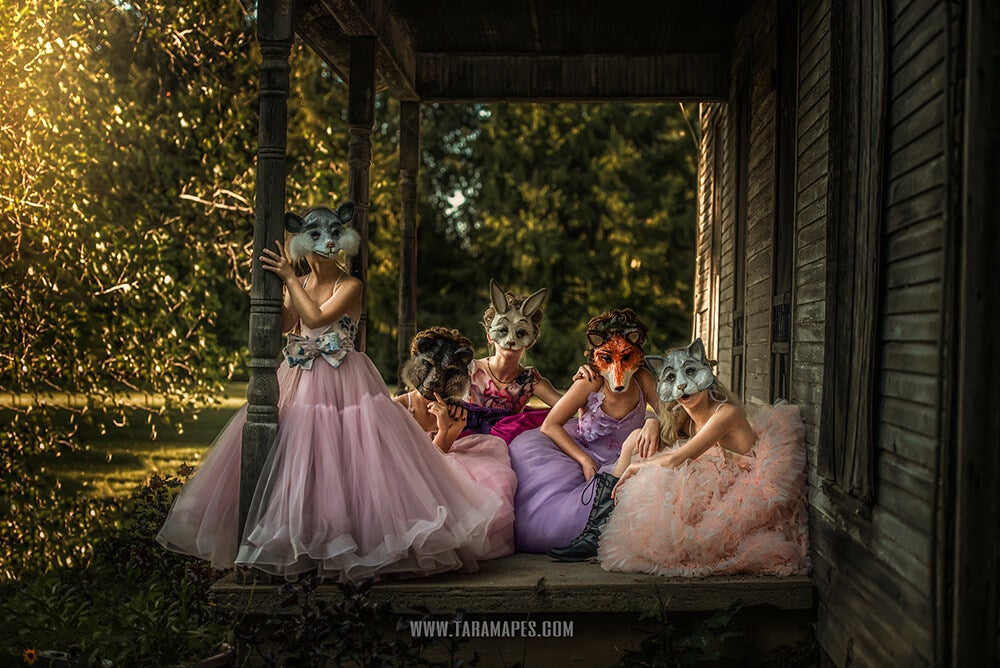 I recommend using camera raw filter in Photoshop. Use the hue slider to adjust colors, change exposure, highlights, shadows, and luminance and you'll have more control over the final outcome.
Unsolicited Advice
For those inspired by this shoot, thank you. Truly. Every artist feels validation when they share their work and it's accepted. If you're not there yet, or it seems overwhelming, don't listen to that voice in your head. I've had plenty of visions fizzle. I think it's so important to just keep on shooting. If it doesn't work out the first time, you gained more than you lost. Because you'll determine the why, and you'll be able to fix it. Whether it's lighting or planning, you'll remember next time. There are no tutorials or workshops that will give you what good ol' fashioned experimentation will give you. Learn, yes. But DO–a lot, on your own. You'll learn a lot more about your gear, and yourself.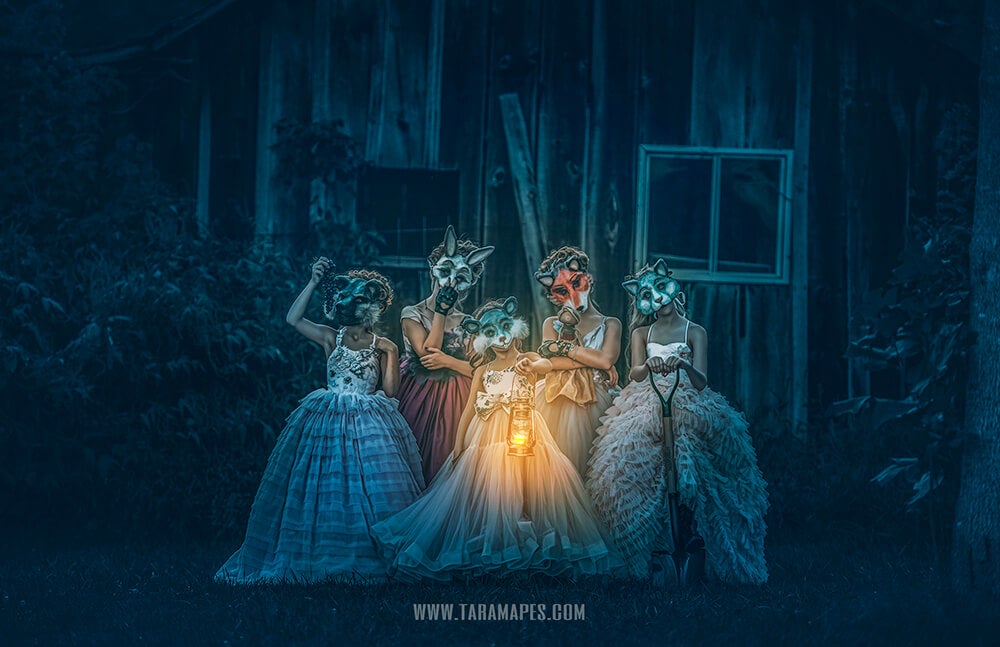 Thank you, Tara, for your inspiration. We are currently working with Tara to find the best print product for her creations. We'll be testing her images on Canvas Prints, Giclee Prints, and Metal Prints with a satin finish to see which one brings her vision to life. Stay tuned for the follow-up!