If you're a fanatic for all things Spooktober, you'll adore the work of photographer and visual artist Christie Monteleone. The Long Island resident has used her love for movies and television as a source of ever flowing inspiration, keeping her photography endlessly fascinating and inspiring. She's gained particular notoriety on platforms like Instagram, Pinterest, and TikTok for her sensational 31 days of cosplay every October.
Want to star in your own spooky shoots? With inspiration from Monteleone's one-of-a-kind work, we've put together 8 tips to help you pull off your most awe-inspiring photoshoot ever.
Find your inspiration.
"Almost all of my inspiration is from cinematography," Monteleone shares, "which is why I love Halloween so much."
Whether you're also a fan of the big screen or prefer to fill your down time with sporting games, rock and roll concerts, museum hopping, or anything in between, put your finger on the pulse of what inspires your creativity and you'll be well on your way to one-of-a-kind costumes and thematic photoshoots galore.
Source your props.
If you want to create an ensemble of cinematic photoshoots, staying within budget will require some clever prop sourcing.
"I had to become very resourceful with wardrobe and costumes to keep things on a low budget," Monteleone shares. "Using my own clothes, Facebook marketplace, Instagram and reaching out to businesses to support the project. It was a lot of scavenging around."
One example of said scavenging can be seen in the photo below. The amazing touch of the dead bride's bouquet was courtesy of Home Town Flower Company, a Long Island based flower truck and design studio.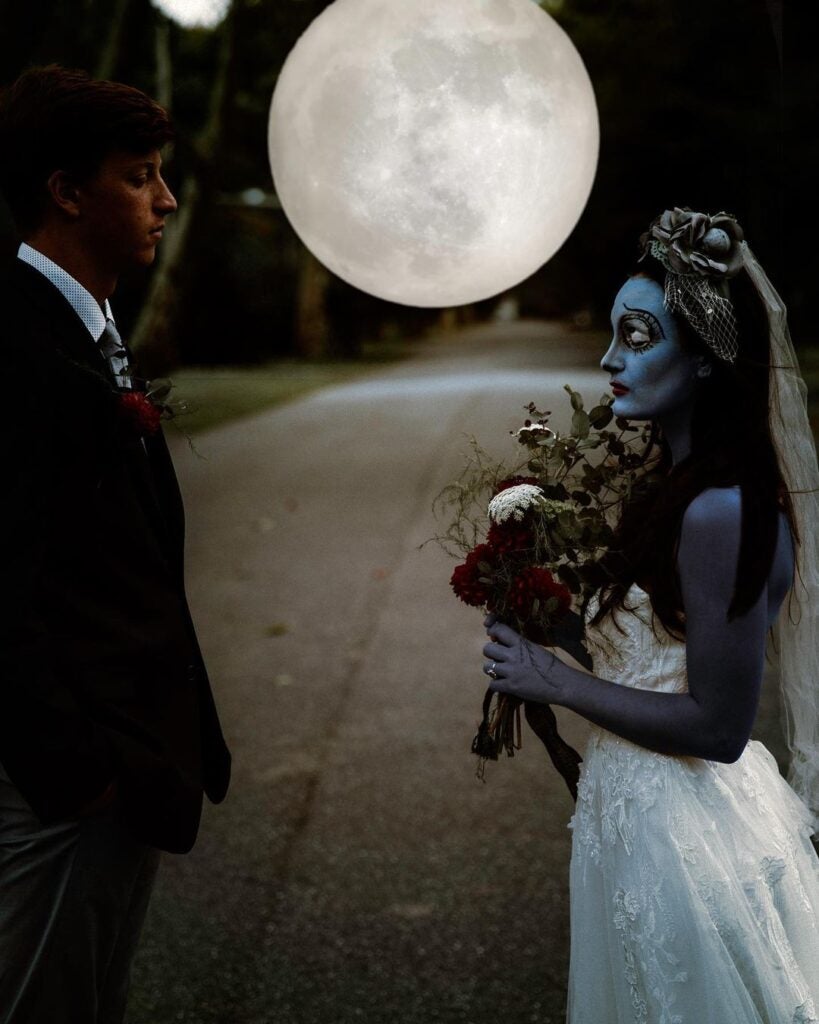 Ask friends, family, and social media followers if they have any items that could bring your Halloween photoshoot to life. Facebook marketplace and 'buy nothing' groups are other great ways to source props for little or no cost.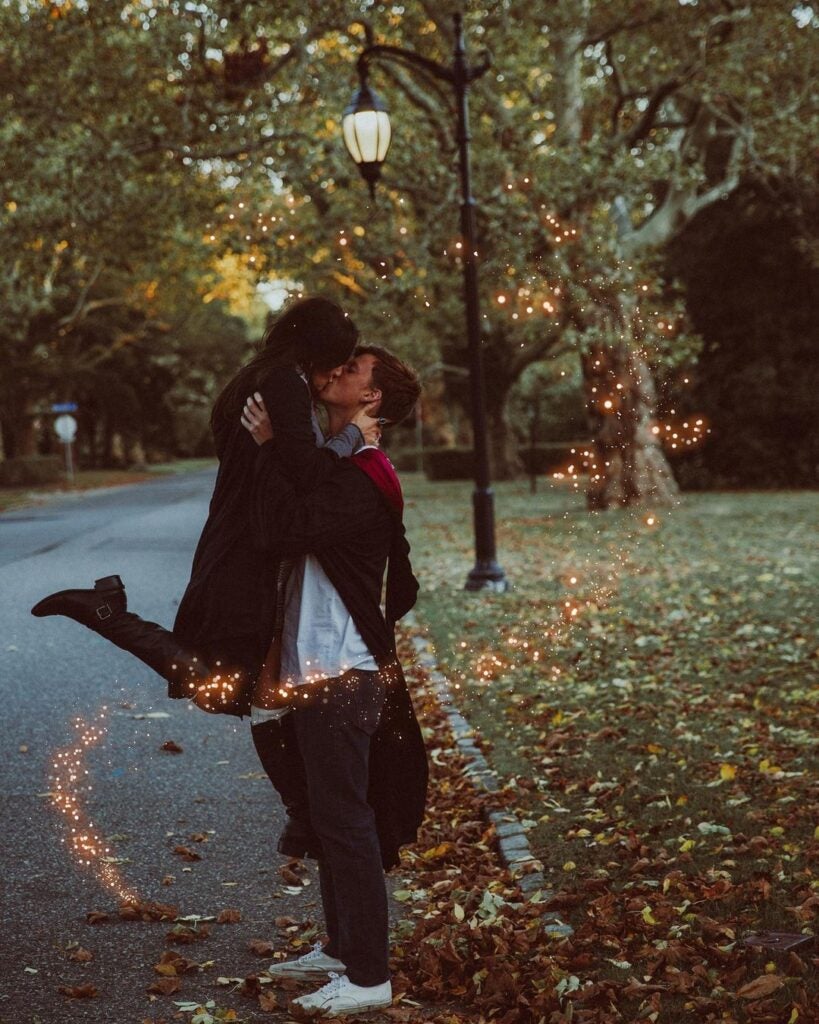 Double purposing your props is another great way to make your photo dreams a reality without torturing your bank account. Have the perfect cloak for a wizard, a witch, and a Sith lord? Put it to good use! Create three Halloween photoshoots out of one.
Nail the location.
Monteleone describes her location sourcing process as "obsessively scanning the roads while I'm driving and looking for something that I can make work."
When you have a mental – or better yet, written – list of the shoots you'd like to do, location hunting can become second nature while you're out grabbing groceries or taking a walk. Those trees behind the local post office will suddenly seem like the perfect place for your Tarzan-inspired photo shoot, while the local library morphs into part of the Hogwarts campus.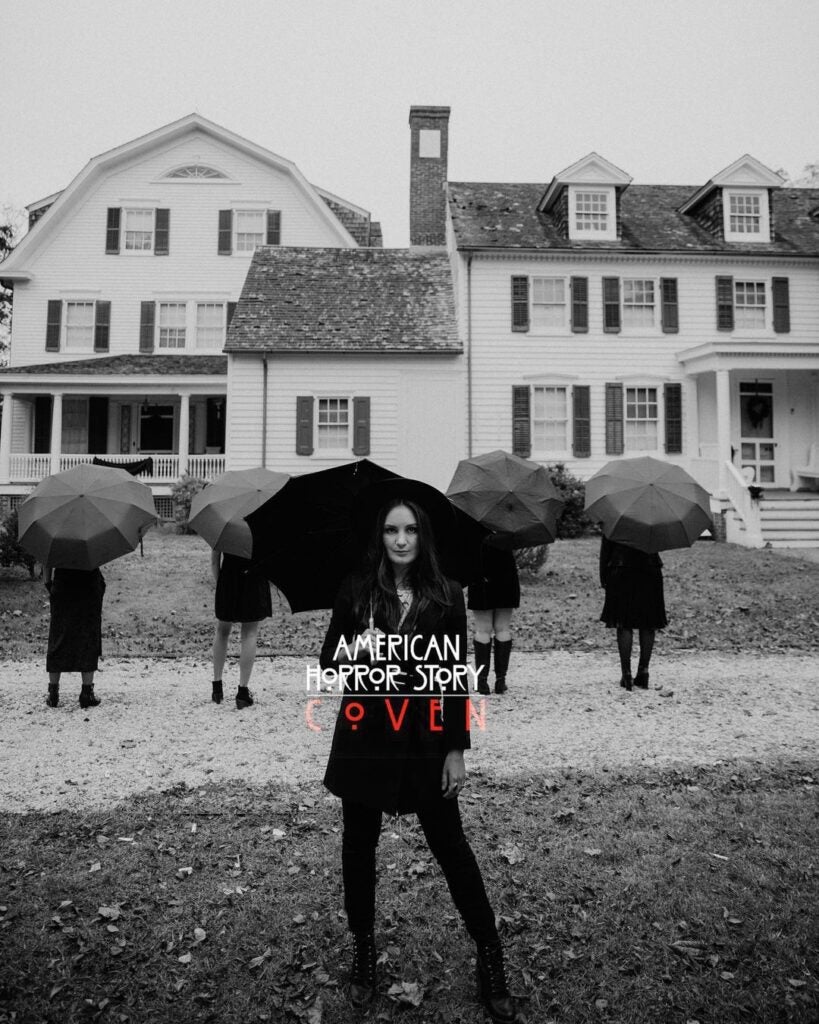 "It gets easier finding locations and props when you're on high alert 24/7," Monteleone shares. "I prefer to find locations over building a DIY set. I've done that a few times and its way more stressful when you're in a time crunch."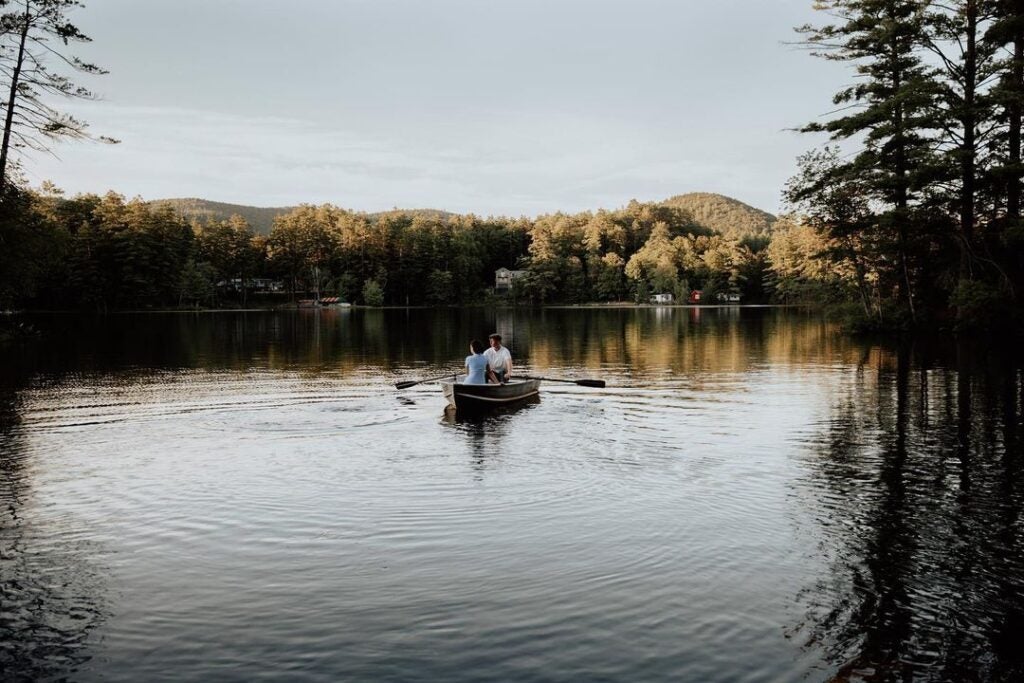 Be intentional.
As your photoshoots start to take their final form, stay intentional in all of your design choices. For example, if you're cosplaying as Mia and Sebastian from La La Land, you're going to want to use very different lighting than if you're reenacting a scene from The Office. Select lighting and color schemes that actively add to the quality of your shoot, not just ones that do no harm.
Monteleone has mastered the art of intentional aesthetic, demonstrated in the Beetlejuice-inspired photograph below. Dim lighting and a grainy, film-like quality make this photo cohesive and authentic to the movie that inspired it.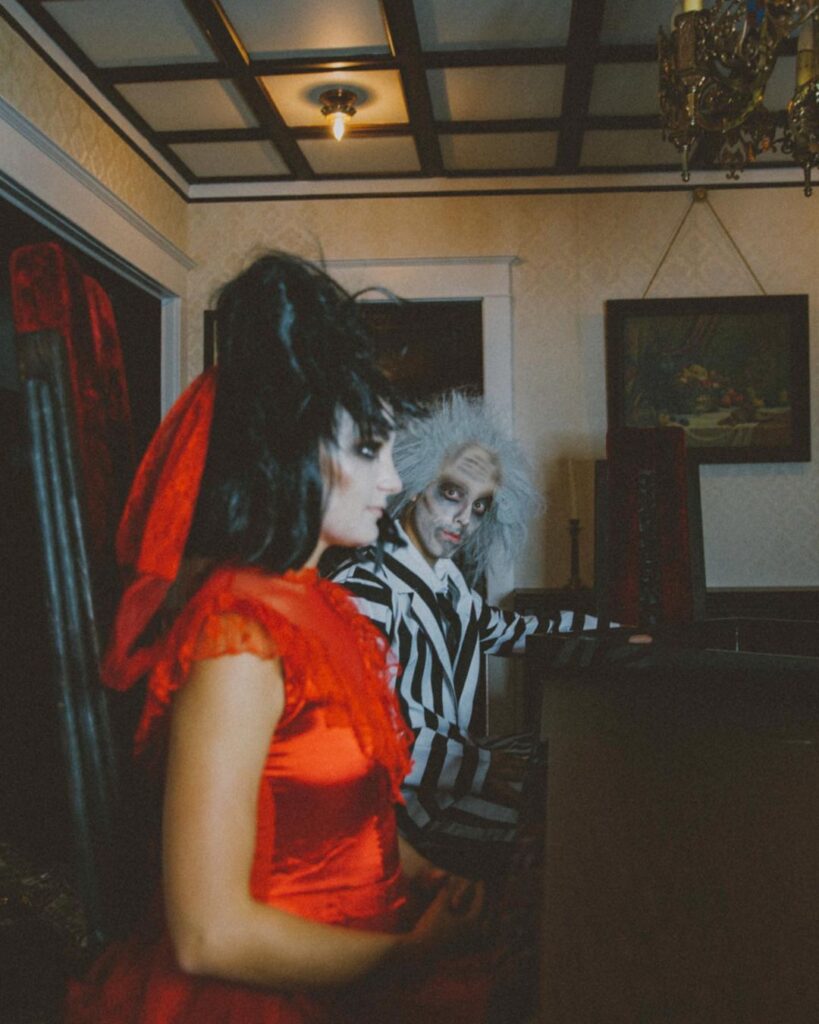 Need advice on capturing that film aesthetic? Monteleone has you covered! Check out the piece she wrote on how to capture cinematic photos.
Recruit friends.
Some of the most iconic characters in history are hardly recognizable without their notorious sidekicks right there with them. When that perfect costume idea comes to mind but you're short on the characters you'd need to really sell it, reach out to your friends!
Whether you schedule a shoot or spontaneously pull props out of your bag and spring into action the next time you're together, getting your friends involved opens the door to hundreds of cosplay ideas.
Can't think of anyone that fits a specific role? Why not make an adventure out of it and search for your character in real life. If you live in a metropolitan area, there's no limit to the perfect fits you stand to find every time you step out the front door. Bring your photoshoot to the street!
Think on your feet.
From sourcing props, to finding the perfect location and casting your shoots – creating the perfect series of Halloween photos will call for some major improvisation.
Take Monteleone's Pink Ladies photoshoot for example: if you look closely, you'll notice that Monteleone is, in fact, each of the Pink Ladies!
Using a tripod, self-timer, and photoshop to stitch together various photos for a group shot is a perfect example of how to think on your feet. When you don't have the right wardrobe, the right hair color, or the right people, challenge yourself to make it work anyway. What fun would this really be if all you were doing was recreating Hollywood shots with Hollywood access?
Stick to your personal style.
While some of the fun of a spooky photoshoot comes from nailing the details of a costume or scene, don't forget to keep your personal style at the forefront of everything you do!
Maybe you personally hate ever stepping foot in front of your own camera. Perhaps you have more fun when it comes to editing than you do collecting raw images. Let the nuance of your passion for photography shine through in your work. Photoshop your picture until it's nearly unrecognizable, or shoot on film and leave it as is. Star in each of your spooktacular shots, or put the focus on props and mystical characters that can be created with objects rather than people.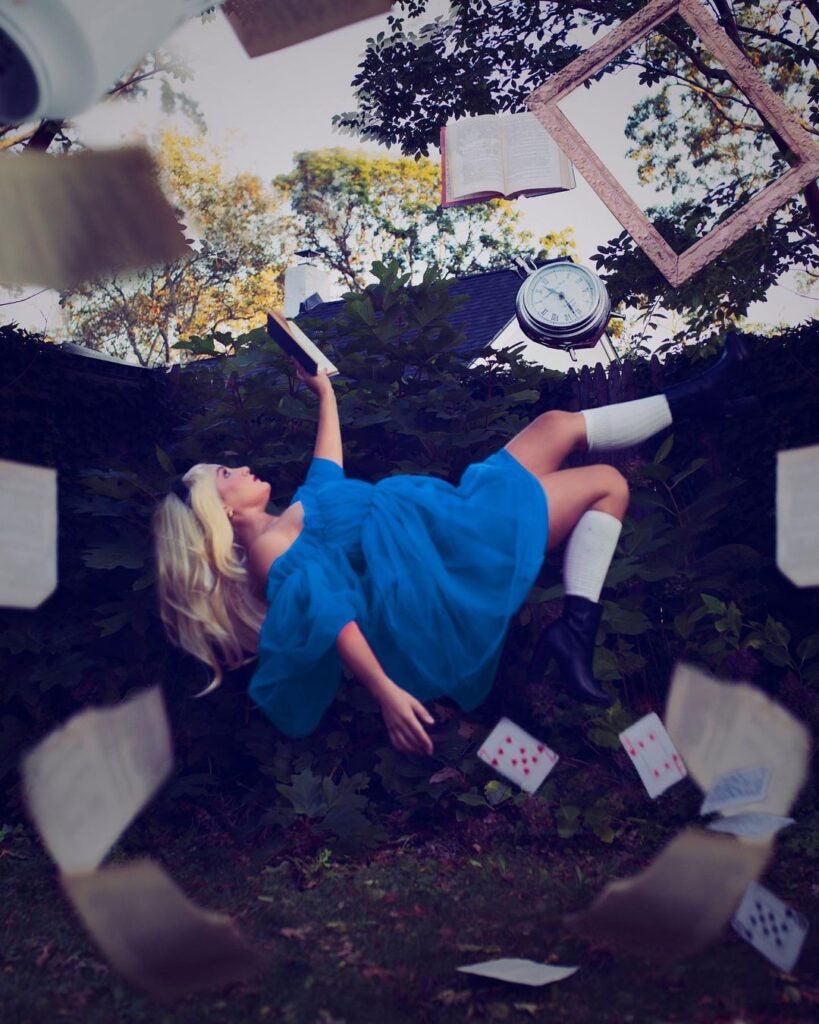 There's no right way to create a thematic photoshoot. That's why pulling inspiration from Monteleone's approach is so much more helpful than simply saying "go do what she did." Her work is so exciting and engaging because each piece is uniquely hers: featuring the locations she selected, the props she sourced, the friends she recruited, and the inspiration she let fuel each photo!
Keep creating.
Our final tip inspired by Monteleone is simple: keep creating. Just because the season of costumes and frightful delight comes to an end doesn't mean your creative streak should! Incorporate winter weather and holiday themes into your work to keep the photography fun going all year round.
Need a camera break? Put your creative energy toward creating a photobook that showcases all of your Spooktacular masterpieces.
Follow along with Monteleone's work:
Instagram: https://www.instagram.com/ckmont/
Pinterest: https://www.pinterest.com/heyymontt/_created/
TikTok: https://www.tiktok.com/@ckmont