The bathroom is one of the most used rooms in the house, but it's often overlooked when it comes to decorating. Our team of experts pulled together these seven design tips for how to decorate your bathroom. Whether you need extra space to hang your favorite family photos or you want to elevate this simple space with unique art — we're here to help you bring your bathroom design to the next level.
---
Baby Photos as Bathroom Art
There's no better way to cherish the adorable memories of your kids in bubble baths than hanging prints in the room where it happened! Those moments of kids covered in suds were some of your happiest memories from their childhood and there's no better place to display them with a wall print. We'd suggest an acrylic print so that the iridescent colors of the bubbles pop — pun intended!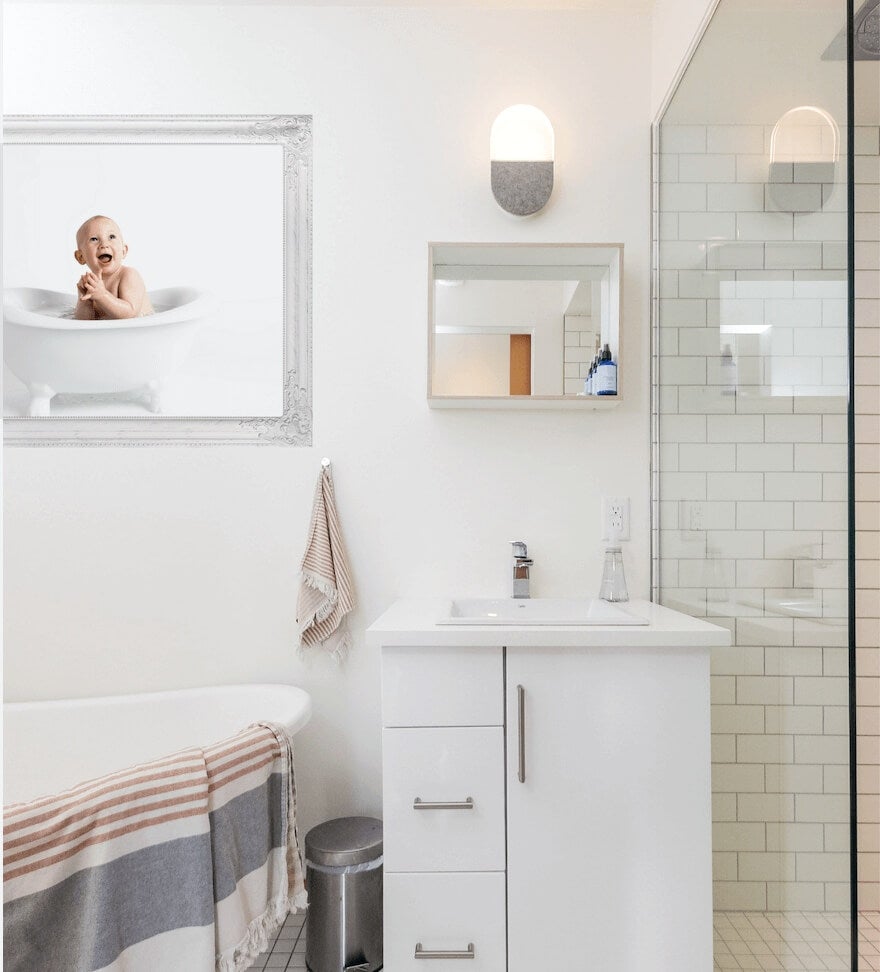 Best Decor For your Beach Bathroom
Beach-themed bathrooms are one of the most popular design trends of the last decade. If your bathroom is currently covered in seashells and ocean waves, we've got a great tip of how to incorporate your travels into your space. To match this nautical theme, select a large wood print that shares a beautiful shot from your favorite beach vacation. This photo can be of your family swimming along the shore or a landscape photo of a beautiful summer sunset.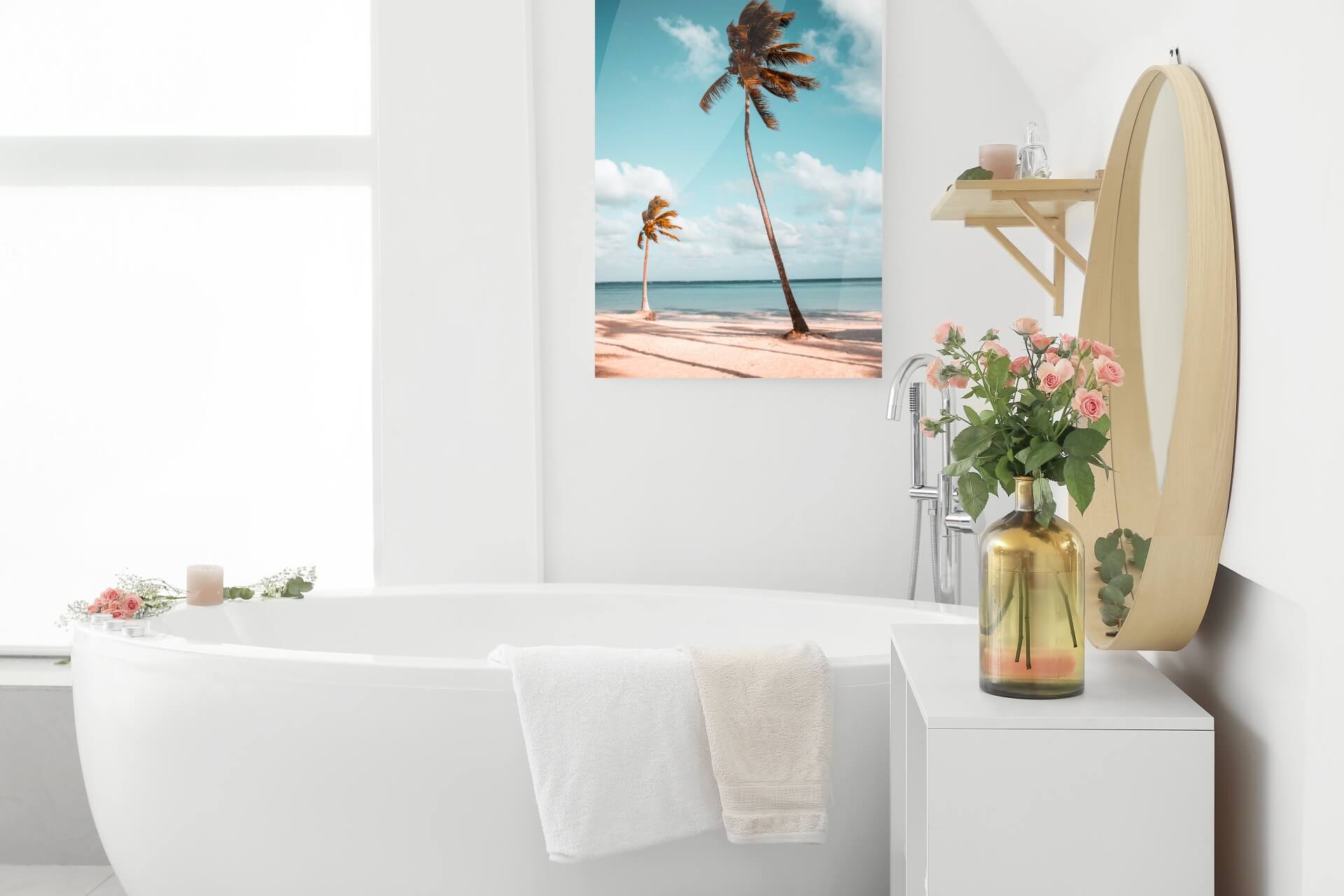 Vintage Ads as Unique Bathroom Decor
Vintage photography is one of our favorite ways to decorate your space. There are so many vintage photos of models and actresses getting ready in a bathroom mirror that would make perfect poster prints for your wall. They are unique "behind the scenes" shots that you can reflect on while you're getting ready.  If you can't find a photo you love, another great tip is to use a vintage advertisement of your favorite product. You can use a variety of databases to search through magazine ads from any decade: our favorites are Vintage Ad Browser and the Penn State Library Archive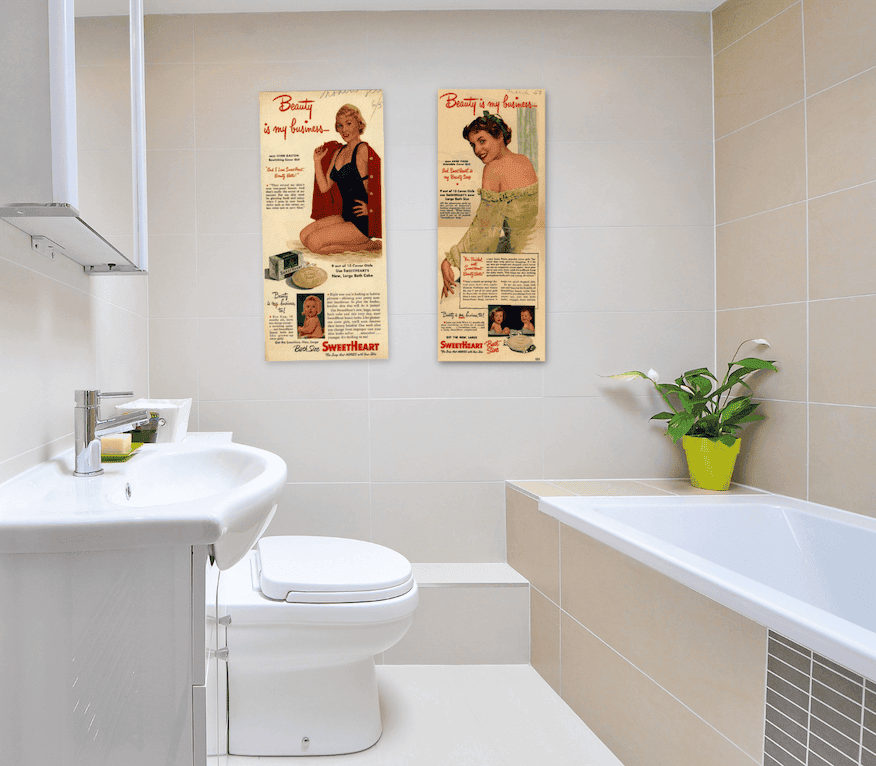 Turn International Travels into Unique Door Decor
Another suggestion for our global travelers out there! Across your travels you're guaranteed to see a variety of bathroom signs; whether it's in a different language, has different labeling icons, or matches the fun theme of the attraction, these signs will always remind you of a fun vacation and will start interesting conversations with your guests. Design a graphic print of the word "bathroom" in the language of your choice, or print a photo of an international sign to hang on the outside of the door.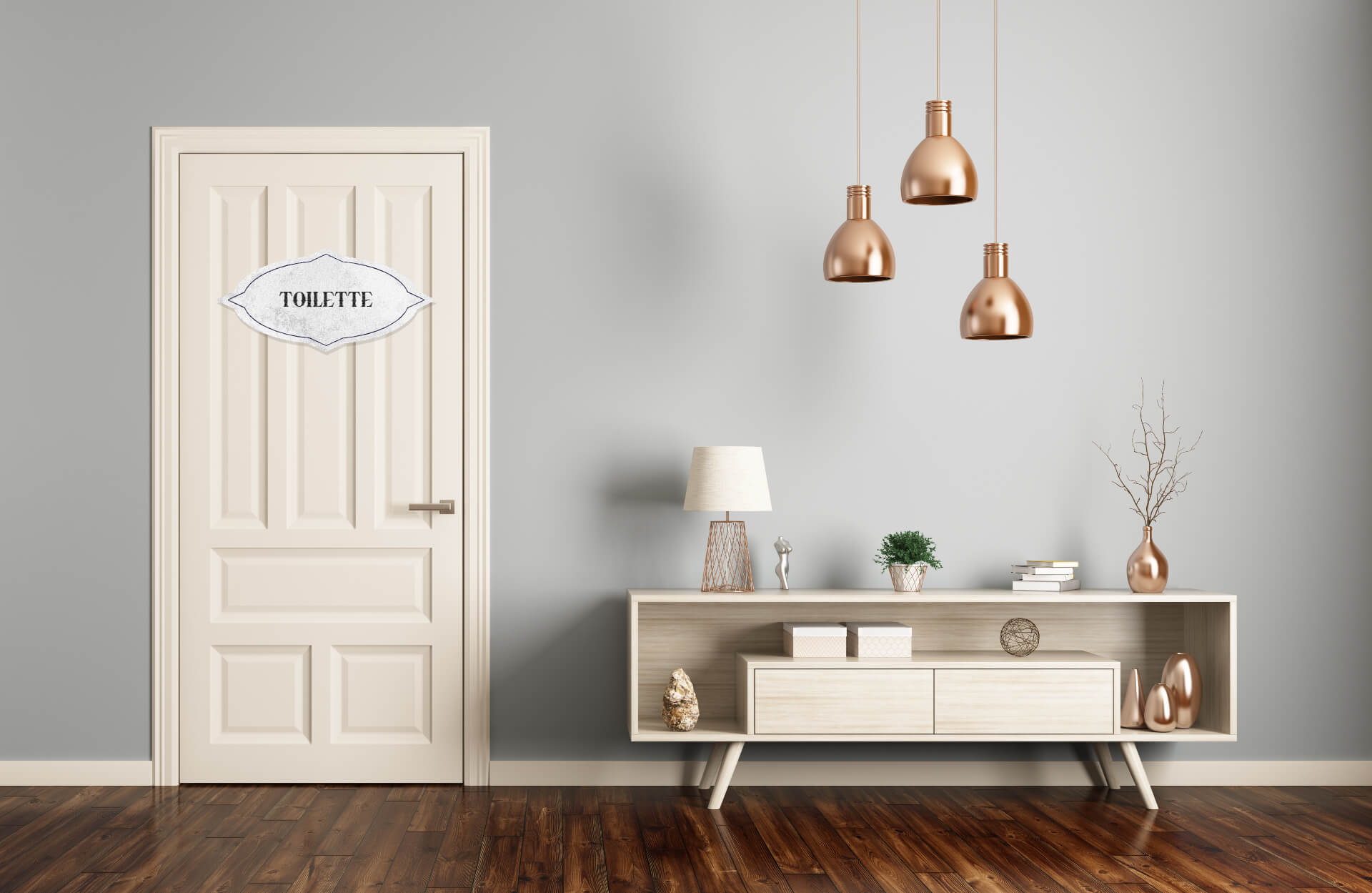 Add Delicate Floral Decor
If you love an elegant and floral aesthetic, there's no better place to utilize it than in the bathroom! The dainty and beautiful appearance of flowers gives a spa-like feeling to your bathroom. Blend flower prints with the scent of floral soaps and candles and your bathroom will transform into a relaxing oasis.
Frame your flowery photos with crisp white matting to make their bright colors pop!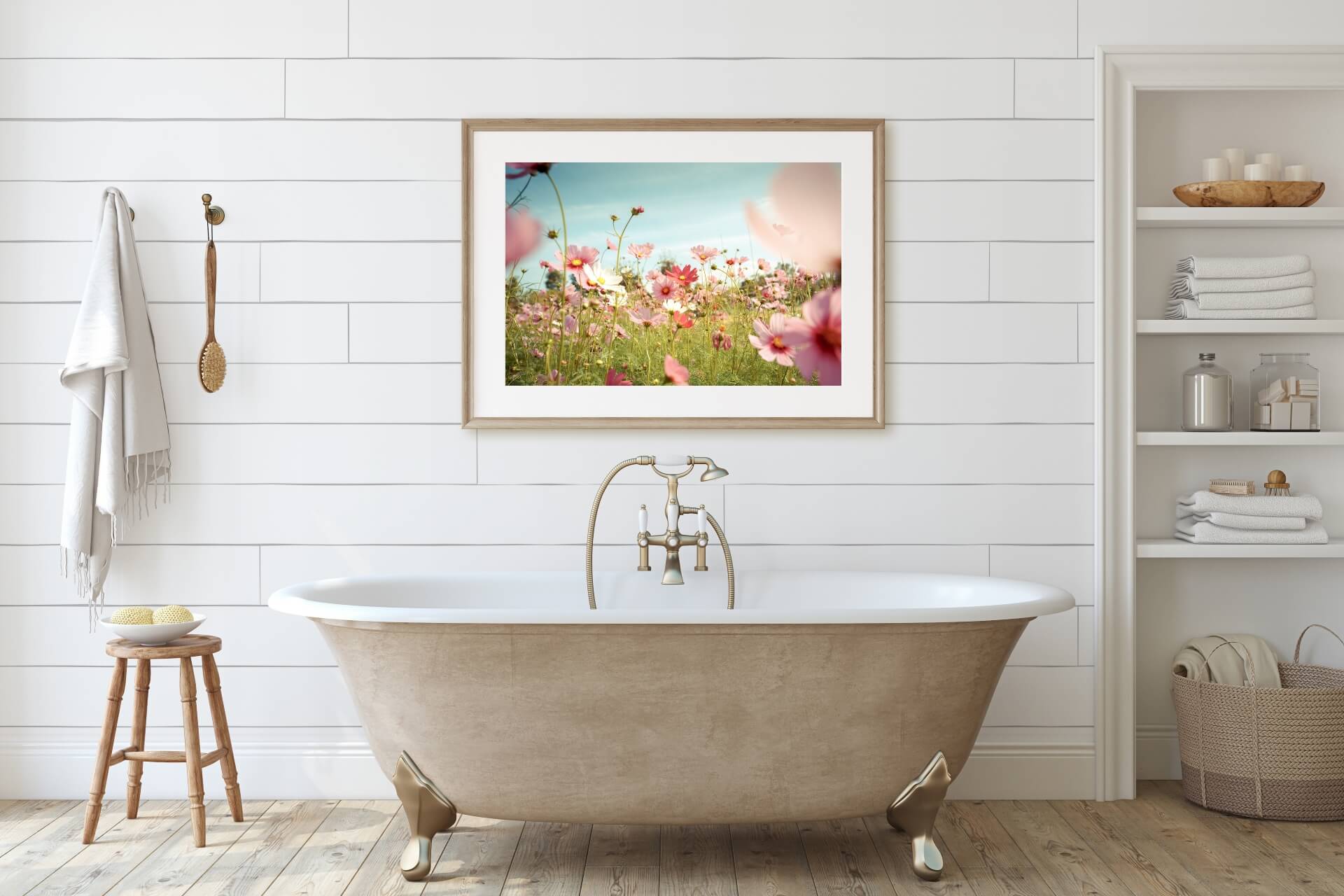 Make it a Room with a View
In many big cities, apartment bathrooms don't come equipped with window views. Whether your bathroom has a window or not, adding scenic photographs is an easy and foolproof way to elevate the frequented room. Scenic photographs also create a sense of space, making your bathroom feel larger than it is. Colorful and beautiful decor that also ups your bathroom's size? Yes, please!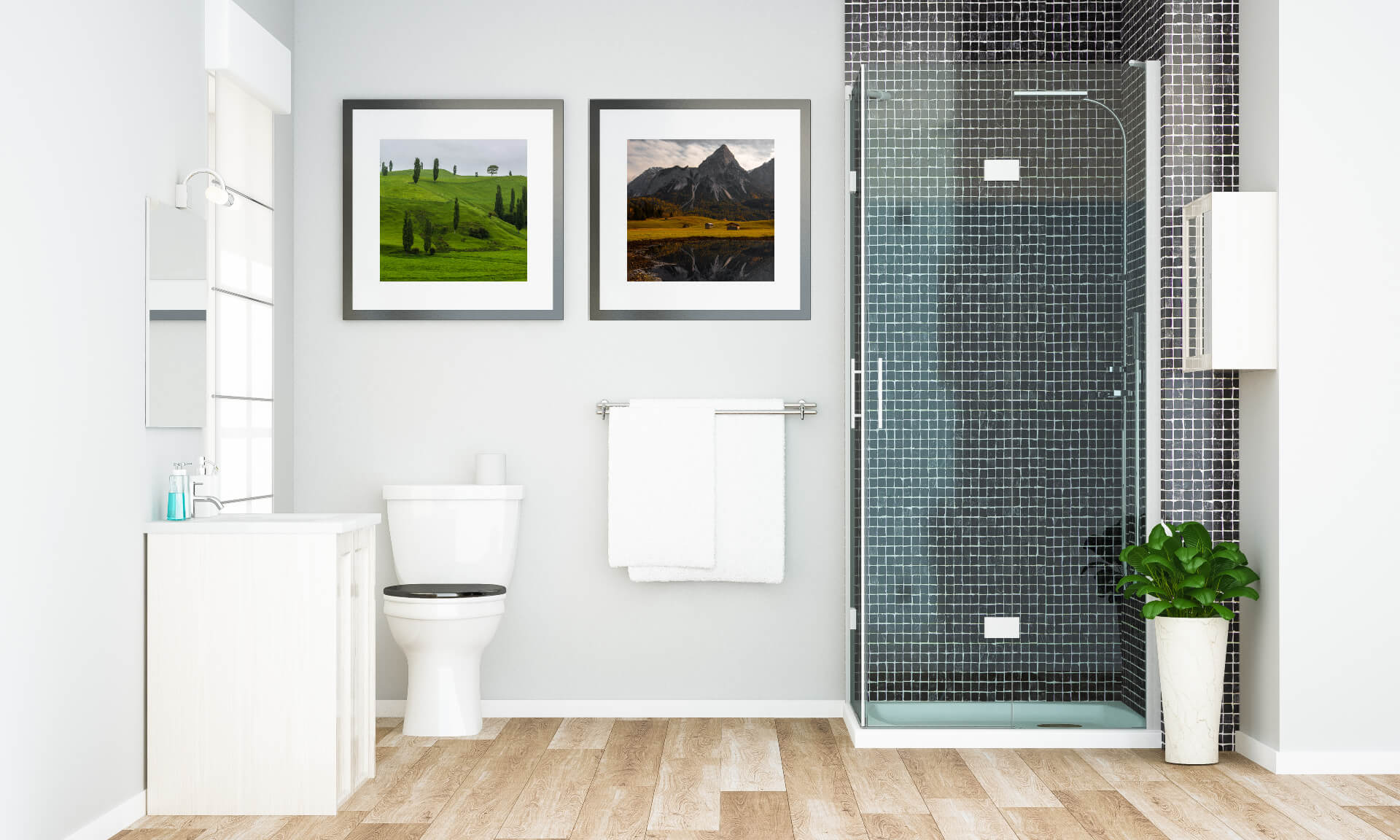 Give Your Bathroom a Citrus Pop
Whether you're looking to add fun colors to an otherwise plain bathroom or match your already vibrant decor, citrus prints are the perfect approach. Easily take your own citrus photos or source them for free on Unsplash. Citrus fruit photographs have a modern and chic look, while also having associations with cleanliness and pleasant aromas. Win, win, win! Print them on metal to give them as bold of a pop as possible.