We think everyone should get to experience the true beauty of their photos, whether you're a professional photographer, a passionate hobbyist, or only take pictures every once in a while. Acrylic wall prints bring out the best in your photos; They make a modern statement that adds artistic beauty wherever you place them.
It's no wonder why we love them, right? But if you're still wondering, "What's so great about acrylic wall prints?," or feel unsure whether they're right for you, don't worry; We've outlined six unique qualities of acrylic art that sets it apart from other forms of décor. Ready to fall in love with this luxurious printing style?
---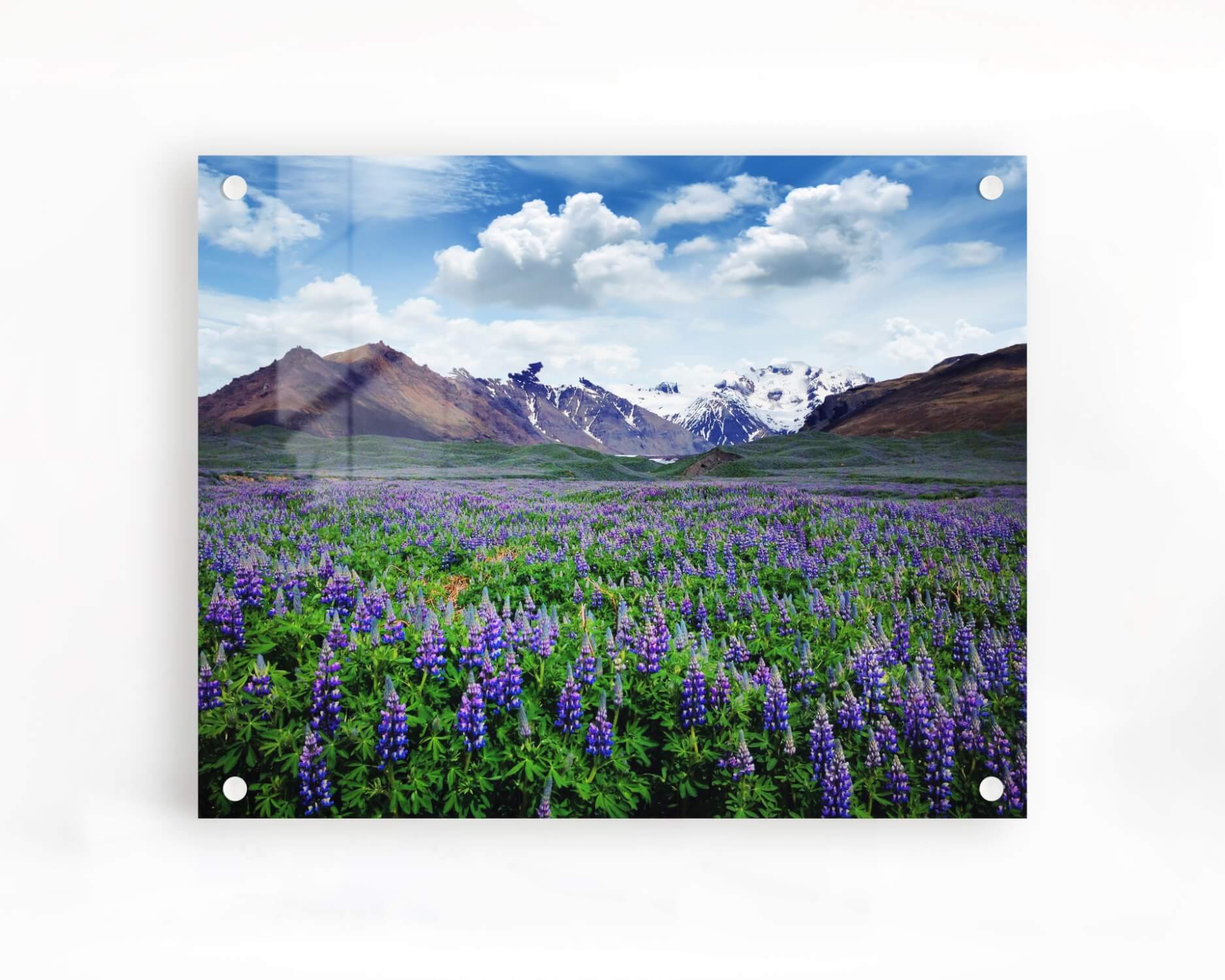 Acrylic wall prints are long lasting.
One of the most admirable qualities about acrylic wall prints – particularly the ones we craft here in our Brooklyn photo lab – is how long lasting they are.  Our quarter-inch wall-mount acrylics are backed with sleek aluminum for added durability.  They are water resistant, sun resistant, and steadfast in the face of nearly all potentially damaging substances; This makes them safe to place in even the busiest areas of your home, like the kitchen and bathroom – but we'll get to that later!
The true quality of a photo print goes so much deeper than its luxurious appearance, and the long-lasting nature of acrylic wall prints embodies this; When you decide to print an acrylic wall print, you are investing in a piece of art that will be part of your family for generations.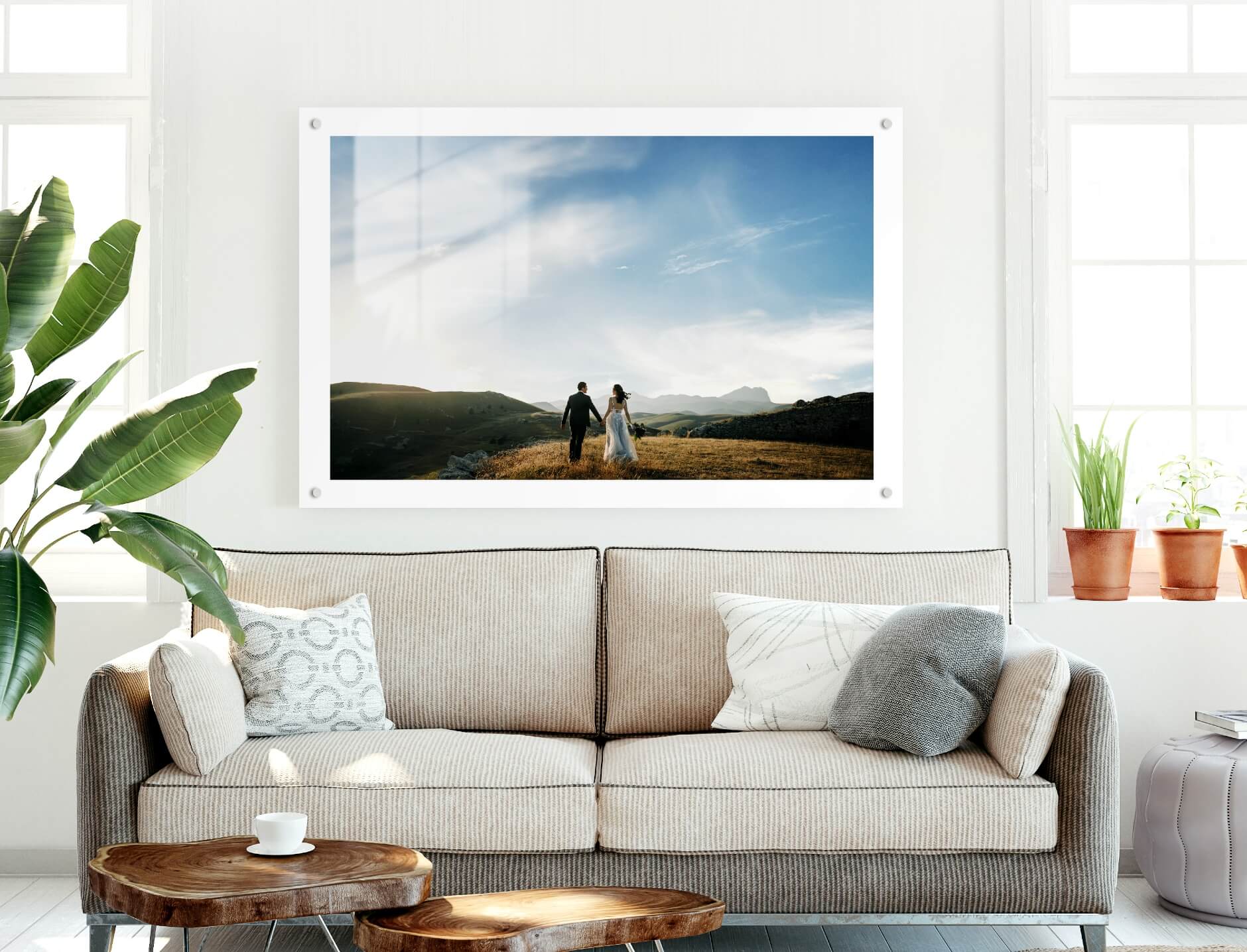 Acrylic wall prints are versatile.
It's hard to name an occasion where acrylic wall prints wouldn't be an incredible and appreciated selection. Whether you wish to add a splash of opulence to a home office, create a sleek yet sentimental gallery in your baby's nursery, or preserve your best wedding photos in a style as durable as your love, doing so with acrylic wall prints is an infallible approach. Like we mentioned before, acrylics will stand the test of time in any room – whether that land them in your cooking area's splash zone or in the humidity of a bathroom.
The range of sizes we offer of our acrylic wall prints solidifies their versatility.  From small-but-sweet 4×6 inch prints to centerpiece-worthy 30×40 inch prints, acrylic wall prints can be customized to fit any decorating need.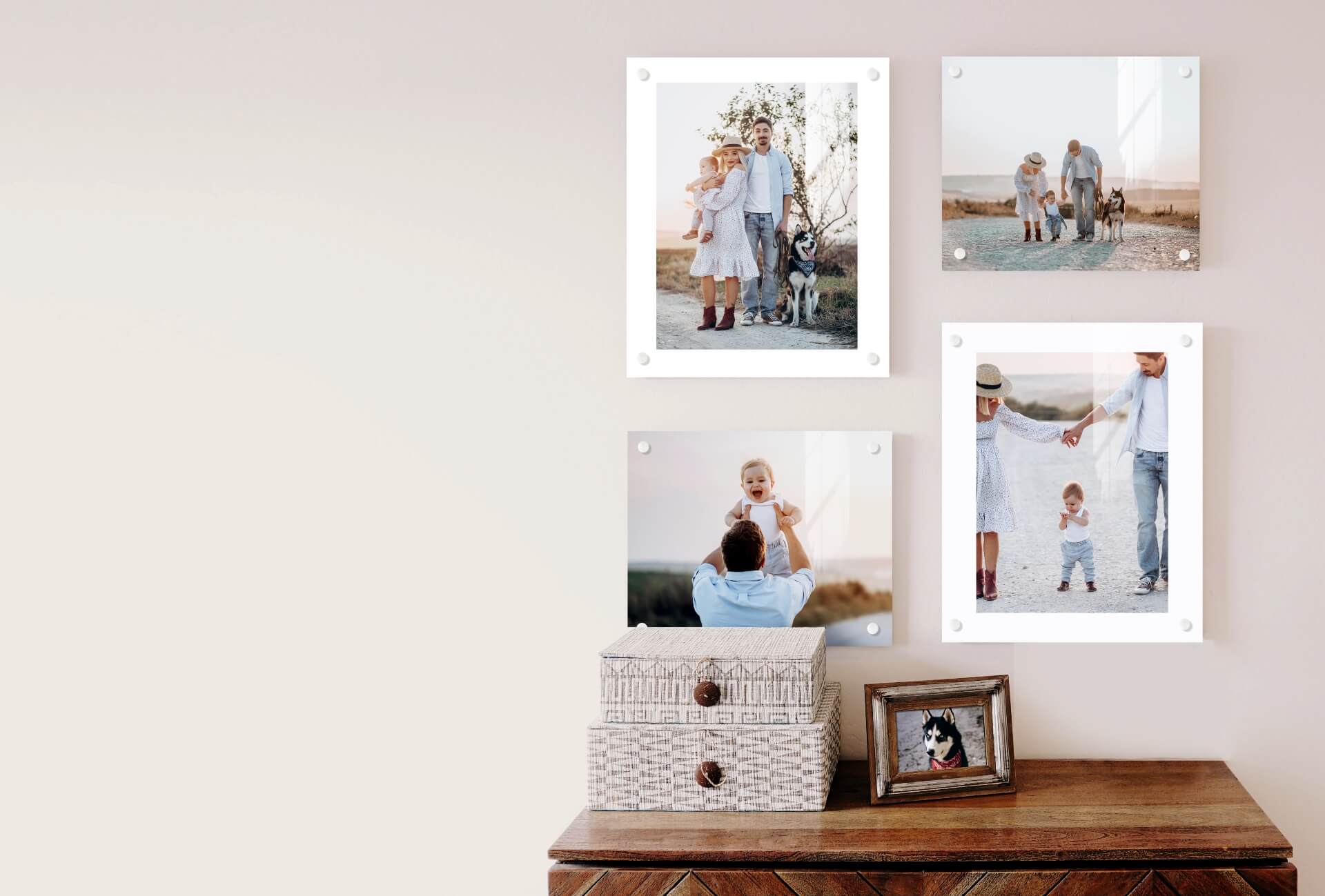 Acrylic adds depth to your most precious memories.
Acrylic wall prints are a quarter inch thick, which gives a sense of depth to any of the photos you print on them.  We adore the way this depth gives the illusion of movement to your favorite frozen moments.
Use acrylic wall prints to create a family gallery!  Your sweetest family moments will seem to play on repeat every time you pass them by.  The depth of each photo will give each memory a strong yet elegant presence – especially if you are printing portraits!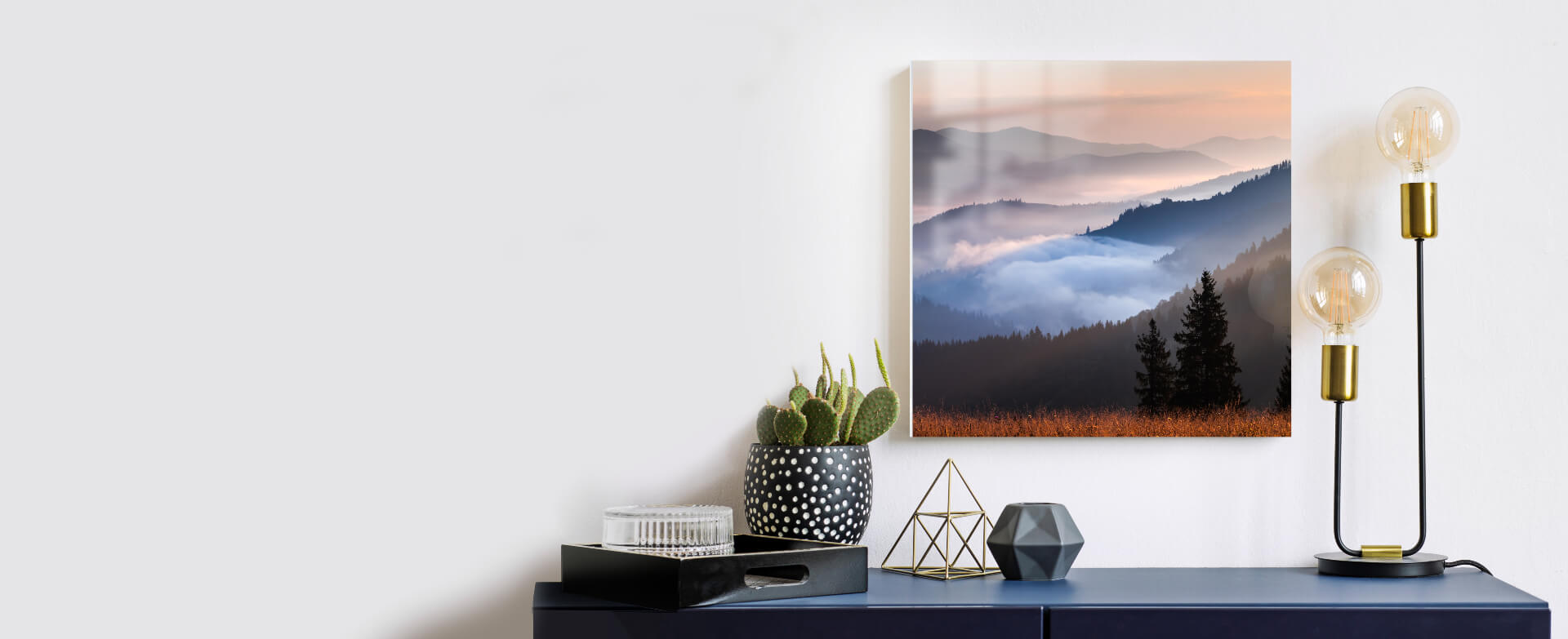 Acrylic wall prints are vibrant.
Printing on acrylic brings out the best in your photographs; If you've ever seen an acrylic in person or held one in your hands, you know exactly what we mean. Acrylics are crisp, vivid, and vibrant, capturing each printed color in sharp perfection. When it comes to your most impressive shots, you can trust acrylic prints to display them flawlessly. They bring new life to your photographs and do justice to what you worked so hard to capture – and perfect in late night editing sessions.
For the moments you can't believe you captured authentically – from sunsets exploding with indescribable color to the subtle hues that characterize the perfect summer day – you can trust acrylic wall prints to flawlessly bring them to life.  No colors dulled down, no details lost in the process; Just you and your memory, exactly as you experienced it.  We wouldn't write a love letter like this for just any printing style!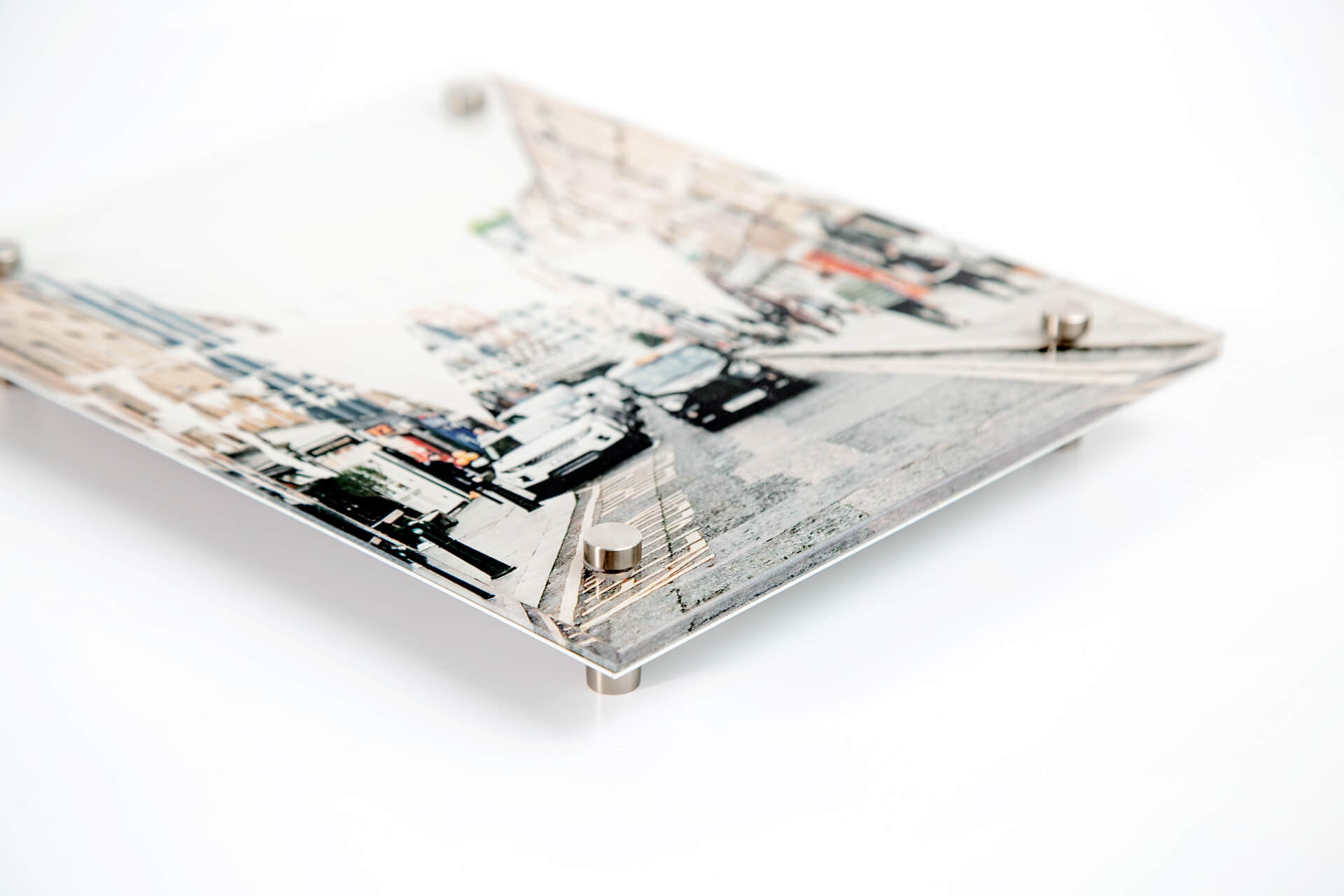 Acrylic wall prints are conversation starters.
Acrylic wall prints are undeniably impressive; They are sure to have each of your home's guests curious where and how you created such an incredible piece of décor.
If your acrylic wall print showcases a photograph you took yourself, the inquiries and admiration of guests will leave you feeling proud and excited about your creative pursuits.  Knowing that the people you love have experienced your proudest photographs in all their glory is a truly priceless feeling; And acrylic prints will give you just that!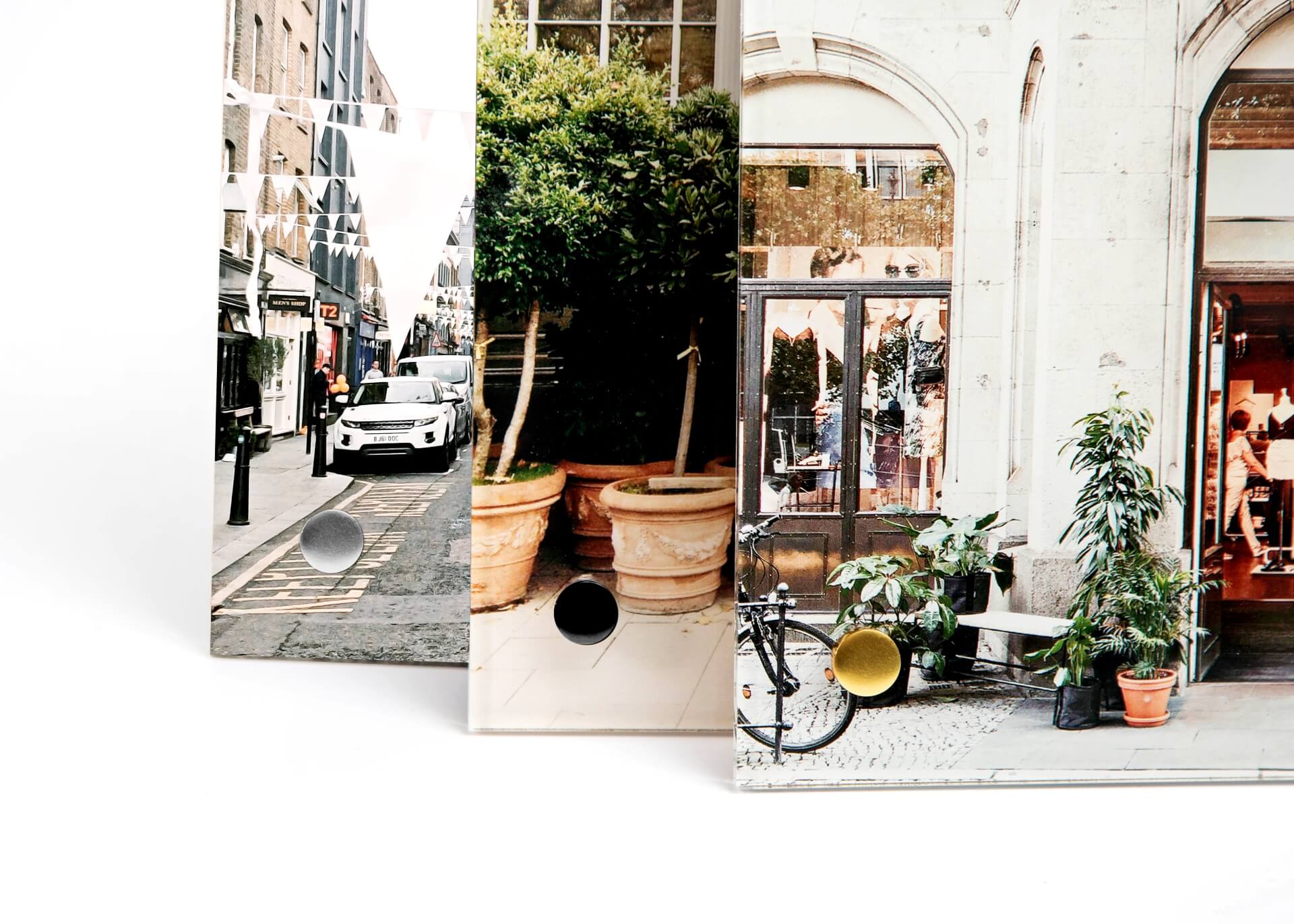 Acrylics are gift-worthy.
Photo prints make fantastic gifts, reminding our loved ones of happy memories while showing them how special they are to you. By ordering acrylic photo prints, you add a little extra weight – both literally and figuratively – to the perfect photo gift. The luxurious materials used to create your acrylic, along with its jewel-like presence, communicate the thought and care you put into gift selection.  It surely makes for a gift your recipient will never forget – since it will be by their side for generations!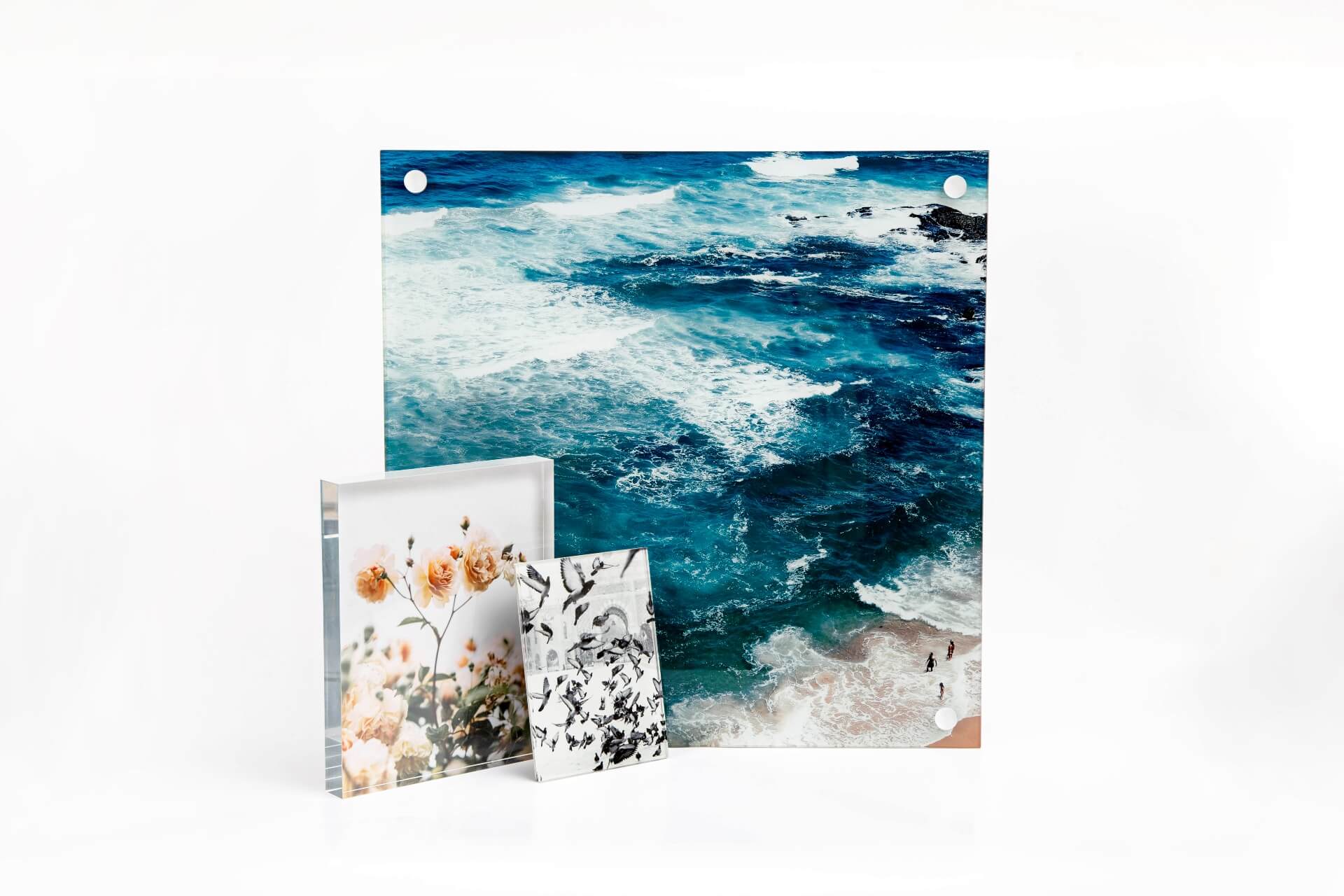 Start creating your acrylic wall prints!
Now that you're in the know on all things acrylic, there's only one thing left to do: create your own! With the easy upload features on our website, you can order your prints in less than two minutes. Whatever your reason for printing, we're excited you chose acrylic and cannot wait for your prints to reach you!
---