A photo book is one of the most meaningful ways to showcase your memories; And whether those memories entail a once-in-a-lifetime event or a lazy Sunday afternoon, they deserve a display that will allow you to treasure them forever.
To help you make room on your shelves for every memory, we've created a guide to photo books of every budget.  From small gifts to family heirlooms, leave no memory behind with photo books fit for every occasion.
---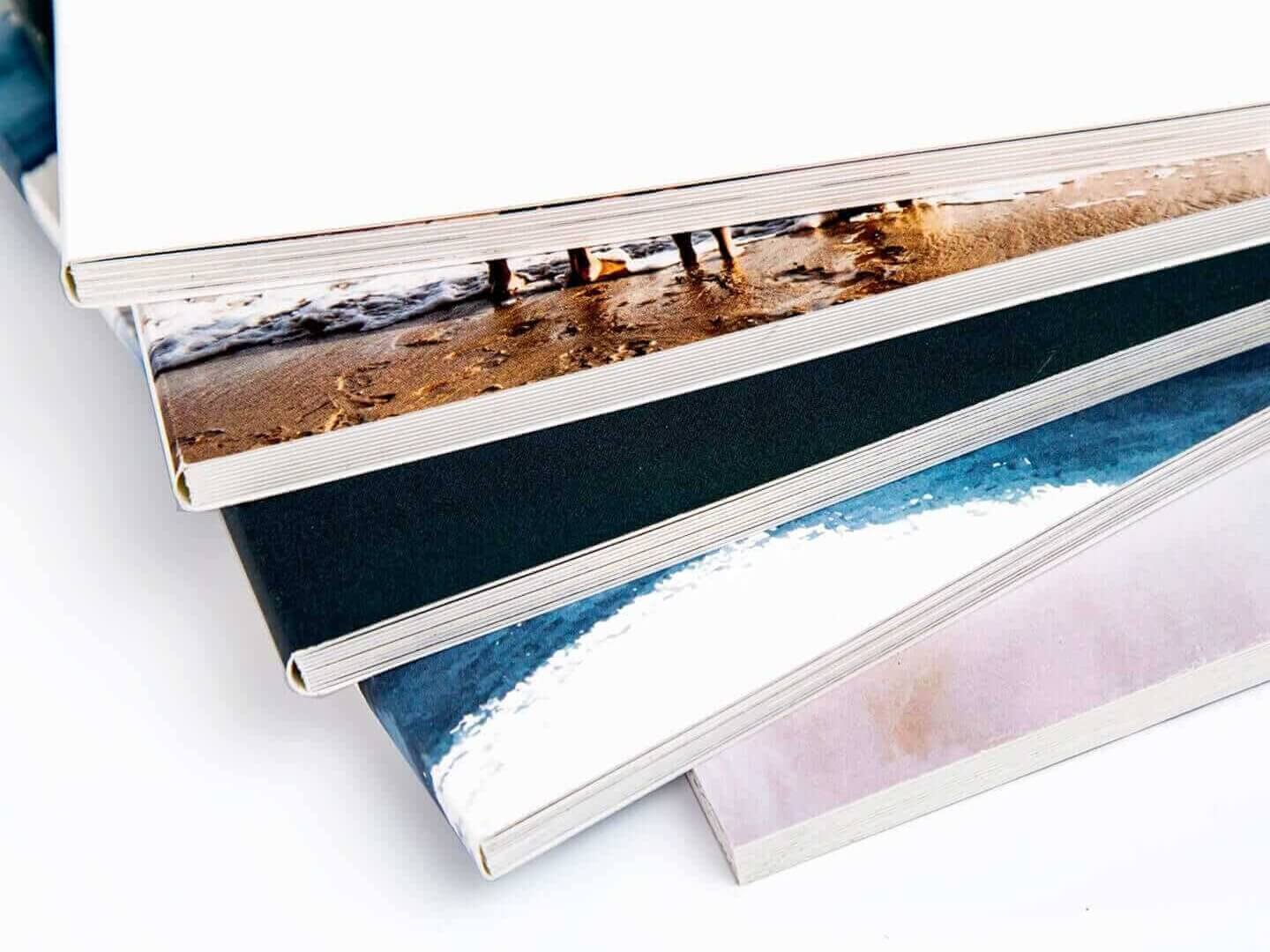 If your budget is: $0-$15
Mini Photo Books
Sometimes little memories are best displayed just as they are – little.  With our customizable mini photo books, you're able to turn dozens of photos into an adorable collection – for only $9.99.
Mini photo books are precious ways to celebrate the adventures and memories you've shared with your loved ones.  Whether you're looking to add a sentimental touch to an anniversary gift or give tokens of appreciation to Dad from each of the kids this Father's Day – do it with a mini book!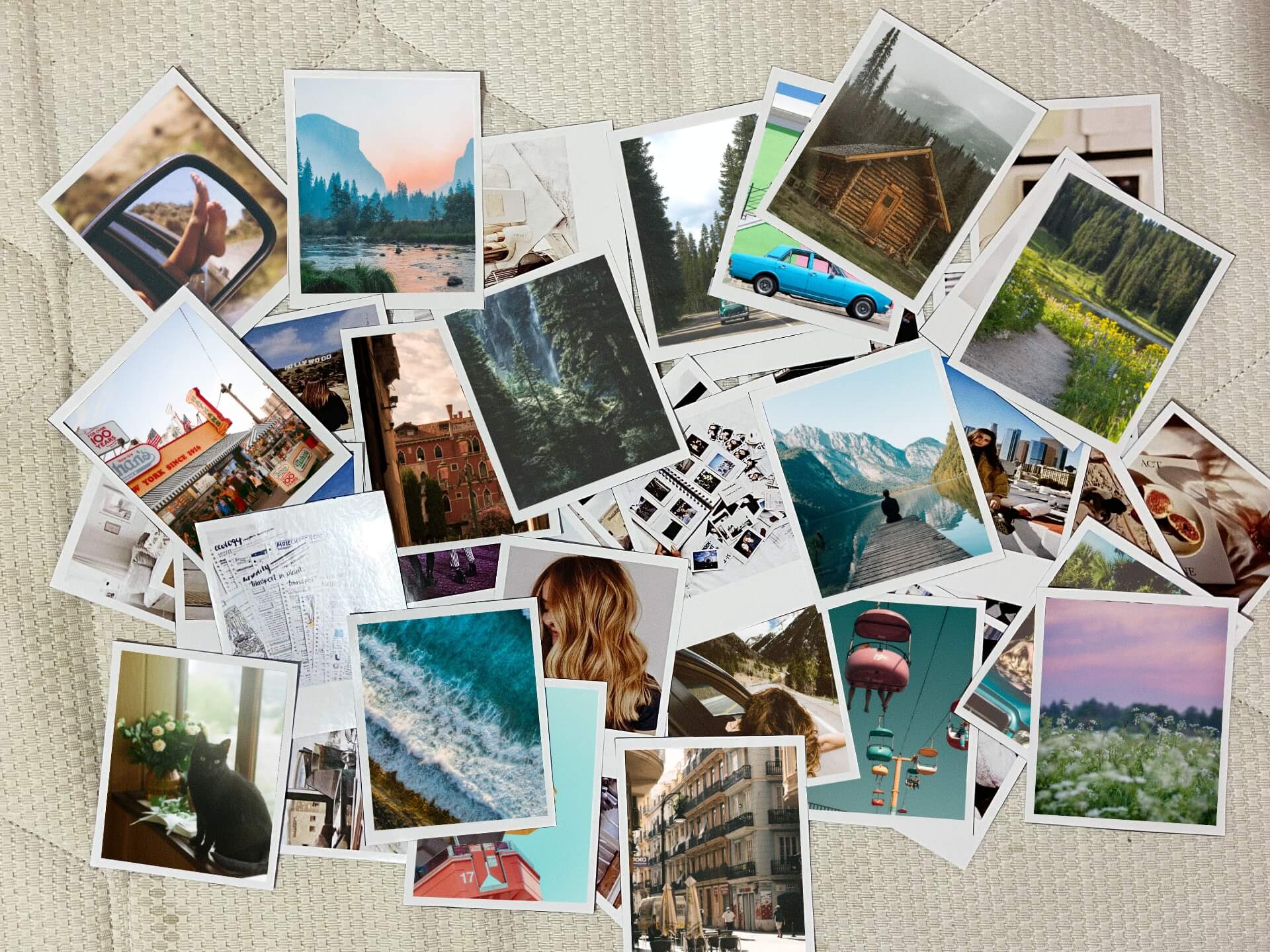 A Classic Prints Scrapbook
Ready to learn the steps to an easy, inexpensive, and rewarding print project? We call it the 50 for $15 project, and it allows you to engage with the most inspiring and meaningful images in your archives. Turn 30 minutes and $15 into an order of 50 classic photo prints that can then be turned into a custom scrap book!
See our full guide to custom scrapbooks here!
---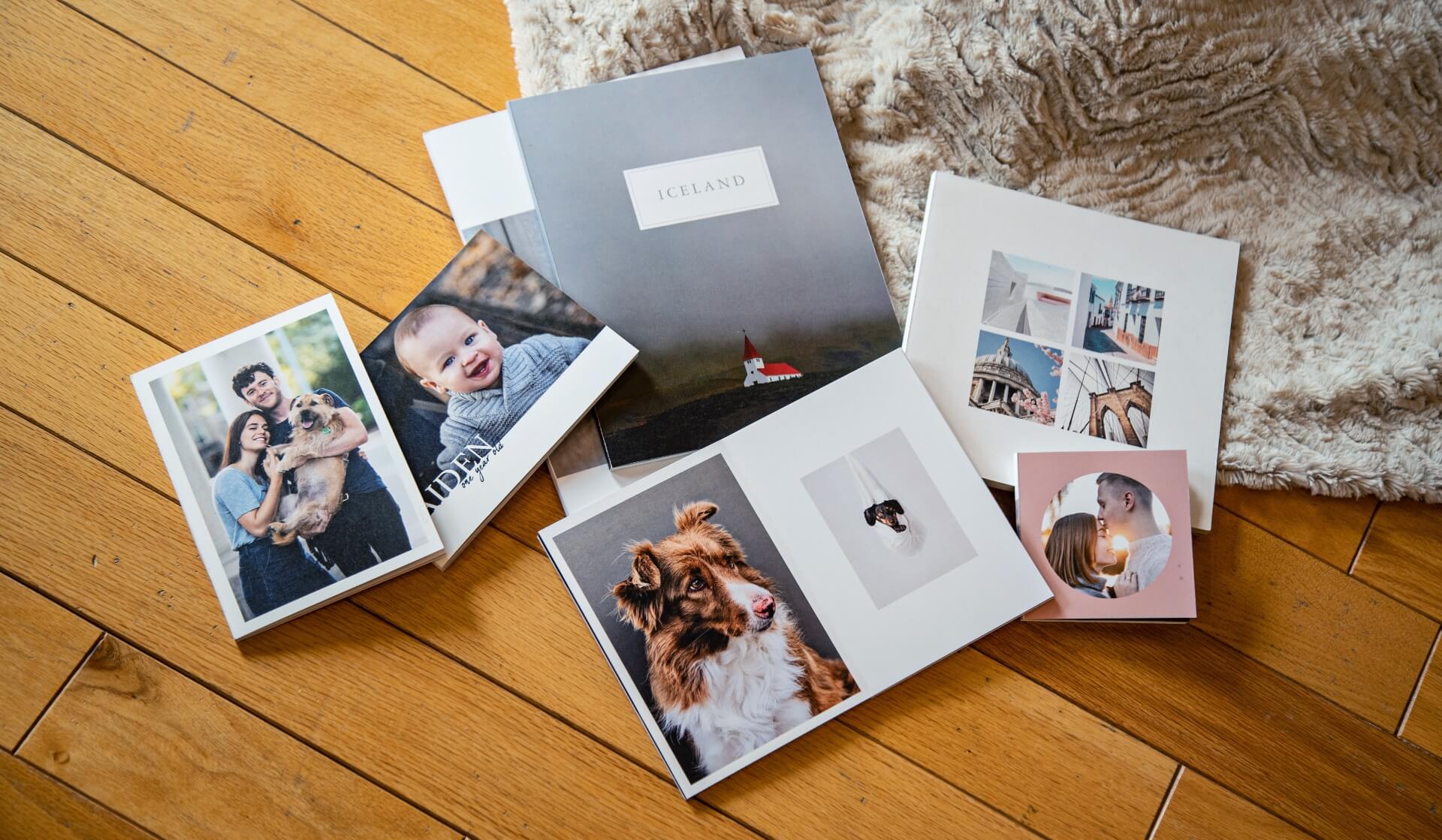 If your budget is: $15-30
Softcover Photo Books
When your every day photos come out too good to leave in your camera roll, creating a softcover photo book is a simple, approachable, and professional way to turn them into something tangible. 
Our soft cover photo books are available in a range of sizes, making it easy to optimize your book for a particular project.  You can create a 20-page, 8×8 softcover book for $19.99, an 8x10in photo book for $25.99, or an 11×8.5in photo book for $29.99
---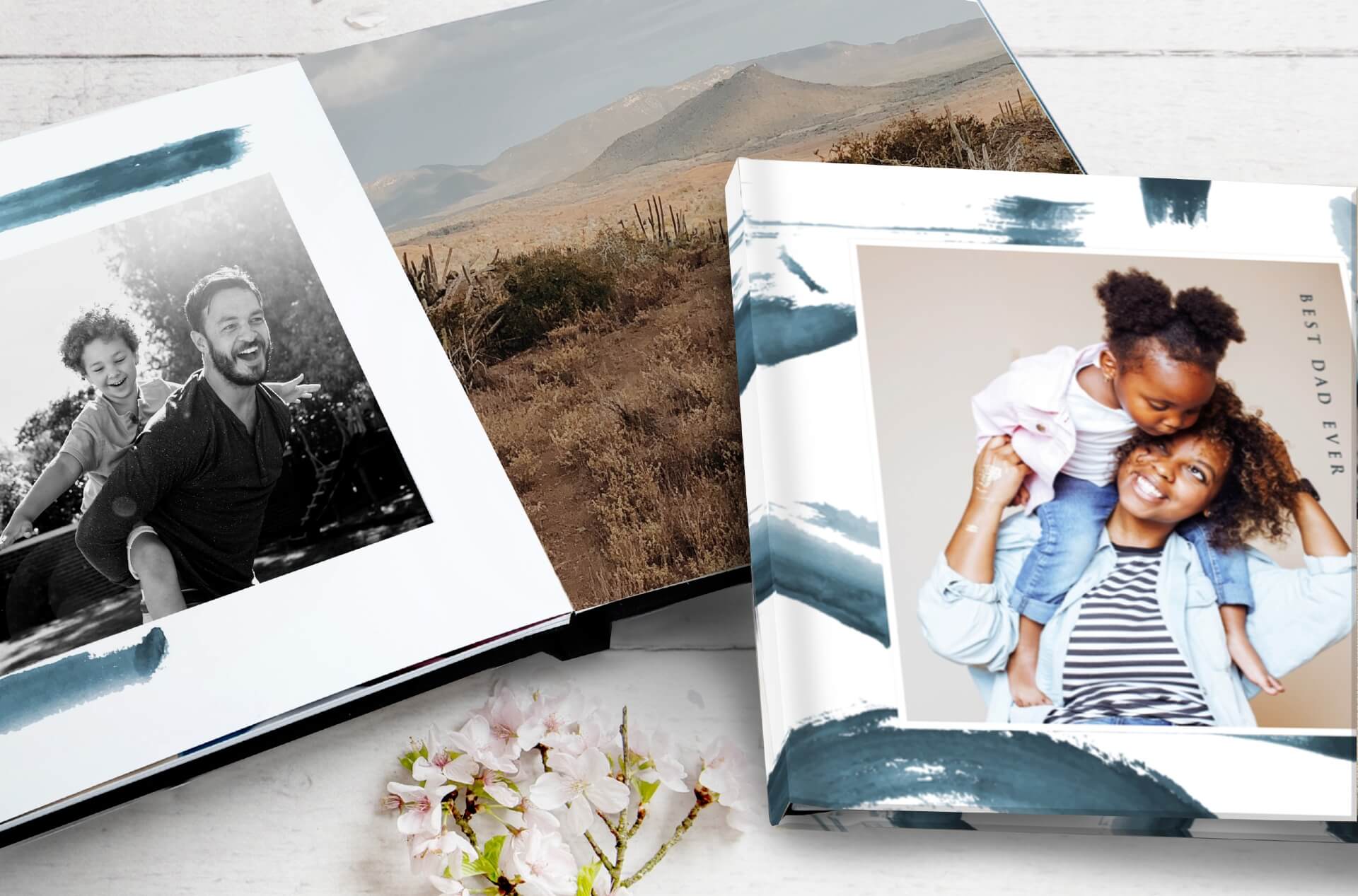 If your budget is: $30-$50
Hardcover Photo Books
If you want to give your photo book an extra professional edge, a hardcover photo book can do just that.  Our 8×6 hardcover photo books are the perfect size for reflecting on memories in both photos and text. Click here to see our complete guide to creating a $50 memory book!
Want to go a bit smaller? A 6×4.5in photo book will cost only $37.99 and allows you to aesthetically combine memories in a sweet, sentimental little book.  It's the perfect size for building a collection of compilations – dedicate a book to each month, special vacations, or every anniversary. 
---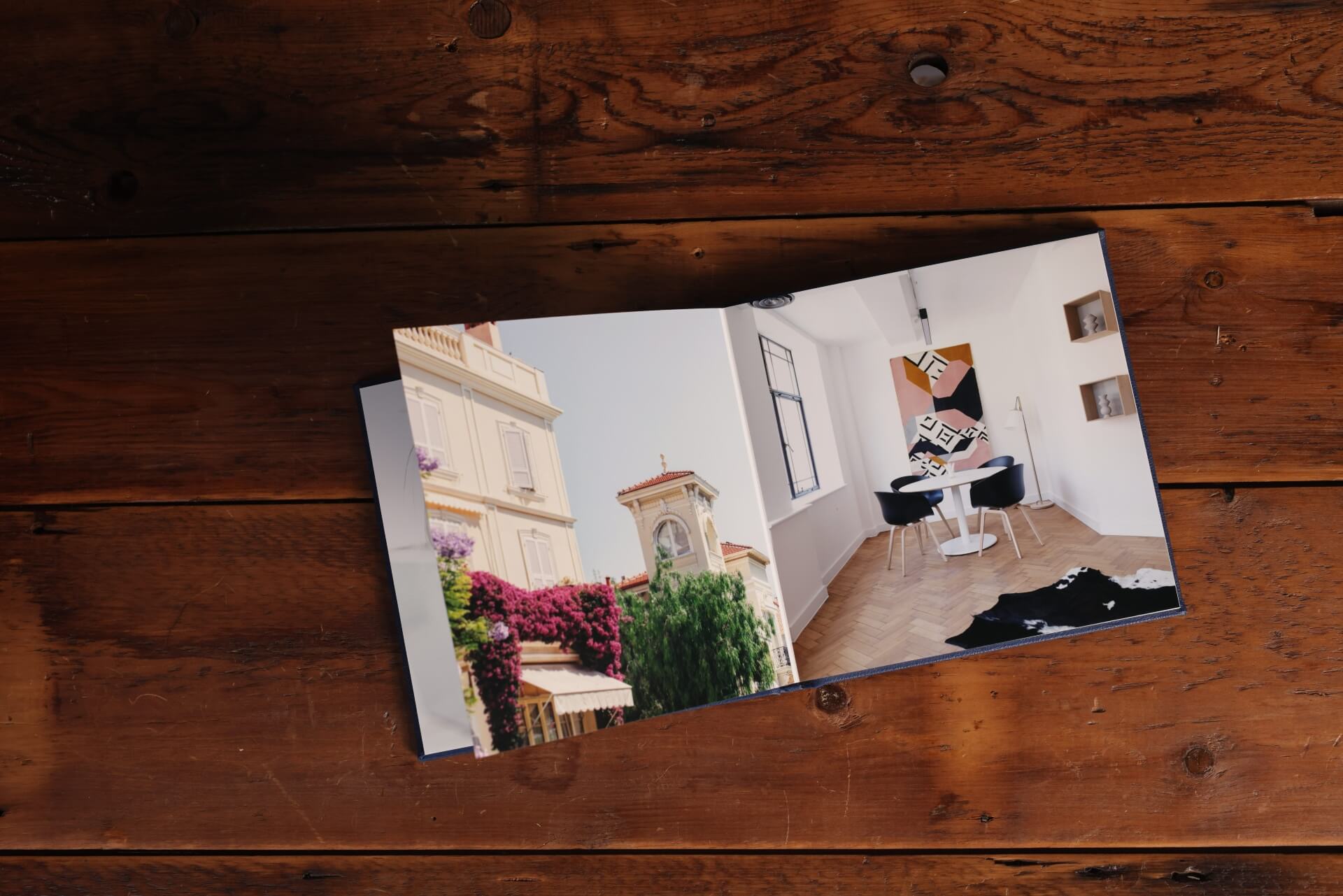 If your budget is: $50-$75
Fabric Cover Books
If you want to deck out your book with customizable fabrics or additional pages, bumping your budget to the $50-$75 range will do just that! This budget will unlock access to dozens of unique fabric colors, from red and tan to yellow and baby blue. We adore fabric cover books for special occasions like engagement parties, baby showers, or Mother's/Father's Day. Their range of available colors make them fit to complement any occasion.
Large Hardcover Photo Books
Turn your book into a statement piece with our larger photo book selections. Our hardcover photo books are available in a number of 12 inch sizes, including portrait, landscape, or square orientation. They're the perfect option for displaying your favorite images or decorating mantles and shelves in a unique way. Find your favorite images and wrap them around your entire book in a stunning 24-inch stretch display.
---

If your budget is: $75-$100
Large Fabric Books
A $75+ budget will allow you to take your fabric cover books to the next level. For less than $100 you can create a large 12×12 fabric cover book, filled with your proudest images. Alternatively, create something worth passing through generations with our 12x9in fabric books. This layout is ideal for structuring your book in a storytelling style, allowing you to combine text and images gracefully.
Die Cut Fabric Books
Our die cut photo books are a popular selection for anyone who would like to feature both meaningful images and beautiful materials on their photo book cover. Die cut covers are an amazing selection for baby photo books and trip recaps, allowing you to feature your favorite portrait or landscape right on the front of your book!
---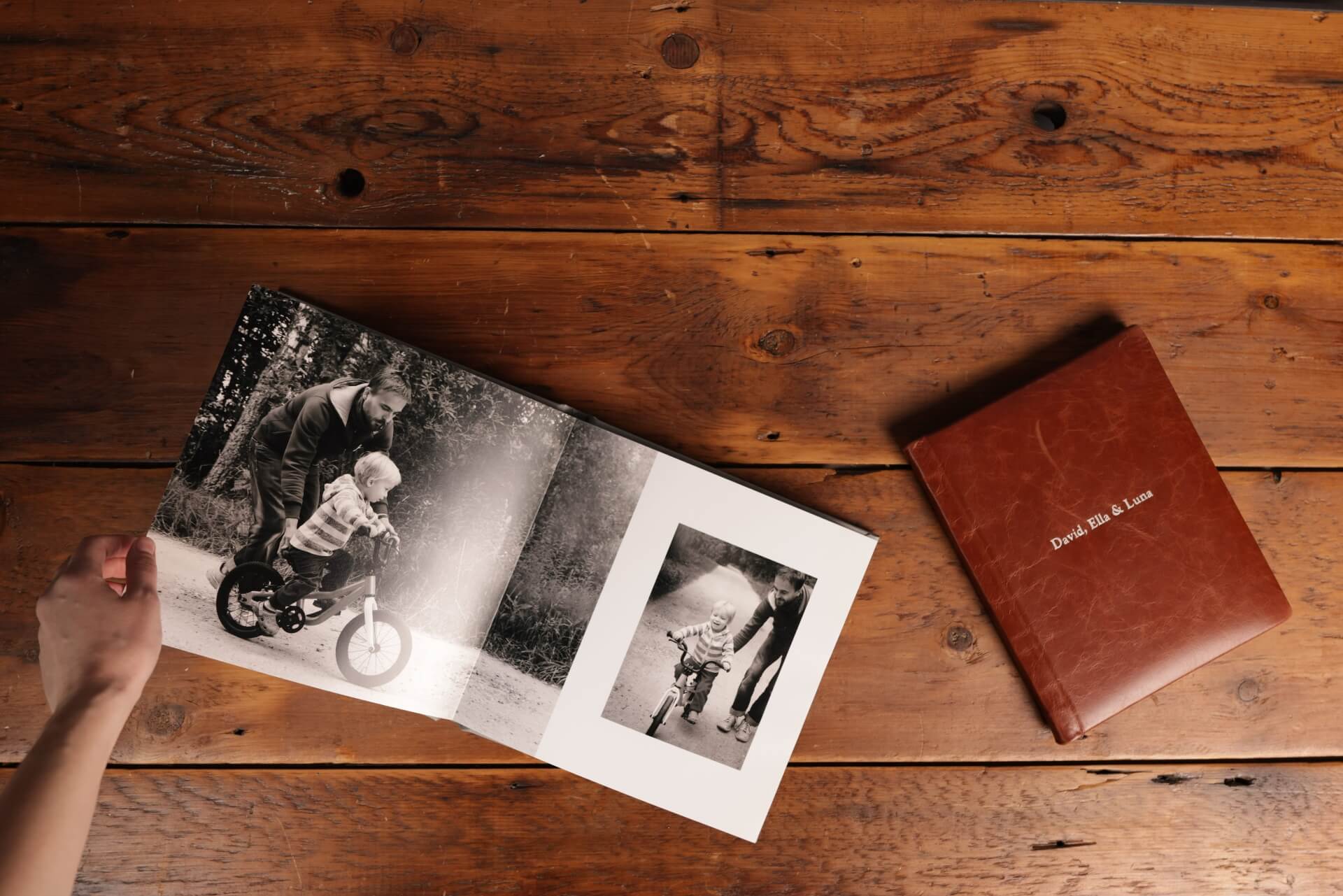 If your budget is: $100+
Leather Cover Photo Books
If you're looking to craft something truly magnificent around or above the $100 range, look no further than our leather cover books. Elegant and made to last lifetimes, a leather cover photo book will truly feel like a time capsule of your most valued memories. Just like our fabric selections, our leather covers come in a range of incredible colors. From taupe to soft pink, blush, chestnut and more, there's no doubt you'll find a rich color perfectly suited for the photos inside.
A 50-Page Hardcover Book
If you're looking to create a photo book with as much possible room for memories, load up the pages of a hardcover photo book. Our hardcover books can hold up to 100 pages, which gives you more than enough room to celebrate a relationship, pay tribute to a loved one, or showcase memories from decades and decades of joy!
---