We love photo gallery walls. They can convey so many things and they bring out the art lovers in all of us! Curate with your memories, your photos, artwork, inspirational quotes, or anything that brings you joy. And most importantly,  they show who we are and what we love in our home. Gallery walls are simply the best and each room has its own personality so why not mix it up? So here are five rooms you can infuse with 5 different gallery wall ideas.
Five Gallery Wall Ideas
1. Living Room
We are living in the age of flat screen and thin televisions. So why not use them as a part of your gallery wall? There's no reason why your television can't be a part of your decorating. The possibilities are essentially endless on how to create your living room gallery wall. Measure out the area and plan where the television will be mounted. Play around with different sizes of images, making sure the end result is balanced and pleasing to the eye. Below, is an example of how to use framed prints to balance out the television on the wall.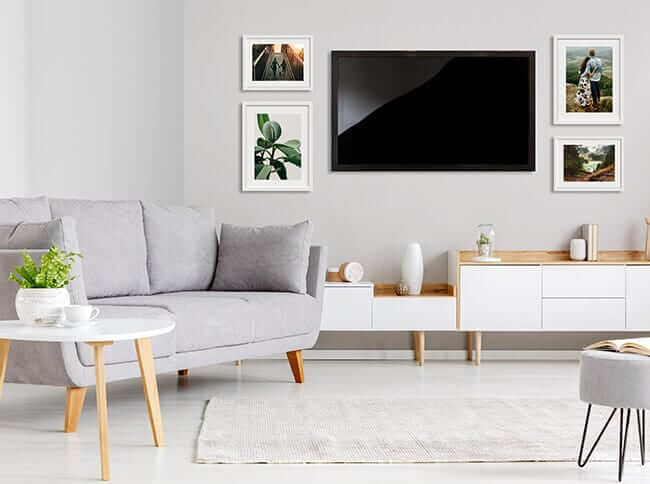 2. Kid's Room
Even the littles can have a fun and inspirational wall gallery to call their own! Mix pictures of the family with, fun and colorful graphics with inspirational quotes. As the children grow older, you can easily swap out the artwork and quotes to their tastes. It's fun to include them in the decisions in making a wall gallery for their room because after all, this is their space where they play, use their imagination and above all feel loved. By the way, choose the fine art paper when printing their art work, it will give their masterpieces a true gallery type of look to their creations.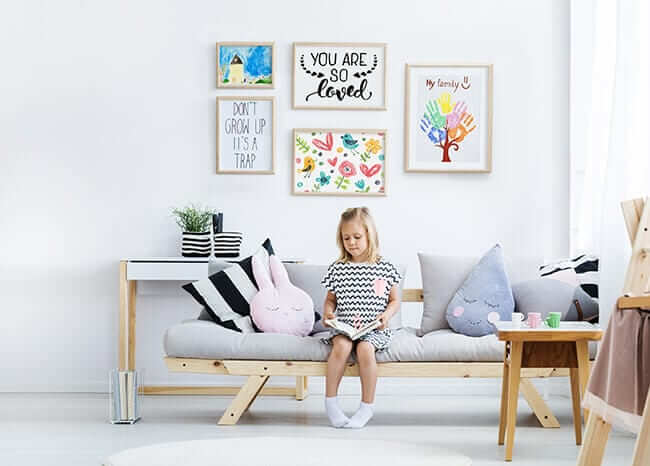 3. The Bedroom
The bedroom is a place of serenity and comfort so keep this in mind when designing your gallery wall. Color can also be a key player in design for the bedroom. In this example, we showcase two metal prints balancing a beautiful accent piece. The color is brought in with the greenery on the floor without overwhelming the design.  One other tip for this type of look, break out your measuring tape and level. You'll want to make sure everything is even and balanced to bring a sense of comfort and structure. Below, we used panoramic metal prints in white glossy to give the room some punch.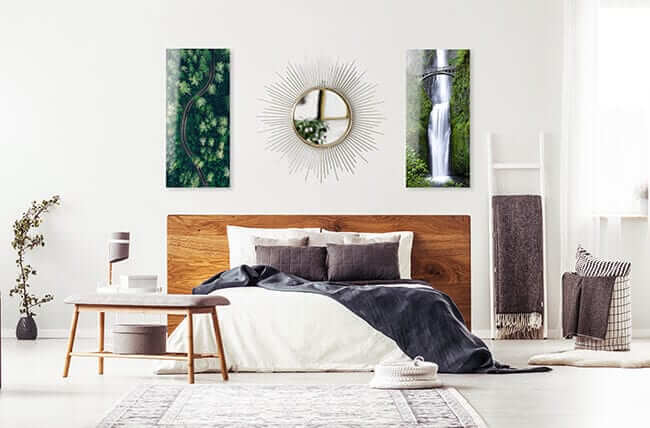 4. The Stairwell
The stairwell is the perfect opportunity to make a stunning gallery wall. Try keeping it simple and clean. Go for a monochromatic look which can give a powerful impact to any area. Have fun and mirror the staircase by creating "steps" in your gallery. This type of layout is pleasing to the eye and creates leading lines. Canvas prints would be perfect for this high traffic area. It's timeless, classic and durable.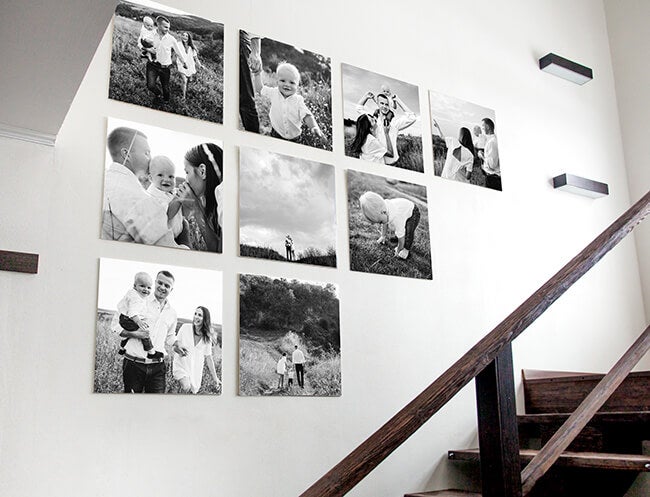 5. Home Office
Back in the old days, you would just tack up one of the "Hang in There" kitty posters and a call it a day. Not anymore though! Now it's all about being inspired and creating vision boards. The home office is the perfect place to mix it up by combining different mediums. Maybe you have a modern metal print with an inspirational quote right next to your framed photo travels. Really, anything goes in the home office as long as it motivates you and brings you joy.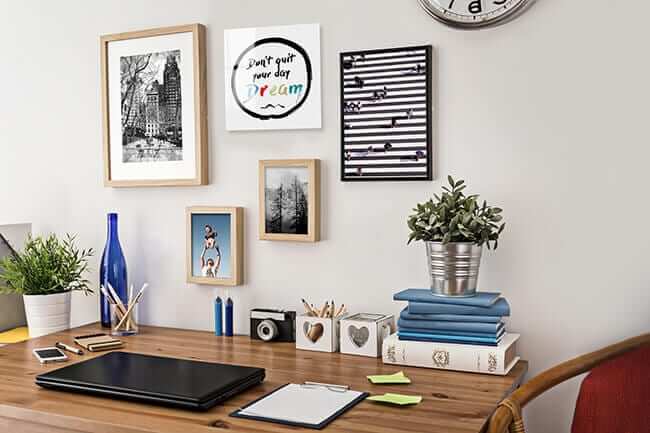 The key to designing the perfect gallery wall for your home is to always think outside the box and put the memories up on your wall that make your house a home. Ready to start your gallery wall? We can help, right this way to start your next masterpiece. Click HERE.