The first year of a child's life is remarkable and can go by in a blink of an eye. From sleepless nights to baby proofing the house,  as parents we can often lose track of time during that crucial first year and lose opportunities to chronicle our baby's growth.  We met one mom who decided to make it a priority to not only take monthly pictures of her child, but also to makea  modern baby book with milestones included. It's an heirloom that will last for generations.
1. Tell us a little about yourself
My name is Kathryn, I'm 27 years young originally from Annapolis, MD, married to my best friend Jeff, have an Alaskan Malamute named "Dude", and I am a first time mom of our one-year-old son Austin (my how time flies!). I'm a full time Graphic Designer at a Marketing and Analytics firm in D.C. I'm also a lover of the beach and all things water, DIY projects, cooking and baking, landscaping, fashion and enjoy interacting with our community, family and friends.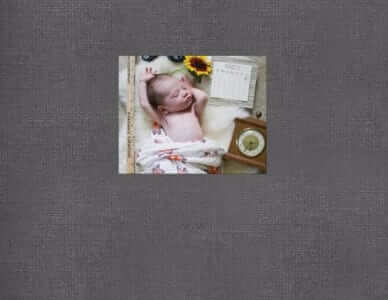 2. What gave you the idea to chronicle your baby's first year the way that you did?
I'm a huge fan of Pinterest! During my months of being pregnant I was inspired by tons of monthly baby photos on Pinterest (I also have a month by month pregnancy photo series!) and couldn't wait to put together photos to document each month of Austin. Having a background in design & photography helped me lay out each month in photoshop.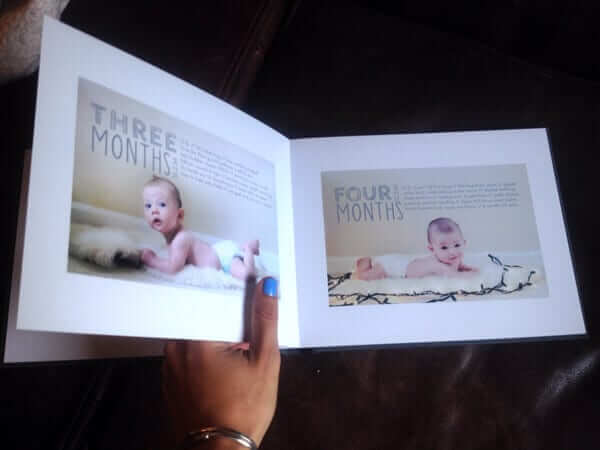 3. What surprised you the most comparing those images from month to month?
We are surprised most by how fast he grows! We don't normally notice physical features changing day by day just looking at each other, but seeing it on screen and in a printed book side by side you definitely notice a pretty big difference!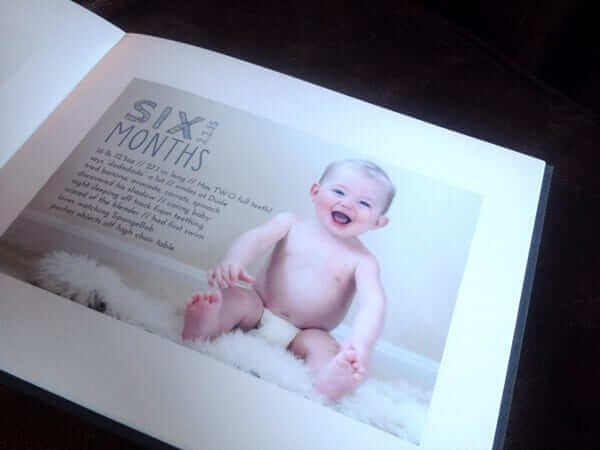 4.Why is it important for parents to closely document that first year and put it in a photo book?
Being first time parents is one of the most challenging yet exciting times of your life. Documenting that first year in a book is rewarding in a sense because you can look through each page, see the developmental progression of your baby, get to the end, and say "we survived this first year together"! There are so many articles of how rough parenting is but having books like this help remind us all that parenting can be fun and really is pretty fantastic!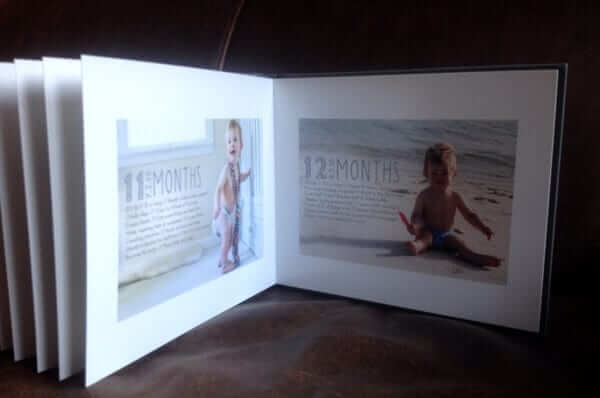 5. What is your next project?
What's a week in our house without a project? We made a rustic modern wood mantle just this past weekend that we are super proud of (Inspired by the show "Fixer Upper" on HGTV). I'm always looking for ways to improve our home inside and out so we are planning on tilling, planting a privacy hedge and mulching along our fence line in the backyard within the next few weeks.
If you would like to check out the photo book and how Kathryn put it all together you can click
HERE
or click on any of the images to view the book in its entirety. Kathryn chose a fabric covered Printique
photo book
in charcoal with a die cut cover and her son's initials debossed on the front.