This is hands down one of the best articles you'll read on posing your subject with their hands and making it natural and effortless looking. It's not as easy as it sounds. In fact, there is so much  you can do with the hands to express attitude and emotions. Let's get the creative scoop with Printique Member, Peter Alessandria of Peter Alessandria Photography.
Tell us a little about yourself.
Well my story may be a little different than most professional photographers. This is actually a second career for me. My first career was as an entertainment lawyer out in Hollywood! I grew up in New York and went to law school and business school in Buffalo. After four years in Buffalo, I bought a one-way plane ticket to Los Angeles and worked in the film and television industries for several years. It was there I got the creative bug and became an amateur filmmaker. I wrote, produced, directed and edited six short films and countless other digital video projects in my spare time. In 2004, I picked up a digital SLR for the first time and it was love at first sight. I haven't stopped shooting since. In 2008, as a result of the global financial crisis, I lost all my law clients and had to decide what I was going to do with the rest of my life. I'm not married and don't have kids, so I figured I'd take a chance on doing something I really, really love. It has not been quick or easy to make the photography thing work, but it is definitely worthwhile. I still get excited every time I have a camera in my hand. It's even more exciting to get paid for that!



What made you decide to pursue headshots?
I love working with people. I especially love working with professional models; it really feels like a collaboration, like we are creating something together. That said, most of my headshot and portrait work these days is corporate headshots and executive portraits, which is fine. Having a law and business degree, it is easy for me to connect with other business professionals. My headshot work can be seen at www.superstarheadshots.com I also do other kinds of photography: I have a long standing product photography business (www.greatproductshots.com). I shoot everything from clothing to cosmetics to computers. Even jewelry. That work also includes architectural photography. I really enjoy working with designers and architects to bring their designs to life. I like the challenges of that work. And as you know, I am also a fine art photographer. I shoot landscape, seascape, cityscape and still life. (The New York skyline is one of my favorite subjects.) I have won 10 awards for my fine art photography over the past few years and am constantly participating in group and solo exhibitions of my work. Having had no formal training as an artist, I am slowly building up artistic skills and also creating a business selling prints and licensing digital versions of my photos. That work can be seen at www.peteralessandriaphotography.com or just google my name.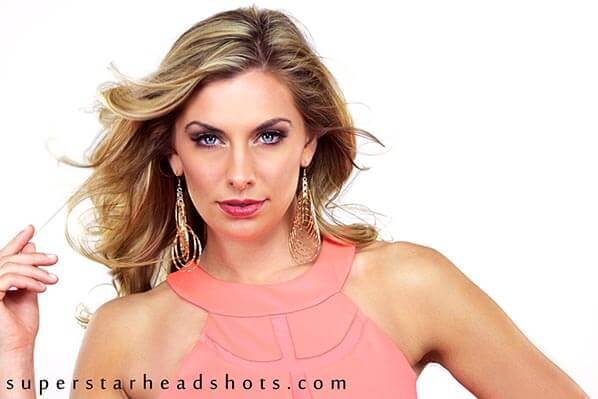 A lot of people struggle with — how to pose the subject with their hands. What tips do you have to make it look natural?
Ah yes, what to do with the hands. Many photographers (and models) struggle with this one. Some general suggestions:
a. The hands can be used to make a pose, including a headshot, more interesting. So don't be afraid to try at least a few shots in your next headshot session that include the hands.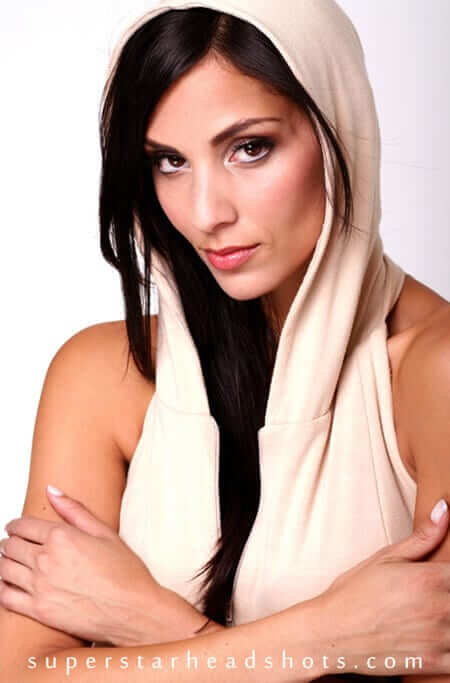 b. That said, unless you're selling hand cream or nail polish, the pose should not draw undue attention to the subject's hands. They are always secondary to a subject's face in a headshot.
c. Use the hands to accentuate a pose, as a frame to create leading lines, into or out of, the composition.
d. The watch words for women are "soft and elegant" hands and fingers. I ask my subject to think of a ballet dancer – how the dancer holds their hands – and then emulate that.
e. So if "soft and elegant" are the watch words, we want to avoid the opposite – rigid and ugly. This means fingers and wrists should be slightly curved and relaxed. The fingers should follow the contour of the face or other body part (shoulder, neck, opposite hand/wrist) in a natural way. Fingers should have some space between them, but not spread rigidly apart. This indicates tension. Also, avoid clawed fingers as this also indicates a lack of relaxation. When posing your model, stagger the fingers slightly so a part of each finger is visible to the camera. Raising the index finger above the rest is also a nice touch and brings a thoughtful elegance to the pose.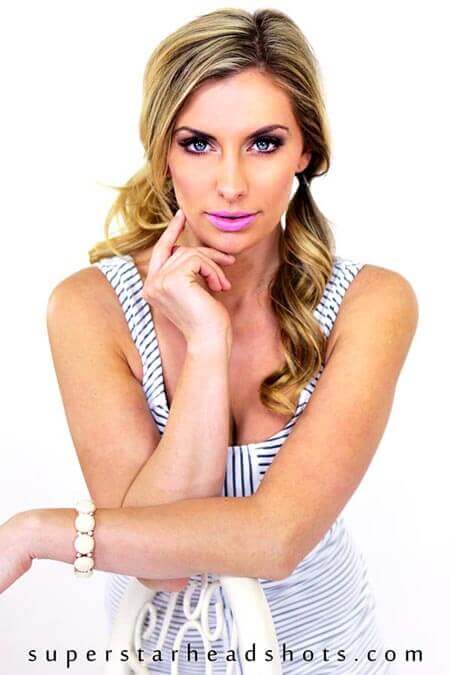 f. In general, especially with women, we want to avoid the backs of hands. It is almost always a better pose to turn the far (pinky) side of the hand towards the camera. Hands/fingers should gently brush the face or hair of your subject. It also works for a playful pose to have your subject grab some hair as if to toss it. Or wrap some hair around her finger or gently pull down on a handful down around the neck line. I'm not a big fan of having your subject rest the weight of her face on the hands – this can indicate frustration or weariness – unless that is part of the message being conveyed, for a stock image for example. But gently raising three fingers from a hand placed under the her chin can be a nice pose.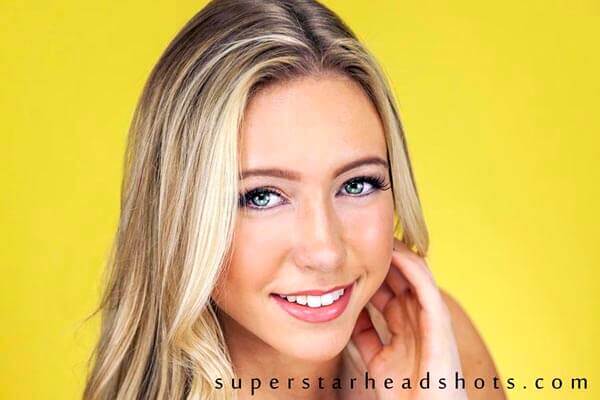 g. Similarly, I don't usually show the palm of my model's hand in a headshot, at least not directly. Palms-up can be interpreted as kind of an off-putting gesture. A slight opening of the palm with the side of hand closest to the camera can be OK though.
h. Finally, nice fingernails and smooth skin on the hands and fingers are also something to consider in whether you incorporate hands into your pose.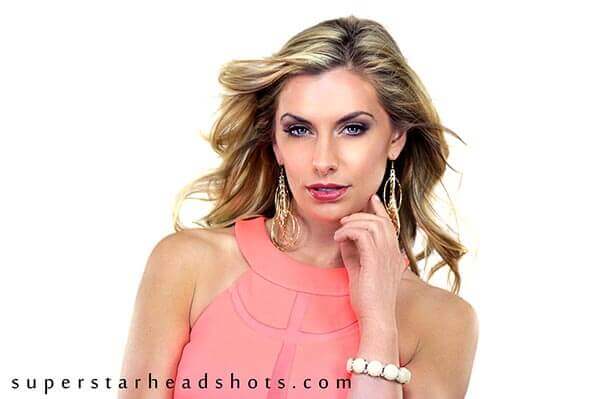 What are some of your "go to" poses with hands?
Keeping in mind the above are guidelines and not hard & fast rules (you'll notice I break many of these rules in my photos), I like to include hands in my model headshots, especially if we are doing beauty shots. (I do this less with my corporate headshots for obvious reasons.) A couple of "go-to" hands poses are those found in beauty ads: hands gently cupping the face with the pinky following the jaw line; hands softly touching the hair or side of the neck below the ear; hands softly embracing each other under the chin; raising a hand to slightly brush a shoulder is a nice touch (pun intended).
In terms of standing poses, I like hands on hips provided the fingers are long and relaxed, and 3 the elbows are not sticking out too far. Fingers & hands lightly following the curve of the outer thigh/hip can help slim a waistline. (Bonus tip: speaking of slimming the waistline, I almost always turn my model's hips camera left or right. I rarely have her hips square to the camera.) I also sometimes like hands high on the hip on top of the back end, though again be careful of wandering elbows. Hooking thumbs in a belt loop or waist band is also a fun pose, especially for younger subjects. Lightly grabbing a skirt or hem-line of a dress can be fun. Hands in pockets (front or back) can also be a fresh, easy-going type pose for certain looks. Through in a shoulder-shrug and you can have a real winner with the younger crowd. Arms crossed can be very attractive – or not – depending on the model. If you do attempt an arms-crossed shot, for women, the hands/fingers should be visible on the opposite bicep rather than tucked. Soft, long fingers, rather than clawed or gripping fingers, usually look best in this pose. That said, arms crossed on a heavier/wider person is rarely attractive, regardless of what you do with the hands/fingers. Likewise, hands/arms up behind the head can be attractive – or not – depending on your model. Playfully lifting the hair or grasping the neck from behind can be fun. But keep the elbows low as visible armpits are usually not going to enhance a photo.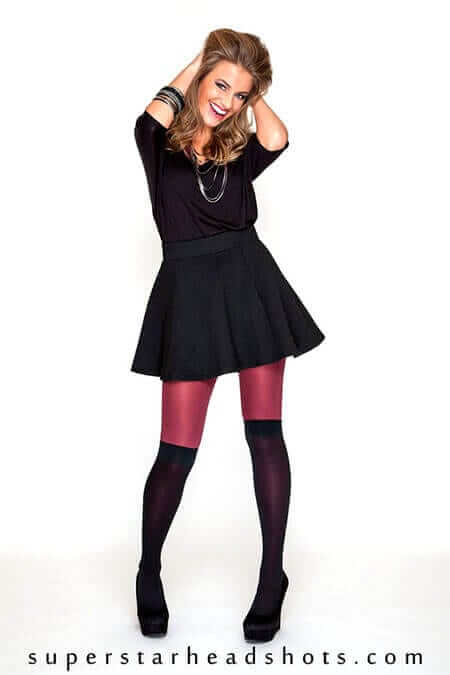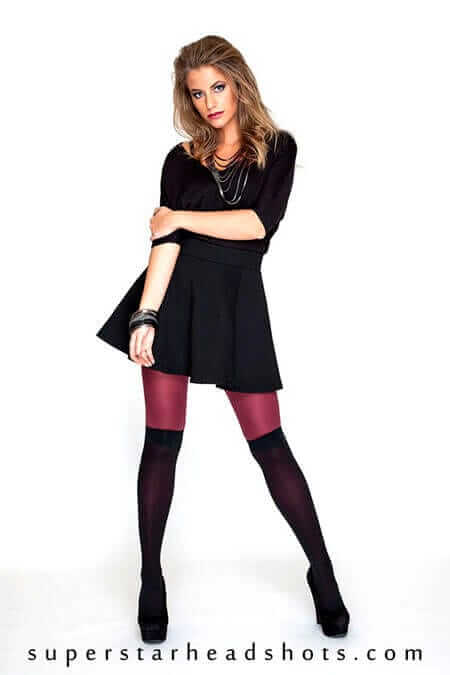 Suggestions for men ?
The short answer is, you can get away with more in terms of men's hand poses. The back of a hand resting under the chin is actually an acceptable pose for most men in my opinion. Hands relaxed on thighs for a sitting pose or resting against the outside hip in standing poses also work. Hands in pockets are actually inviting and an acceptable look for most male portraits. Hands crossed in lap is also a nice neutral pose you see often in both sitting and standing portraits. Arms crossed with hands tucked is also an acceptable power pose for men. However, I try to avoid this on heavier/wider men, especially if they are wearing a suit coat that bunches up as a result. In a group shot, two men shaking hands can also create a powerful image signifying agreement and cooperation.
What's in your camera bag?
I'm a Canon shooter (5DII and 70D) but also recently picked up a Sony a6000 to see what all the excitement was about. Personally, after using the Sony for a few months I am not entirely sold on the small, mirrorless form factor, though the images can be quite nice. In terms of zoom lenses, I have a Canon 17-40 F4 L, 24-105 F4 L IS and 70-200 F4 L IS. I also have a EF-S 15- 85 IS for my 70D which is a great all-around lens, and just picked up a EF-S 10-18 IS STM for some architectural work with the 70D. I also rent lenses from time to time, including Canon's tiltshift lenses for architectural work. This weekend I shot the full moon over the Statue of Liberty with the new Canon EF 100-400 L IS Ver. II and it's amazing. Primes: I own the Rokinon 14 2.8 for Milky Way shots, and the newish Canon 35 F2 IS and Canon 85 1.8 for portraits. I have also owned the Canon EF 135 F2 a few times – waiting for Canon to update this lens to add STM and IS to make it a little more useable. I have also owned the Canon 50 1.2 L and 24 L primes. I currently have two Canon and two Yonguo Speedlites for location/event shooting. I use Alien Bees and Adorama Flashpoint strobes in the studio. I also like Adorama reflectors, light stands, booms and other studio accessories – including carrying bags – for all my other stuff.