Children grow up so fast. It's important that as parents and photographers we document the important milestones in a child's life. Let's start with year one! The one-year-old portrait sitting is an important session for both those in front and behind the camera.
We sit down with photographer Jamie Baker of  
Brand New Baby
 who shared a wonderful
Printique photo book
with us showcasing a 1-year-old, her family and her furry best friend.
Jamie  tells us what to expect from the child who is now probably standing, smiling and full of energy.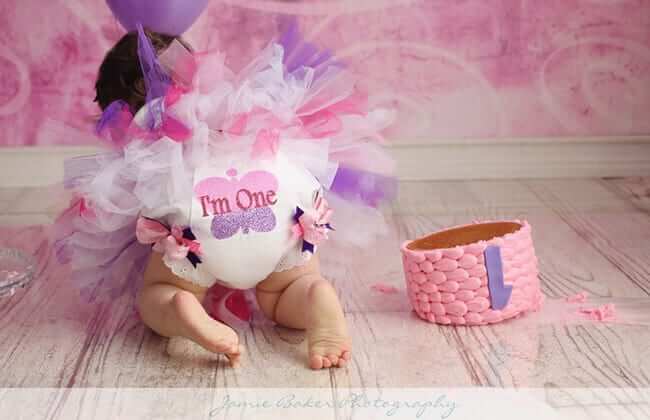 Tell us a little about yourself.
 Hi! I'm Jamie Baker, owner of
Brand New Bab
y in Springfield, IL. I've been photographing newborn – 1 year for about 4 years now and I love it!  I can't think of a better job!
Why is the 1-year-old session important?
 I believe that it's VERY important to capture ALL of the milestones in your child's life but that first year is especially important! They grow and change so quickly and before you know it they are starting school!  Never again will they be that tiny baby. The one year session is always bittersweet for the parents…Yay! My baby is growing up! And (insert sad face) my baby is growing up, where did my BABY go? It's soooo important to document this time in their lives!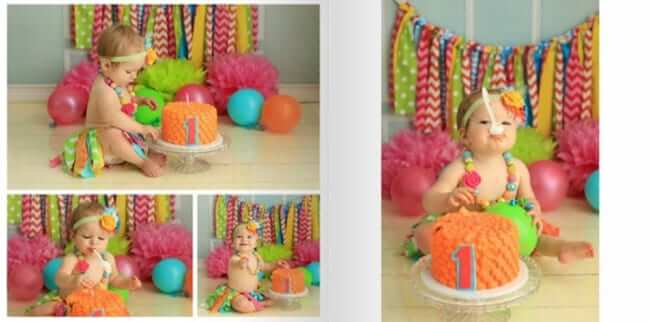 (click on picture to view Printique photo book)
How should parents prepare for the session?
For the 1 year session, I tell parents to bring anything they want to remember about this time in their baby's life.  Favorite toys, a birthday theme, etc.  A lot of parents bring in milestone boards documenting baby's first year achievements.  We do some shots with baby holding her newborn photo and I've even done some with baby looking at his own ultrasound images!  Parents should be included in a few so they can look back on how "young they were"! 🙂  Pets are especially important too if they are a part of the family as your baby may not remember them when they are older.  Also very important is the 3 or 4 generation photo!!!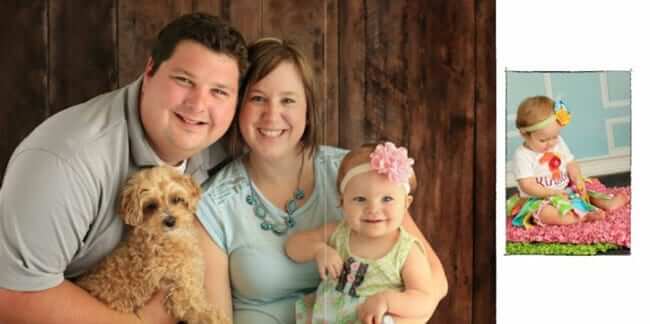 (click on picture to view Printique photo book)
Advice for working with a 1-year-old?
My best advice for working with a 1 year old, or any age baby, is patience!!!  THEY are in charge, as any parent knows! Lol!  The trick is to find their personality. If baby is a happy, smiley baby, capture it!  Same goes for serious babies!  These are the moments the parents will remember and will share with their baby when he grows up!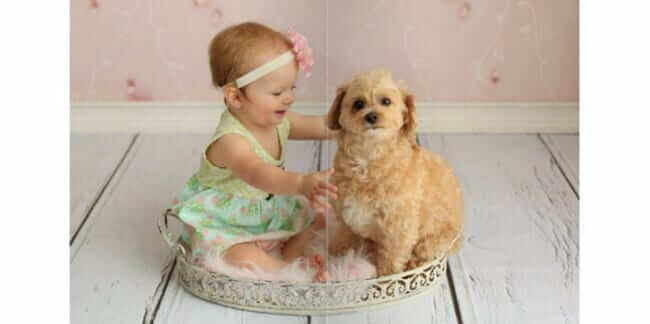 (Click on picture to view Printique photo book)
What's in your bag for the 1-year-old session?
All of my baby sessions are shot with a 50mm Canon lens on my Canon 5D Mark III.
Thank you Jamie. If you would like to see more of Jamie's work check it out on her website
Brand New Baby. 
 You can also view her Facebook page
HERE.