Everybody has a story to tell. As photographers, we do our best to capture our client's story one click at a time. But what happens, when we fuse our images with words? Printique Ambassador and award-winning photographer, Jen Hillenga, tells us how it can all come together to make a true masterpiece.
1. Tell us a little about the session and how you began adding words to your client albums.
Several years ago, I had an amazing client who I had done work for several years who asked me to photograph her parents.  They would be celebrating their 60th wedding anniversary that year, were both in their 80's, and she wanted me to tell the story of their relationship with images.  This sort of session isn't something I had a lot of experience with, but I was up to the challenge.  We scheduled the session, which was to take place outside the city on their farm, which had been in the family for over a 100 years. The morning of the session came, and I was really not having the best day and was not really looking forward to heading out of the city for an hour.  I was also not really used to photographing elderly people and I had no idea what to expect. I was surprised and thrilled to find when I arrived at the farm that my client was there and had prepared everything I needed for the session.  This was certainly a client who "got it". Since I had worked with her before, and we had had several consultations, show knew what I would be looking for and she had prepared outfits, locations, and her parents to be ready for the shoot.
Andrew and Eunice, my client's parents, were delightful!  So excited to have me, so ready to show me their life, so excited to share their relationship with me.  We chose outfits, and they gave me a tour around the farm and their home.  One of the rooms that really struck a chord with me was Eunice's Sewing room.  You see, Andrew and Eunice make a quilt for each of their grandchildren when they graduate from high school.  Andrew goes and buys the fabric and cuts the squares and hands them to Eunice as she sews it together.  Because they don't know how many grandchildren and great-grandchildren they will have, or how long they will be able to make the quilts, they have made extra quilts and have them stacked up in the sewing room.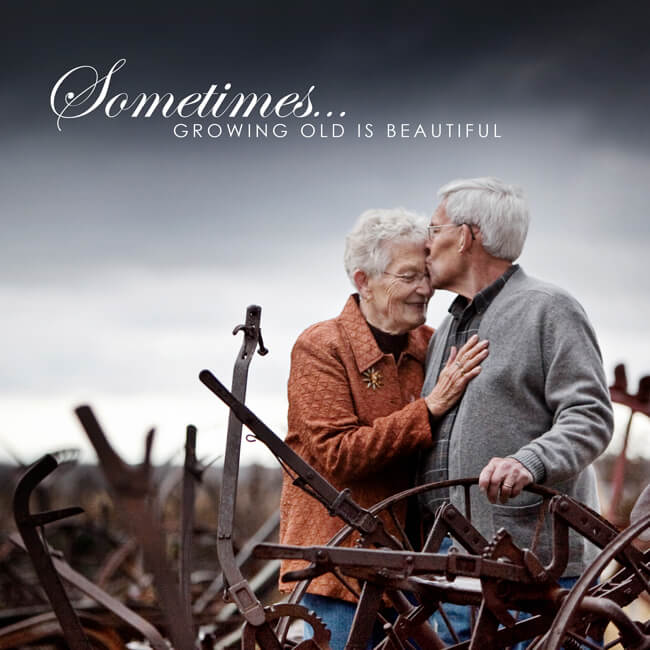 They showed me everything that was important to them in their home and on their farm and I photographed them interacting in each place.  Eunice showed me her wedding dress in the living room hope chest.  Andrew took me to the antique farm equipment and his woodworking room.  Each place told a story and they were inviting me into their world.
Sometimes you have a session that sets you back on your heels and reminds you of why you do photography.  About what is important about life and why we record it.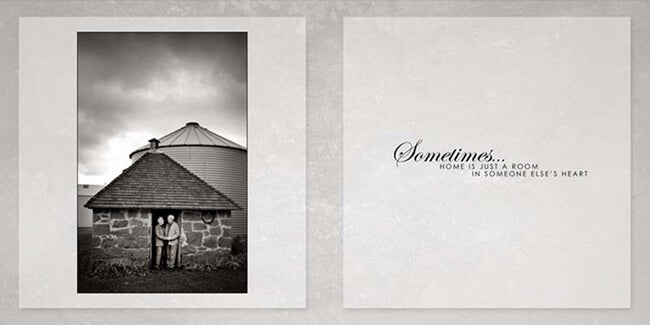 After the session, I was moved to write a poem full of phrases about what makes life worthwhile….what the important things are….what we should remember.  It was about what spending time with Andrew and Eunice made me remember that day: That life is about how you share it….about how you live it and about the memories you make.When I was editing the session and creating the album, I kept thinking about ow to best tell the story of this lovely couple.  I decided that the best way to tell this story was to include the thoughts and the words that I had written about the things the session made me feel.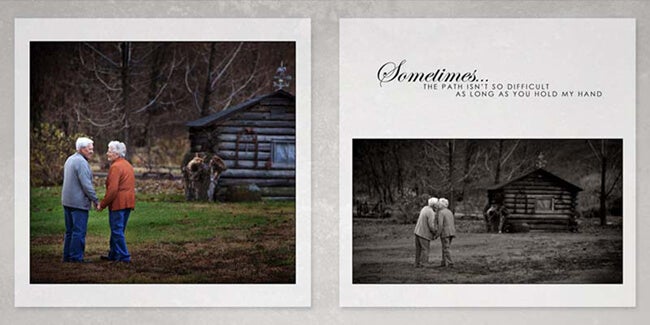 My client LOVED the book.  So did I.  I made a copy for the studio and using words in albums became something we would often do for clients from time to time.  Whether it was words that I came up with, a favorite nursery rhythm or passage, wedding vows, or just a letter from a mother to her children, the concept of mixing words with images was something that really set our albums and books apart from what other photographers were doing and help our clients tell their stories with our images.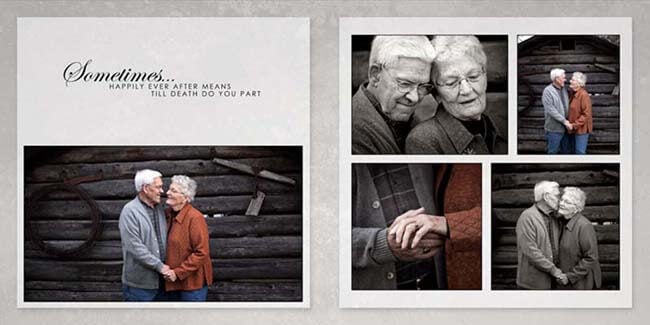 2. Is it hard to find the rights words to convey the emotions you had captured by your camera?
I do a lot of writing, so finding the words is something I really like to do.  I think it is really about discovering who is in front of your camera.  Talking to them….figuring out who they are, what their relationships are about, what is important to them.  It is about connections.  About you connecting with your clients and finding out what they are connected to. About asking the right questions, then just taking mental notes and putting it down.  You can also provide your clients with "homework" either before or after the session in the form of a questionnaire.  For example, If you know you have a client who is coming in for a newborn session, send them a list of questions about the hopes and dreams for their child.  Ask them to describe the baby…what is the favorite things about their child, what moment do they treasure?  If you are a wedding photographer, take special notice of whether or not the couple exchanges their own vows.   If you are photographing a family, ask the kids to describe their parents or siblings….come up with a list of questions that are both sentimental and humorous.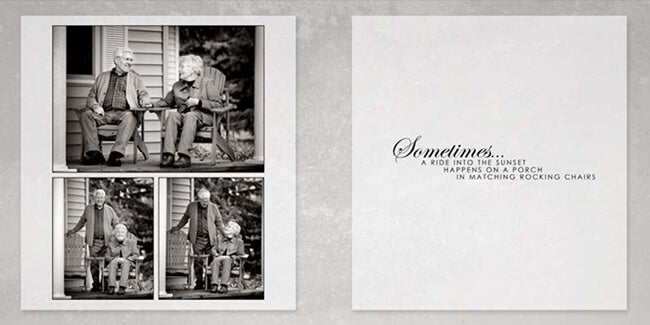 3.  Other than albums, are there other products that you put words to?
Yes!  Incorporating words into your product line ties the emotion to the images.  We used words in our albums, but also our gallery wraps, greeting cards and especially in the slideshows when the clients first view their images.  That is always a way to get your client connected to you and to their story!  When they come in and they had no idea you were really listening and invested in their story, and then they see a slideshow of their images with personalized words telling their stories…..it can very emotional for them.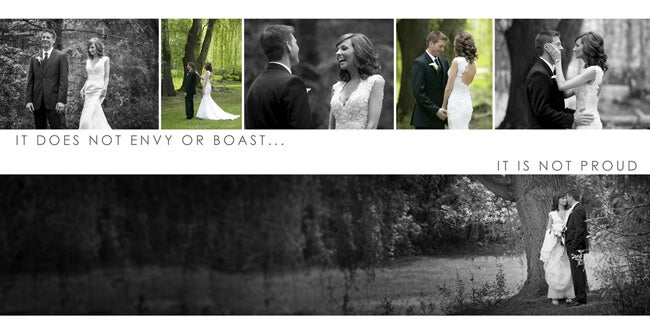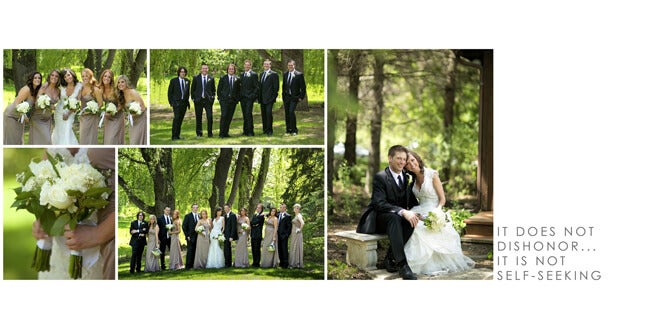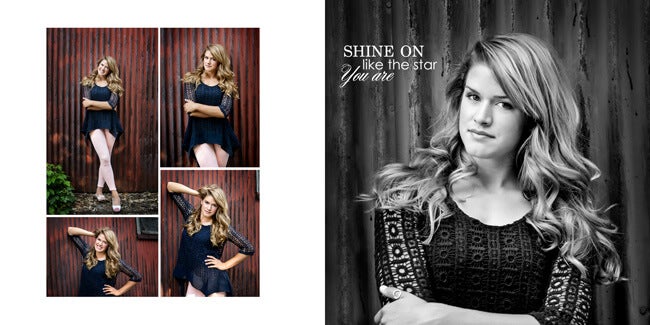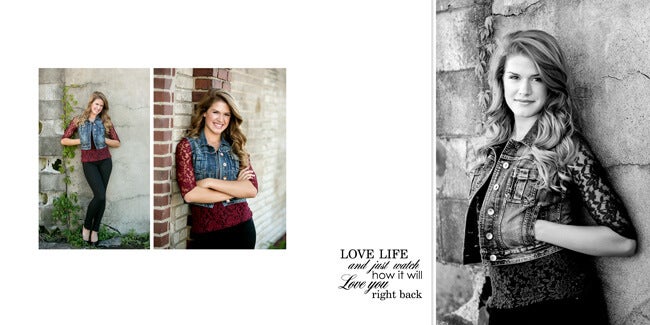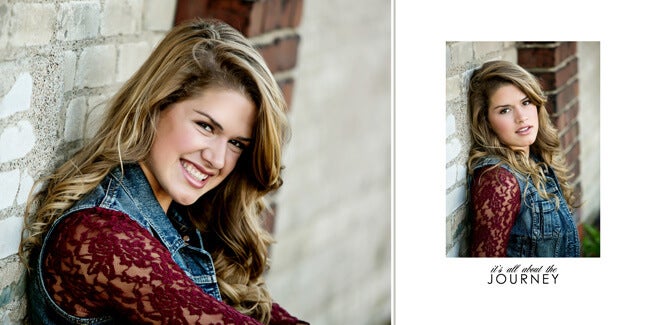 4.. If someone is going to add words/phrases/quotes to their photo book to enhance the story – what words of wisdom do you have to incorporate the two?  
Listen, Look, Feel.  Listen to what is important to your clients.  Listen to the reasons WHY they are having their photos taken and if they don't give you that information, ask for it.  Look for connections, for stories, for moments during the session that you can describe later.  Feel the connections in your sessions.  Feel how people are connected to each other or to the world around them.  These things work no matter if you are planning on adding words or not.  They will make you a better overall photographer in general, because after all, photography is about connection and moments, and telling stories.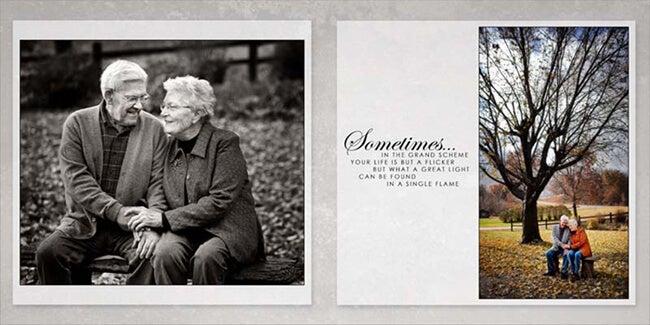 Thank you Jen! Jen chose the Printique Hudson Album to showcase these particular photo sessions. She believes quality above all else is the most important item you can give your clients. You can take a look at the quality and craftsmanship of our Hudson Albums by clicking HERE.