Great news everyone! You can now convert your hardcover photo books into flush mount albums easily.
First, go to your photo books that you have created. Under the orange button "complete book" or if it's been ordered already under the green button "reorder book". You'll find Convert into flush mount. Click on this link.



A pop up guide will then appear. It will prompt you to select a cover and paper.  It will also ask if you would like rounded corners and gilding. Hit convert and your photo book  has been converted into a flush mount album.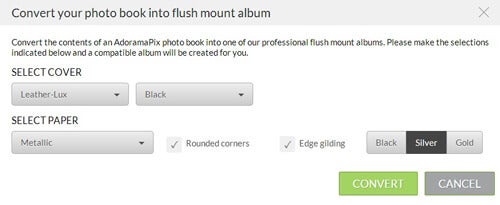 We also wanted to make sure you knew you can add metallic paper to your flush mount albums. This is currently not available for hardcover.