It's getting close to the 4th of July, also known as the night of brilliant fireworks. Instead of giving you the same old information on how to shoot fireworks that you can find anywhere, we wanted to challenge you. Why not try focus pulling with your fireworks photography?
Photographer  Kristina Lishawa of Kristina Lishawa Photography is going to push our limits and share with us how she gets creative with this unique technique.
1. Tell us a little about yourself
I wear a few hats.  I am a practicing physician, a wife, a mom to two busy little boys, and an avid photographer.  Photography is my way of intentionally slowing down, appreciating the beauty of our world, alleviating stress, and getting outside with my kids.  I think life is better enjoyed with a camera stuck to your face!  I started using a DSLR camera seriously about five years ago, though I shot and developed film before that.  Although I do a little professional portrait work and sell some fine art prints, photography is mostly a joyful hobby right now.  I was thrilled to have one of my pictures featured as a "Top Shot" by National Geographic recently.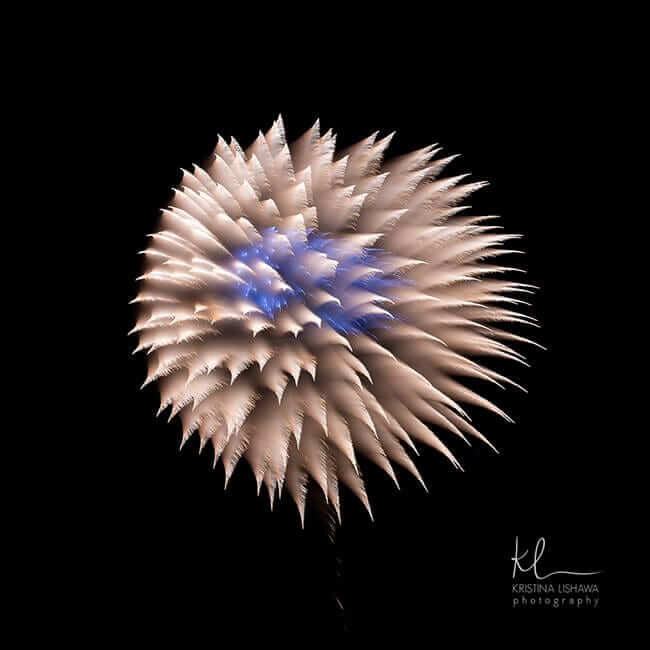 2. Tell us a little more about this particular image that you took during the 4th of July.
All the images in this series were taken from a dock during the fireworks celebration in my hometown of Traverse City, MI.  This particular photo is my personal favorite because of the capture of the smaller explosion inside the larger one, and the effects of the light trail as the firework went up.  I also like the color contrasts in the bigger firework.  It was a total experiment with a happy result!  I had no idea what was happening on the camera sensor until after the capture.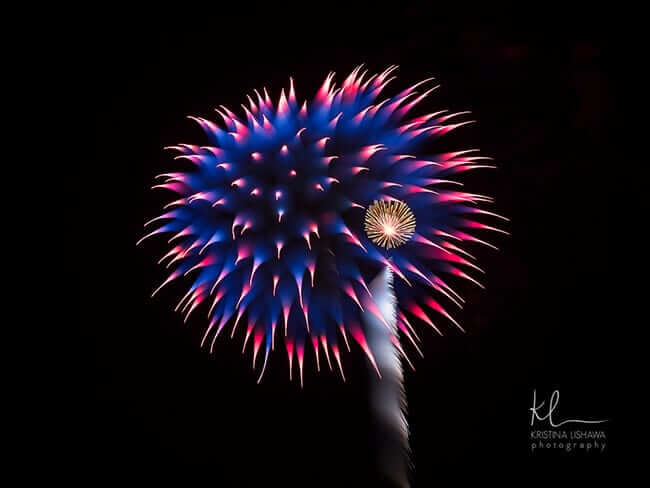 3. What is "focus pulling" and how is it accomplished?
Focus pulling is a creative technique where you change the field of focus over the course of an exposure.  With fireworks, this produces some amazing and organic effects as the light hits the camera sensor in an unfocused blur and is tapered to a focused point as the explosion unfolds.  I found quite a few sea urchins in my shots!  Capturing fireworks with focus pulling is accomplished by turning your focus ring over a 1-2 second long exposure.  It is by no means my own idea!  It has been described and done successfully by quite a few photographers.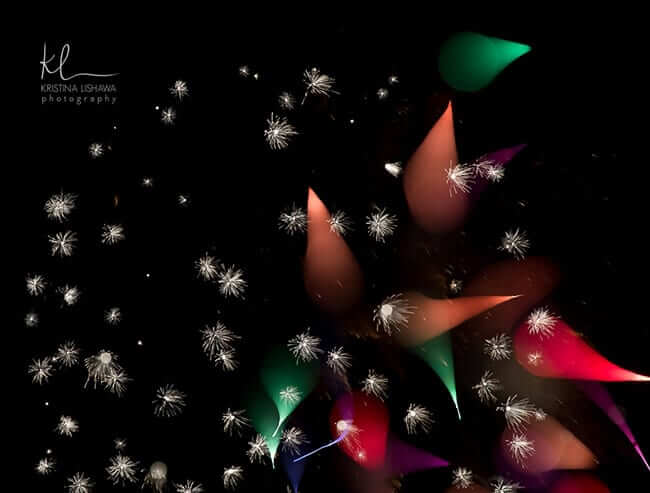 4. Advice for those who want to try it?
Set your camera in bulb mode, and your lens on manual focus. Keep your ISO low (I was at 100) because fireworks are bright! A neutral density filter may also be helpful to keep the fireworks from being overexposed, and to give you longer exposure times and more time to turn the focus ring.  The focus pulling technique can be achieved with any lens that has manual focus.  Keep one hand on the shutter release, and your other hand on the focus ring. When you first see the explosion or the firework ascending, start the exposure OUT of focus. When you hear the explosion or a fraction of a second later, quickly but smoothly turn the ring to IN focus (this is the tricky part; you have to know by feel where your lens will be tack sharp at infinity as it's not a hard stop on most lenses). End the exposure, usually after 1-2 seconds.
You can change the appearance of the firework by playing with the aperture.  A wide aperture will give you thicker light trails and teardrop shapes, while a narrow aperture produces thinner, sharper lines.  You can also try the inverse; starting IN focus and moving OUT of focus; this produces a whole new look.  Just experiment and have fun!  You will be pleasantly surprised with what you can create!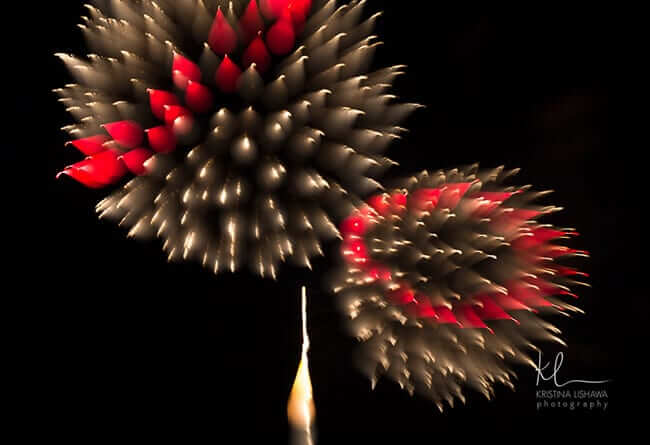 5. What's in your camera bag?
I shoot with a Canon EOS-1D X body, and my typical arsenal of lenses includes a 16-35mm f/2.8, a 24-70mm f/2.8, and (my favorite) a 70-200 mm f/2.8 lens.  I also usually have a 100mm f/2.8 macro lens on hand, as well as a 1.4X teleconverter.  As much as I don't enjoy lugging my tripod around, I use it often.  A stable tripod is essential for firework photography (and any type of night sky photography).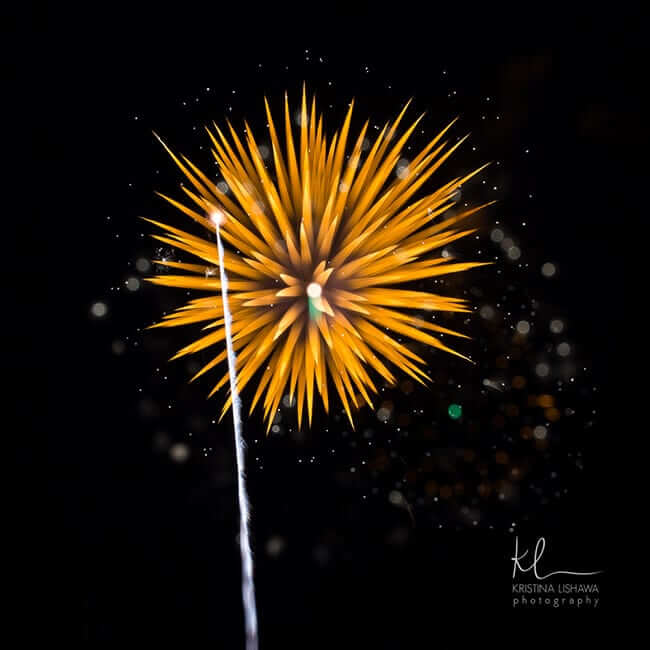 So now that you know the technique, lets talk about printing. You'll want the best paper to show off your artwork. We have three options that will make the colors pop.
From left to right: Metallic Photo Paper, Silk Paper, Glossy Paper.
Metallic photo paper will not only give you a high-gloss and reflective sheen, but it will also have a pearl like finish almost like it's printed on aluminum.
Silk photo paper is the best of all worlds. It will give you vibrant colors like the luster but it adds a subtle  texture, giving it depth.
Glossy photo paper is much like metallic with a high-reflective sheen but with no silver base. So colors stay true to life.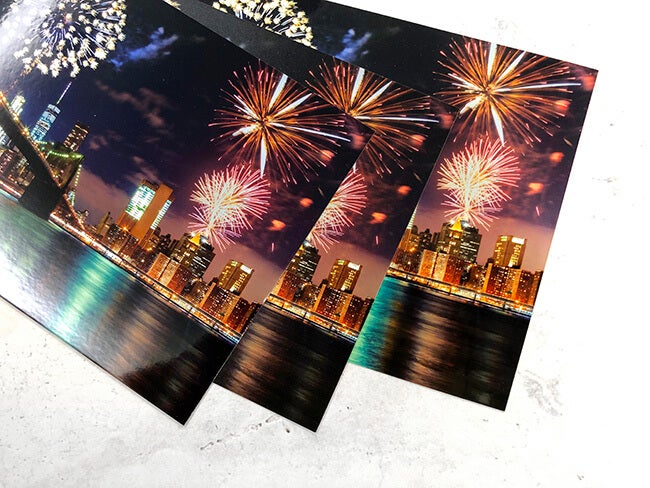 Glossy Photo Paper, Silk Photo Paper, Metallic Paper as seen below.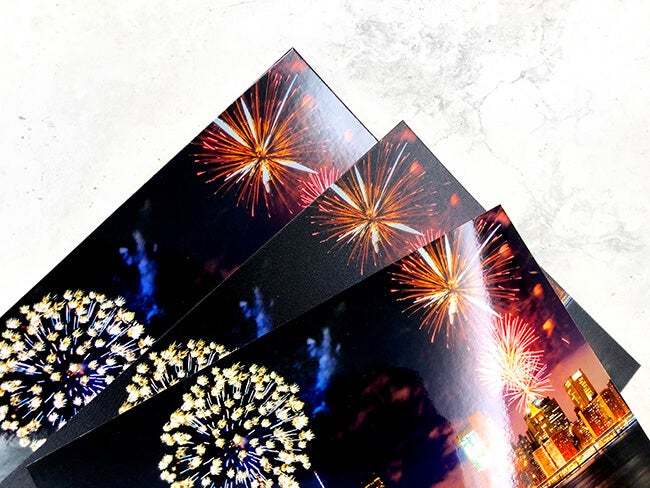 We asked Kristina her favorite paper and for her work with fireworks, she loves the glossy and metallic. However, she said the Printique Metal Prints are her preferred print product for fireworks photography (glossy, white) because it commands attention when it hangs on the wall.
We want to thank Kristina for sharing this fun technique with us. If you would like to see more of Kristina's work, you can check out her website at Kristina Lishawa Photography  or her Facebook page HERE.