If you're in the thick of planning your wedding and getting ready to sit down and tackle the invitations, you may want to do some research first. Although most of the traditional wedding invitation rules remain the same, there are some items that are simply outdated and can be easily adjusted for today's bridal couple. Here's a look at four modern wedding invitation trends we think are fabulous!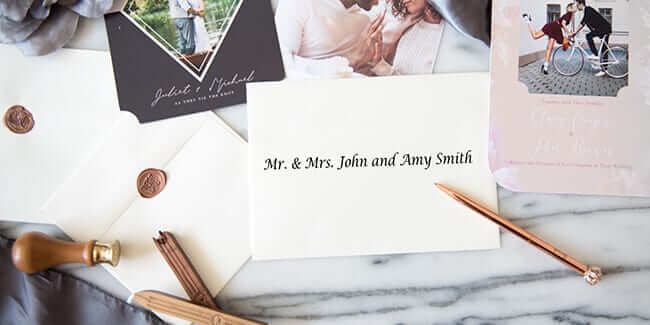 1. Say My Name
When addressing a couple, take the modern twist. Instead of saying to Mr. and Mrs. John Smith, address it to Mr. and Mrs. John and Amy Smith.  By the way, if you get stuck on how to address a certain family situation, this post by the Emily Post Institute perfectly answers all those difficult questions.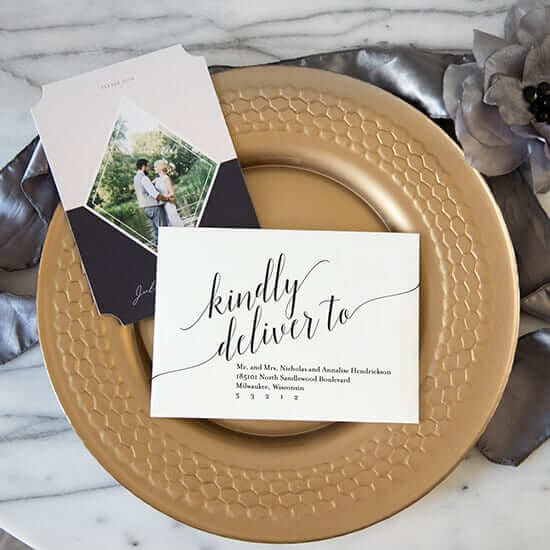 2. Mix and Match
Calligraphy on wedding envelopes is always seen as an exquisite detail as it was all done by hand.  There's a modern twist to this loved tradition though! It doesn't necessarily have to be done by hand anymore and you can mix and match typefaces to create this look. Now with beautiful fonts, templates, and files available you can elegantly use both calligraphy and type to give an updated look to your addresses.  After getting your template, go ahead and test them out by printing them on a few envelopes to make sure they are just right before putting those stamps on!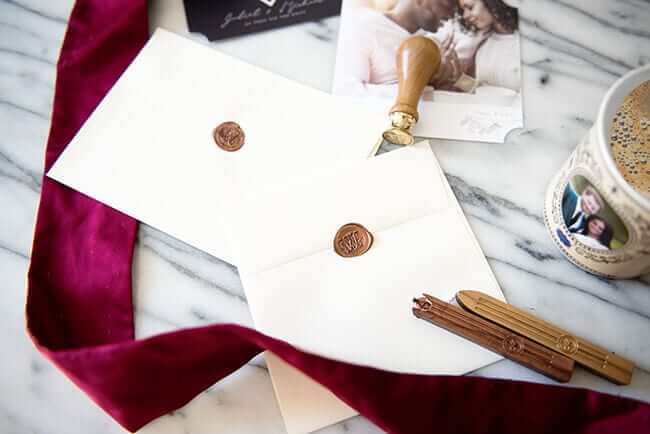 3. Signed, Sealed, Delivered, I'm Yours
This one isn't really a new trend, but rather it's an old trend making a HUGE come back. The Royal Wedding invitations included a wax seal. Now, this is something you can do at home. There are many online companies that sell monogrammed wax seal stamps. You can also usually get your wax from these places. You'll want to practice before you actually do it on your wedding envelopes. You'll also want to make sure you have these items in plenty of time before you send out your invitations. Wedding invitations are typically sent out 6-8 weeks prior to the event.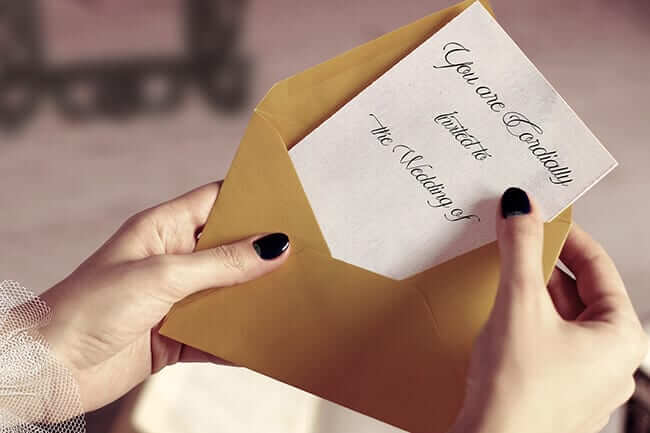 4. Say No to Seconds
It's ok to ditch the second envelope. Most couples are conscious of the footprint they leave behind. Less waste means they are being more eco-friendly to the environment.
Ready to order your wedding invitations? Check out our most recent beautiful and modern wedding invitations HERE.