by Printique Ambassador John Glaser of JMG Creative Design
Football season is going to be here before we know it, and photographers who love sports may want to give a crack at shooting some football this season. Here are ten tips for better sports photography.
1. Proper Gear
It is a common misconception that you have to have super long lenses and incredibly expensive cameras to get good sports photos. While there are a lot of pros to having expensive gear, people with a consumer-level camera and kit lens can still be successful taking sports photos, with some limitations. The ideal equipment, but not required, to capture good sports photos is the following:
A camera that can shoot at least at 1/1000 of a second. (Most DSLR cameras should.)

The longest lens you can afford. (Ideally, you'll want a good 70-200mm f/2.8.)

Cameras that can handle high ISO in low light (if shooting at night or indoors)

Monopod, especially if using big heavy lenses (300mm, 400mm, etc)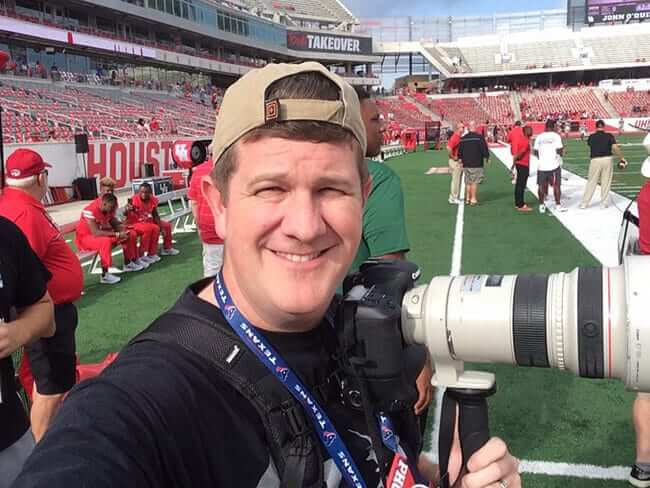 2. Carry What You Need

 
When I covered my first golf match, it looked like it was going to rain, so I wore rain pants and a rain jacket, and I took all of my rain gear and all of my regular camera gear (a long lens and a short lens, both on separate camera bodies). Aside from one short shower, there was hardly any rain, but it sure was hot and humid. I was stuck with all of that gear the whole day because once you go out on the golf course, it is difficult to come back. Bottom line- carry what you need but don't carry too much. You will thank me later.
3. Ideal Settings
Setting up a camera for shooting sports is actually simple. Start with basic settings: put your camera on shutter priority, auto iso, and auto white balance, then setup the back button focus, set your autofocus to servo and continuous. Now you are ready to shoot. Once you get comfortable and you understand how your camera works in shutter priority, use those lessons and switch to manual so you have full control of your camera.
4. Body Position
 Do you know how you can tell the difference between a photographer who is just shooting the game and the photographer who is looking for an amazing shot? Look at how they are positioned. Sports, in general, is how low you can go. Standing and shooting sports results in good shots; kneeling, sitting, or even lying on the ground results in GREAT shots. Low shots make your subjects look larger than life, no matter their age, but standing makes them look normal. Don't be afraid to lay down on the job.

(I shot this laying on my stomach as the team was running onto the field)
5. Location, Location, Location
People often ask where is the best location when I shoot games. This is a difficult question to answer. Basketball is generally simple because under the basket is the best spot. Sports like football that cover a larger area are more difficult because you have to move with the action. Remember this…you won't get every play! (I hope that took some pressure off you!) In the course of a football game, I can take 2000 shots and I only end up with 50-100 great shots at the end of the game. In general, you need to get as close to the action as your lens can get you but stay out of the way of play. Be sure to check with your venue before shooting if you are not sure where you can and can't be throughout the course of the game.  

(Put yourself in a location that will give you a shot at the movement coming to you. I shot  this the back corner of the endzone and let the play just come to me)
6. Take off the Horse Blinders
Horses wear blinders so they can't be distracted with what is going on around them. Sports photographers can't wear blinders. Keep your head on a swivel and look shots between plays. Some of my favorite (and best) shots are the ones that I get between plays or action taking place. Take the blinders off and see what is going on around you.



(Totally unplanned. I just walked by and happened to have a fisheye on my camera and snapped this shot from on the ground)
7. Take a Risk 
This is one of my favorite things to do when I shoot a game. 99% of the time when I go to a game I have at least one idea for a shot I want to try and take during a game that is a risk. Sometimes those shots work and sometimes they are disasters; however, you will never know if a shot will turnout until you try it.  
(I set this shot up in advance asking the official before the game if I could put an 8mm fisheye in the middle of the coin toss using a remote and standing off to the side out of the way. I intentionally set this shot up before it actually happened and had a plan before I showed up for the game)

8. Tell the Story
Sports are the unfolding a story. There are winners and losers, great plays and bad plays. Unless you are shooting just your son or daughter, it is a photographer's job to tell the story of the game in still photos. There is a natural progression to most games: the pre-game, the introduction, the action of the game, the ups and downs of the game, and the finish. If you are asked to shoot a game holistically, it is your job to use these moments to tell the story of the game.

(This shot is a little deceiving, but it really tells the story of this game. The player in the photo is the quarterback for his team, moments before this photo he was throwing up on the field and a timeout was called. This kid really left it all on the field. After a called timeout he drank some water, strapped his helmet back on, and scored the touchdown for his team.)
9. Show Emotion
 Emotion plays a major role in telling the story in sports. Some of my favorite shots revolve around showing that emotion. If a coach gets into an argument with the official, not only does it usually tell a story, it also shows emotion. When an athlete collapses on the ground after giving their all in a loss, the picture not only tells the story, but it shows emotion. Storytelling and capturing emotion are held together.

(This photo was captured towards the end of a state championship game where a player is being consoled by a fellow teammate as it is apparent they are going to lose.)
10. Have Fun!!!
More than anything, HAVE FUN!!! Shooting sports photography is a lot of work, and if you aren't having fun, it isn't worth shooting. I shoot hundreds of athletic events a year. It is a lot of work and doesn't pay a ton, but I love it and consider it an honor each and every game I have the privilege to photograph.
John Glaser is a professional sports photographer based out of Houston, Texas and his company is JMG Creative Design. He is also an Printique Ambassador.
"Every time I show clients products I have made by Printique they are in awww. The prints are amazing and the service is better."