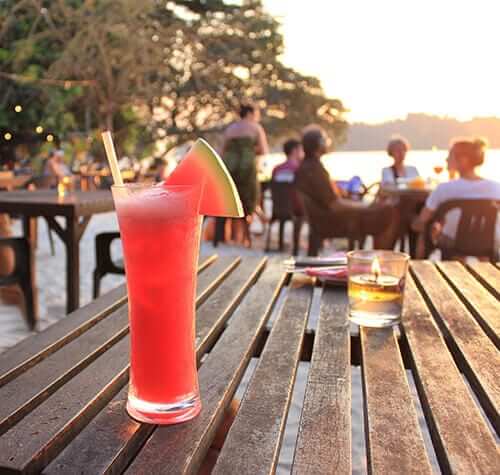 Summer is the time for sip-worthy cocktails with friends and family but behind every great drink on Instagram is a great recipe. As the temperature heats up and we get ready to celebrate the Olympics, why not show off your gold medal mixologist skills with our 10 favorite summer drinks you have to try (and photograph) ASAP?

Daytime Drinks
1.Lemonade  
Before Beyonce's latest album, there was just this classic summer drink.  If you've ever made lemonade from scratch, you know it's an art form to get the perfect balance of sweet but refreshing.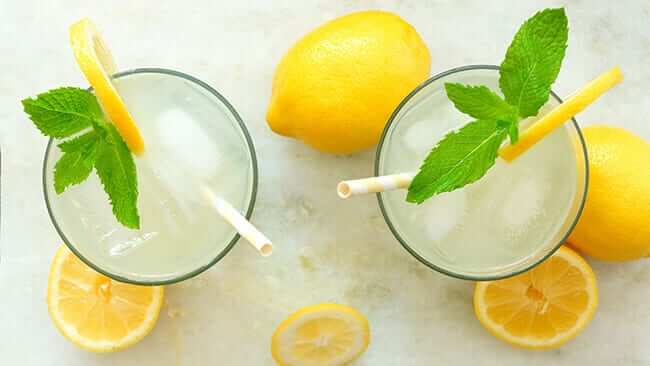 (Courtesy All Recipes)
Recipe: 
1 3/4 Cups of Sugar
8 Cups of Water
1 1/2 Cups of Lemon Juice
mint leaves for garnish
In a small saucepan, combine sugar and 1 cup of water. Bring it to a boil and stir to until the sugar is dissolved. Allow to cool to room temperature, then cover and refrigerate until chilled. Remove any seeds from lemon juice. In a pitcher, stir together chilled syrup, and remaining ingredients.
Photo Tip:  Use fake ice cubes if you want them to last.  Check our DIY tutorial to make them at home. Click HERE to find out how.
2. Infused Grapefruit Water 
One summer drink that is getting a lot of buzz  is infused water.  It's cold water mixed with healthy fruits, vegetables, herbs and (usually)  has zero calories!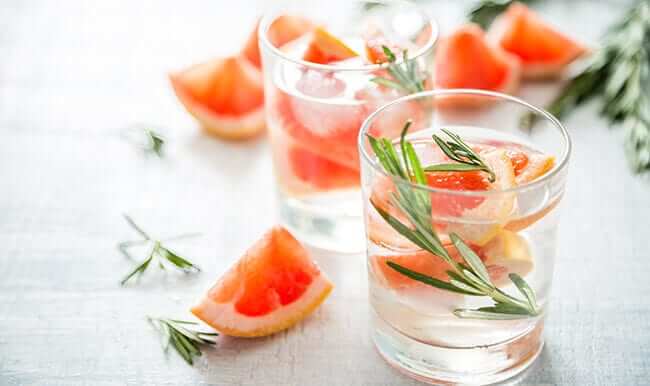 (Courtesy InfusedWaters.com)
Recipe:
1/2 grapefruit – sliced
3-5 sprigs of rosemary
8 cups of cold  water
In a large pitcher, add the grapefruit and rosemary. Next, pour inthe water and add rosemary. You can also swap out the grapefruit for other fruits such as lemon, lime, and orange.
Photo Tip: Use a tinfoil or a white board to bounce light back into the area that has the most shadows.
3. Watermelon Slushie 
Summer is just not complete without watermelon! So we give you the watermelon slushie.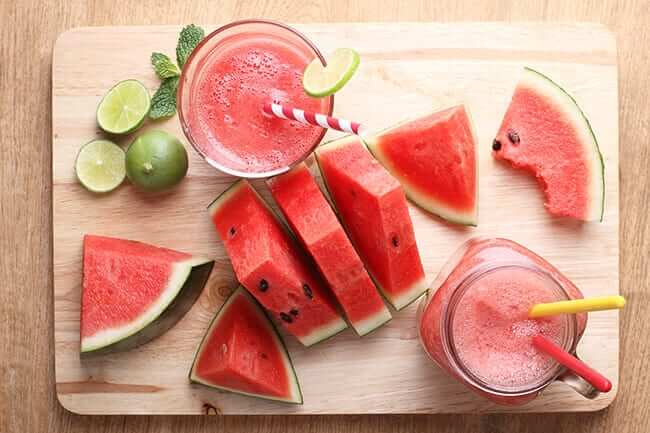 (Courtesy All Recipes)
Recipe: 
5 cups diced seedless watermelon
2 tablespoons sugar
juice from 1 lime (optional)
Combine watermelon, sugar, lime juice and 1 cup ice in a blender until smooth. Serve immediately.
Photo Tip: Change your angle. Try photographing with a bird's eye view.  It will add dimension and interest to your final shot.
4. Ice Cream Fruit Smoothies  
These too-good-to-be-true ice cream smoothies are a breeze to make for a hot day.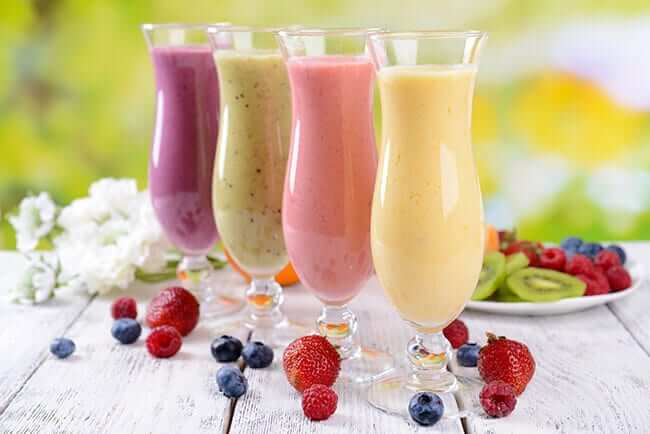 (Courtesy The Food Network)
Recipe:
1 cup of hulled strawberries (or fruit of your choice)
1 1/4 cup milk
3 large scoops vanilla ice cream
Pour the hulled strawberries into a blender with the milk and ice cream. Blend until smooth and creamy. Pour into tall glasses, top with fruit.
Photo Tip:  Try something unusual and use an unexpected glass, we love hurricane or martini glasses. The upscale touch will look different than the other drinks in your book.
5. Iced Tea 
Iced tea is a summer staple. But who wants the same boring drink year after year? Punch it up by adding a flavor twist like (fill in one here since not in recipe).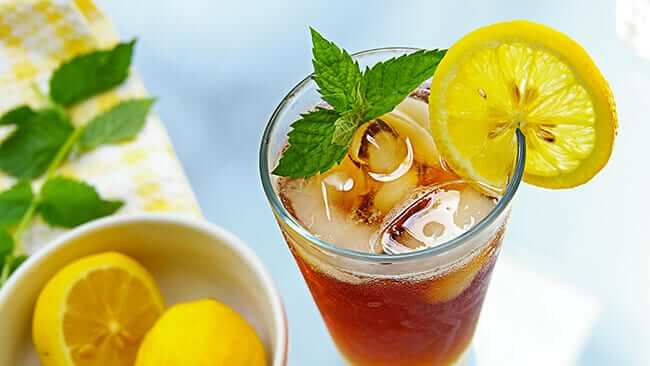 (Courtesy Chowhound)
Recipe:
1 pinch of baking soda
2 cups of boiling water
5 tea bags
3/4 cup white sugar
6 cups of cool water
Sprinkle a pinch of baking soda into a 64-ounce glass pitcher. Pour in boiling water (make sure pitcher is heat resistant) and add tea bags. Cover, and steep for 15 minutes. Remove tea bags and stir in sugar until it dissolves. Pour in cool water and refrigerate until cold.
Photo Tip:  To get condensation just right in the photo, take a spray bottle filled with water and spray the cups and pitchers to give it a refreshing just made look.
Drinks for When the Sun Goes Down
6. Country Lemonade with Peach Schnapps 
If you're looking to add some grown-up fun to your favorite lemonade recipe, look no further than country lemonade with peach schnapps.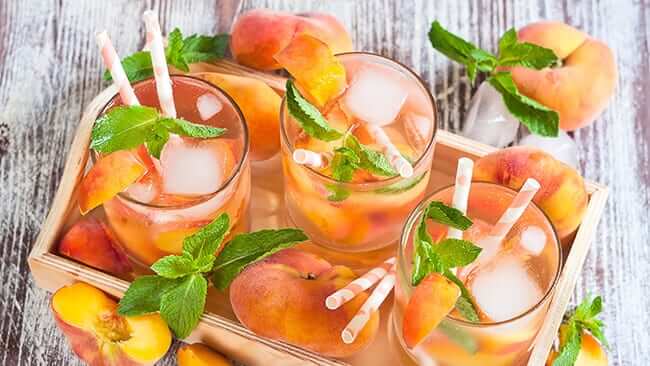 (Courtesy Design Sponge)
Recipe:
3/4 cup sugar
5 lemons
2 oz peach schnapps for every 6 oz of lemonade
peaches/sliced
one bunch of mint, rinsed and dried
Heat 3/4 cup sugar with 1 cup water in a small saucepan until sugar is completely dissolved. Next, add the juice of five lemons and add both to a pitcher. Add 3 to 4 cups of cold water (therefore, 8 to 10 ounces peach schnapps). Refrigerate for at least 30 minutes. Serve over crushed ice and garnish with fresh mint leaf and peach slices.
Photo Tip: When photographing a drink that is one color, make sure to add an accent color to break up the palette.
7. Lavender Lemonade Martinis  
Try this showstopper summer drink recipe with floral accents to brighten up your cocktail repertoire.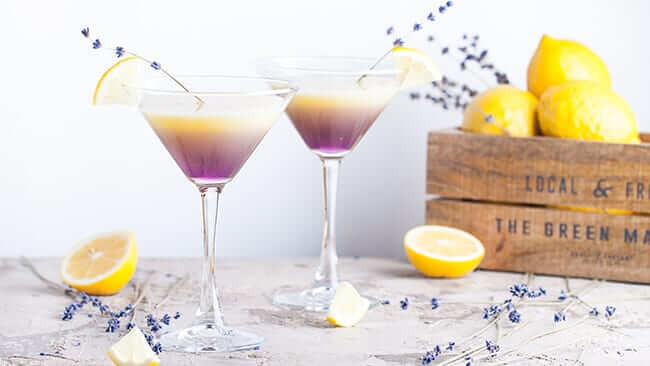 (Courtesy Creative Culinary)
Recipe:
1/2 cup sugar
1/2 cup water
6 sprigs of lavender
1/2 cup fresh squeezed lemon juice
4 oz vodka, chilled sugar for rimming
lemon slices,-halved
Combine the sugar and water in a pot on the stove and bring to a boil; cook only until the sugar is dissolved. Add lavender sprigs and allow to cool completely, stirring occasionally. Rim the edge of two martini glasses with a lemon slice and dip the edge into sugar. Strain the lavender simple syrup into a cocktail shaker filled with ice and add the lemon juice and vodka. Shake until it's cold. Pour the lemonade/vodka mixture through a strainer into a cocktail glass. Garnish with lavender sprigs and lemon slices.
Photo Tip:  Artificial light can often give different color casts and harsh shadows try shooting only in natural diffused light.
8. Sangria 
Summer drinks means rose all day and Sangria. It started in Spain and Portugal but stateside it's a staple everyone should know how to make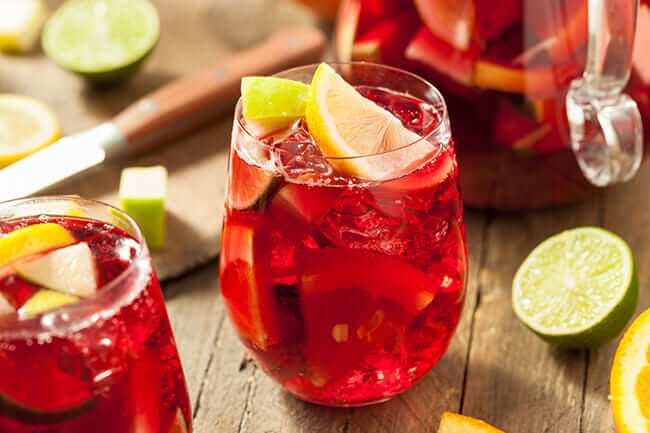 (Courtesy Emeril Lagasse and The Food Network)
Recipe:
2 bottles chilled dry red wine
1 cup brandy
1 cup orange juice
1/4 cup superfine granulated sugar
2 oranges, cut into thin rounds
2 lemons, cut into thin rounds
3 Key limes, cut into thin rounds
2 apples, cored and cut into 1/2-inch chunks
2 cups cold club soda
In a large bowl, combine the wine, brandy, orange juice, and sugar and stir until the sugar dissolves. Add the orange, lemon, and lime slices, the apples and refrigerate until well chilled. Remove from the refrigerator and add the soda. Serve over ice and with a smile!
Photo Tip: Include photogenic ingredients into the composition, especially with drink photography. Anything bright and colorful sets the scene for the final product.
9. Strawberry Margarita 
Life's not complete unless you are sitting at an outdoor cafe' on a hot day with a strawberry margarita.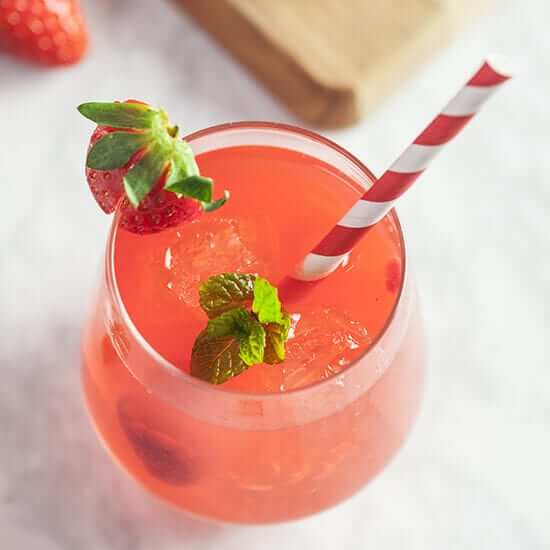 (Courtesy Food52)
Recipe:
1 1/4 cups of strawberries
1/4 cup of simple syrup
2 1/2 ounces freshly squeezed lime juice
1-ounce orange liqueur
2 ounces tequila
2lime wedges
Cut the stems off the strawberries and place the strawberries in a blender with two tablespoons of the simple syrup. Pulse the blender a few times until you have a liquid with some small pieces of strawberry. Stir the mixture together with the lime juice, orange liqueur, and tequila.  Add additional two tablespoons of simple syrup, if needed. Shake or stir the mixture with plenty of ice and pour into two glasses with ice.
Photo Tip:  Use a tripod for sharp photos, you can even control your camera with a remote or phone.
10. Mojitos 
Life's too short, enjoy this summer drink pool side.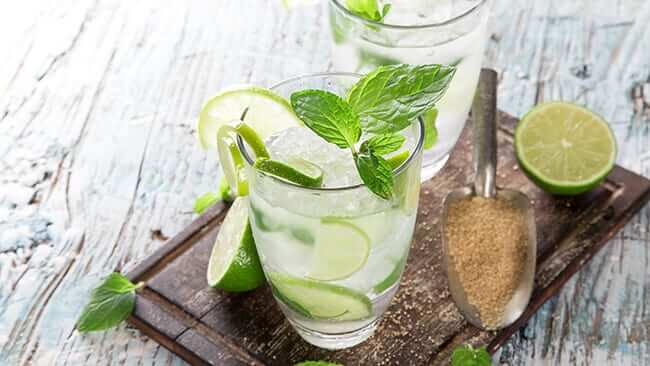 (Courtesy The Food Network)
Recipe:
2 tablespoons fresh lime juice
2 heaping teaspoons superfine sugar
1 cup crushed ice
12 fresh mint leaves, plus 5 small sprigs for garnish
1/4 cup white rum
2 tablespoons club soda
In a 10-ounce glass, stir together lime juice and sugar until sugar dissolves. Add 1/4 cup crushed ice. Rub mint leaves over the glass rim, then add to glass. Gently stir for 15 seconds, add rum, remaining crushed ice, and club soda. Gently stir for about 5 seconds, then tuck mint sprigs into the final concoction.
Photo Tip: Take more than one photograph.  Shoot in landscape and portrait because you'll never know which one will lend itself best for your recipe photo book.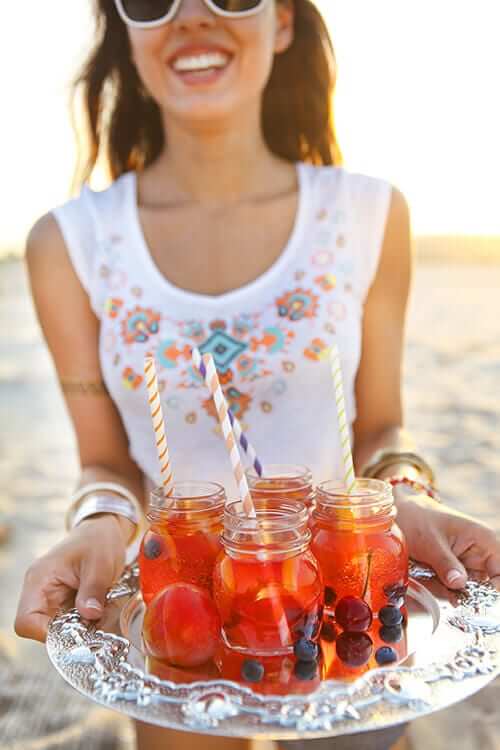 Now that you have our favorite recipes and a few of our best food photography tips what better way to show off your bartender skills with a keepsake recipe photo book filled with your favorite drinks. You can go HERE to start the fun!
Did we miss any of your favorite drinks?  Tell us in the comments below.