There are some photographers that struggle for years to find their niche.  There are also those that just happen to accidentally find it while working on an unrelated subject.  This is what happened to our January EveryDay Artist – Justin Reid of J. Reid Photography. Let's go behind the shutter and find out more about how dance became en pointe for J. Reid and his photography.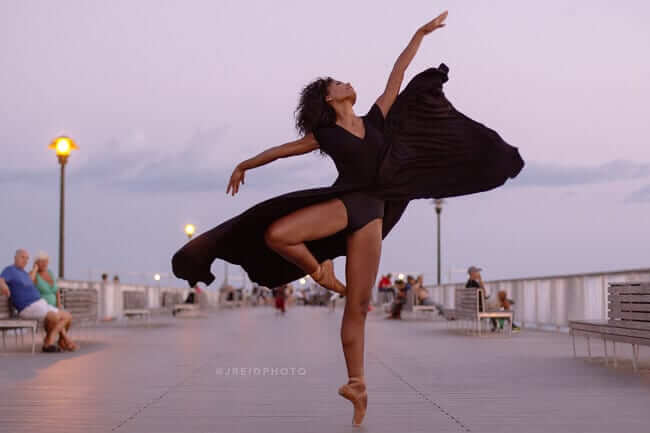 1. Tell us a little about yourself
My name is Justin Reid and I am born and raised in Brooklyn, New York. I grew up in love with computers and technology, I was very interested in how they worked and swore that when I got older I was going to have a career as a computer engineer. At the same time though, I started to like photography and was taking pictures at a early age; mostly to have memories of my childhood. Back then, I didn't care about lighting, depth of field or lighting setups, I just wanted to photograph what I thought was interesting or moments that I wanted to look back on when I was older. I didn't think that I could make photography a career until I got to college and learned about photographers like Ansel Adams, Richard Avedon, Gordon Parks, James Van Der Zee and more.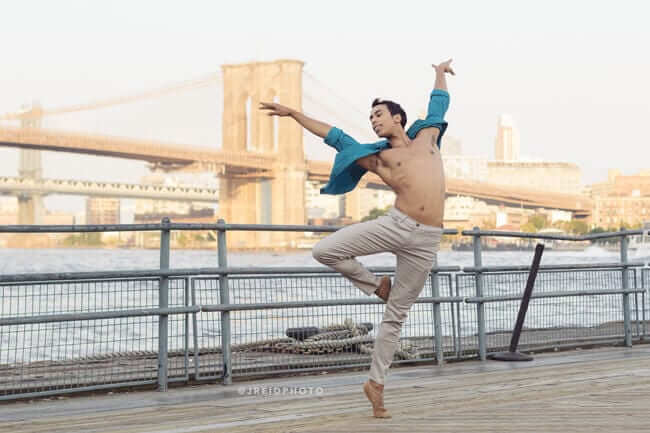 2. What made you decide to pursue dance photography?
A portrait session that I did back in 2012 was the moment the pursuit began. I asked a friend of mine if she'd be interested with helping me to combine elements of dance and fashion/style. After the session was over, she asked me if I can grab a few images of her just dancing. I figured since she helped me to experiment with my ideas that I could honor that request. With that session in the books, I wanted to see if I could do another session so I can push myself further with blending the two elements seamlessly. In my research, I stumbled across images of Misty Copeland as well as various images of other talented dancers. It was that moment I started wondering if I could photograph dancers as well as the images presented before me.
3. What challenges do you face with this type of photography?
One challenge that I'll face is scheduling a photo session. Dancers are usually either preparing for auditions for summer intensive programs or dance companies, rehearsing for performances, on tour or returning home during extended breaks or holidays. So sometimes they may not have the same free days that I will have; and sometimes when the schedules align you don't have much time to work with the dancer so you have to know what shots you are looking for. Another challenge that occurs is getting THE shot. With certain poses or movements the dancers do, you have to capture the shot at the right moment or else the overall image suffers. Oh, you also have to be mindful of pointing out to the dancer things to help correct their technique. Sometimes I'll have another dancer present (or the dancer will bring another dancer along) to help me with pointing out things to the dancer so I can focus on creating the image. Also, depending on the dancer and if the session is outdoors, the weather can make or break a session.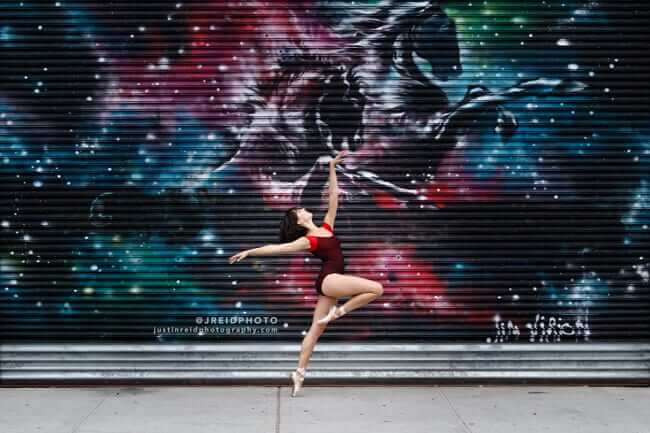 4. Advice for those starting out?
If you want to start your journey of becoming a dance photographer, know that you don't need to spend tons of money in the beginning to start taking great images. If you already have a dSLR or a mirrorless camera you are already off to a good start. As you grow as a photographer, then you can upgrade your equipment. What I would suggest is reading magazines like Dance Magazine, Dance Spirit and Pointe Magazine (to name a few) in order to see a what is considered for a dancer proper technique vs. improper technique. By looking at many images and seeing the same poses, movements and techniques shown over and over, you'll begin to get a sense of what you will have to look for when you are taking photos. Also, practice, practice and more practice! Knowledge is great but putting that knowledge to use is even better. If you have friends or your friends know people that are in dance school, trying out for dance companies or are in dance companies, ask them if they are available to take photos of them so you can get better at photographing dance. The first few sessions may not go the way you hope. But every session always provides an opportunity to learn from your successes or mistakes and to adjust accordingly.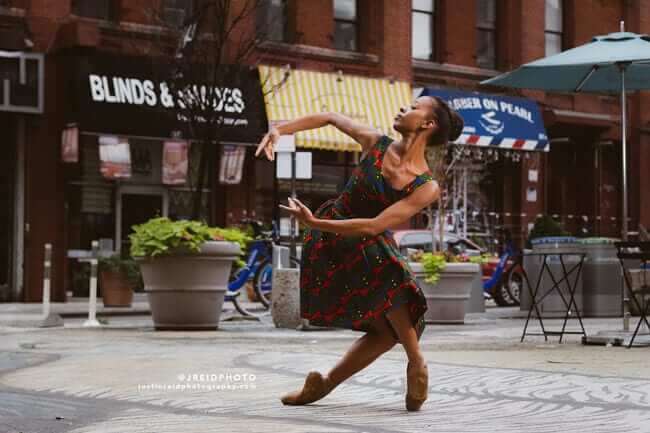 5. What's in your bag?
My LowePro bag now consists two camera bodies. A Canon 60D, which is my go to camera for my dance sessions, and a Canon M3, which I have if I wanna capture behind the scenes photos or take with me on photo walks. I will utilize three lenses during my sessions, the Canon 50mm f/1.4 USM, Canon 24-105mm L f/4 and Canon 70-200mm L f/4. Most of my sessions happen in areas that are low light and the dancers will be moving, so having the 50mm on me allows me to sit on a wide aperture to get the shutter speed I need to freeze the motion. Whenever I am able to shoot in indoor locations that allow me to use off-camera flash (or sometimes a dance/photo studio) I'll bring my Adorama StreakLight 180 flash and/or two Adorama Zoom Li-ON flashes. This will allow me to have better control of the light in the location or allow me to get creative with light.
6. Favorite shot and why?
My favorite shot currently would have to be the image of dancers Daphne Lee, Paige Fraser and Nicholas Rose. Normally when I work with dancers I work with them individually. It is easy for me to set up shots for one. Working with more than two dancers become challenging. Everyone has to be in sync and the window of opportunity to capture the image decreases with each person that is added. So capturing this image of three dancers was overwhelming but overcoming this challenge has helped me to gain confidence in my talents/abilities and makes me want to continue capturing shots like this.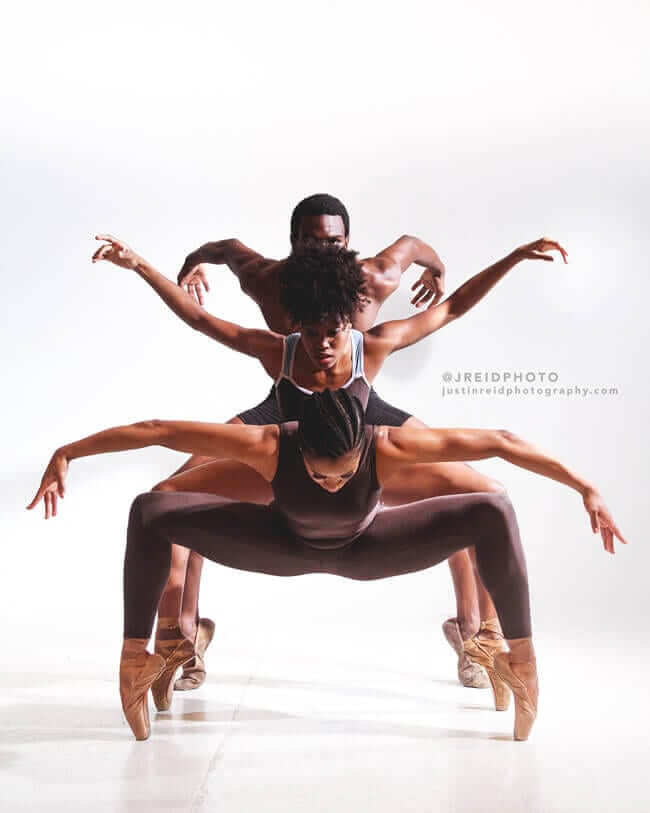 Thank you Justin  your work is very inspiring.
If you would like to see more of Justin's work you can find his website
HERE.
 Or you can follow him on Instagram
@Jreidphoto