Each Thursday, we carve out a little niche in the internet world on our blog to talk about all things photo book related. This week we have something special with a change in our Pix Publisher software.
GLOBAL CHANGES
Hold on to your hats, we've added a long awaited change to our pixpublisher editor – the ability to make changes to your entire photo book at once. In other words, if you wanted to make a change such as replacing all text in your photo book from Arial in black to Times New Roman in red, you can now do so with a single mouseclick.
Why is this a big deal? Well, let's say you're making a wedding album and you like one of the wedding templates we offer, but the colors used in the template don't match your wedding colors. Using the old method, you had to go through the whole book clicking on every piece of text, every background, every sticker, changing them appropriately. Now you can change the whole book in moments. Here's how it works.
 COPY SETTINGS
The first way to do it is using the new Apply to All option. This works like a copy/paste to your entire book. In other words, change your object to the settings you like, then click Apply to All and every other object of the same type in your book will be changed to the same settings.





BE CAREFUL WHAT YOU WISH FOR
Be aware, this will change all instances of that type of object to the exact same settings, which can sometimes have unexpected results. For example, say you had a black and white themed wedding template and you select some black Arial 22pt text and change the font to Carla Thin and click Apply to All. You may be surprised by the following results:
1.       Even though you only changed the font, all the settings were copied. Thus, if your photo book has some black pages with white text on them, the white text will also get changed to black, making it essentially invisible against the black background.
2.       If some of the text in your book is a different size – such as a larger point size on the cover title, and smaller point sizes along the spine and in paragraphs of text, all of those will get changed to 22 point as well
So, be careful when using the Apply to All because it does in fact copy all the settings from the selected object and applies them indiscriminately to all the similar objects in your book.
So what happens if you want to change a font without changing the colors or size throughout your book? That's where the global settings menu comes in.
Along the left edge of your screen you'll see a vertical row of tabs. Click the bottom one marked Settings. On the panel that opens you'll see three categories: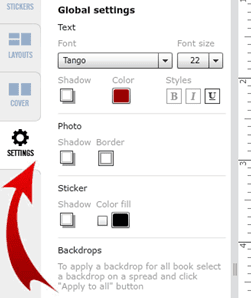 a)      Text
b)      Photos
c)       Stickers
These options will allow you to make changes to those types of elements throughout your photo book.
For example, if you would like to change just the font throughout your photo book without changing any of the other settings, you can do so here.
When you apply a change in the global settings menu, only the specific setting you change is applied.
We hope you enjoy this latest change. It should save you a lot of time when making sweeping changes to your Printique
 photo books
and it certainly makes it a lot quicker to modify our templates to match your personal vision.