The fall season is a busy time for photographers. Many families start scheduling their end-of-year portrait in time for their holiday cards and newsletters. As a photographer one of the most common questions I get asked is "What should we wear for our photo session?"
The best way to answer that is with photos, of course! I also have a few rules that work for any season and any venue. The key is to keep it simple, coordinate colors and perhaps the most important, be comfortable.
Rule #1 Pick two or three main colors to coordinate everyone's outfit
The key to having a unified family photo is to coordinate colors with everyone's outfit. That means selecting two to three main colors and then picking tops and bottoms that reflect one or all of those colors.
In the photo below, we see blends of  grey, maroon and blue. And even though the colors are not identical they are within the same color hue, which adds subtle distinction and yet unifies at the same time.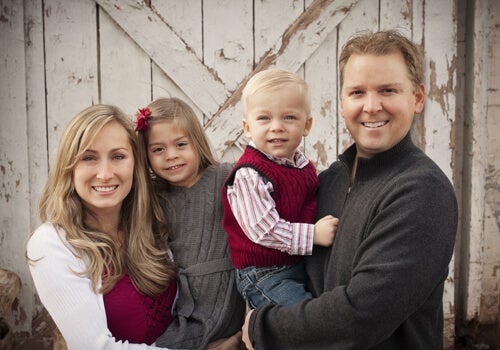 (stock photo)
Rule #2 Add accessories to highlight or cover-up
In the "What to Wear" board below I've included a scarf for mom using a color that coordinates with the daughter's top. The scarf gives a bit of color pop for mom and red is a great color to bring out the blush. Scarves can also help disguise some minor flaws in the neck or upper torso area. As for jewelry, I recommend taking off your bulky watches and bracelets as they add too much weight and detract from everyone's faces. Keep earrings and necklaces simple and coordinate them with what you are wearing.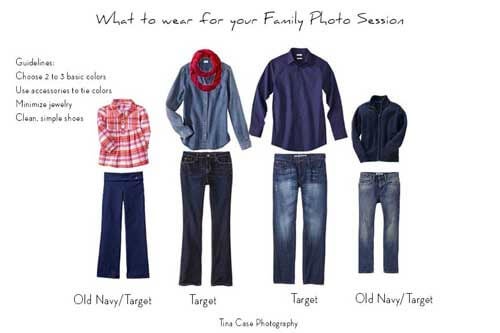 Rule #3   Use the same color hue for tiered coordination
In the second version of the "What to Wear"  board I made a subtle change from the board above.  In this example I picked tops for the boy and girl that are in the same color family.  This creates a 'team within a team' effect.  Even with identical twins I prefer they dress differently but within the same color hue to provide this subtle distinction.  This rule works well when you have a multi-generation portrait.  Use colors and color hue variations to achieve a coordinated look.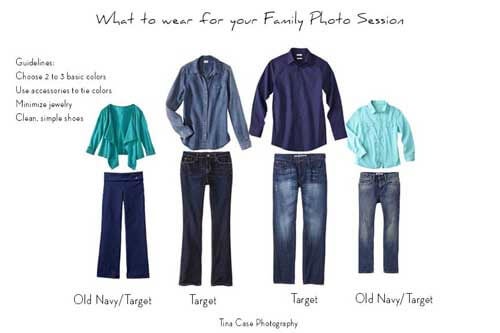 Rule #4   Use plaids and prints with caution
Plaids and large prints can be distracting in a photo.   If you choose to have a plaid or print rather than a solid color top be sure to choose subdued patterns. If two or more people are wearing plaids or stripes it's important that they work well together.  Avoid T-shirts with logos and large symbols on them because they distract the eye from the person's face.  Flowery or paisley prints should be very subdued.  Below is an example where a small print works well.  The girls' dress has a subtle print and yet ties in nicely with the mother's dress color.  The blue in the father's shirt adds a nice pop of color and compliments the red tones nicely.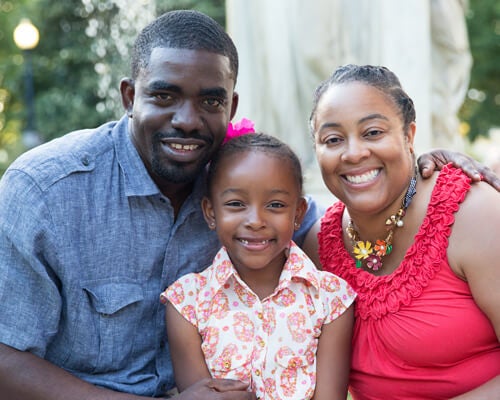 Rule #5   Keep it comfortable
Most of all when you are having your family portrait taken be sure to dress with comfort in mind.    I advise people to wear clothes that they can move freely in because when you're comfortable it's easy to have a natural and relaxed expression.  If you have uncomfortable clothes it will show in the grimace on your face and you will look stiff and unnatural.  Make it a point to try on what you're going to wear before your photo session to avoid any unnatural creases, folds or tight areas that might cause discomfort.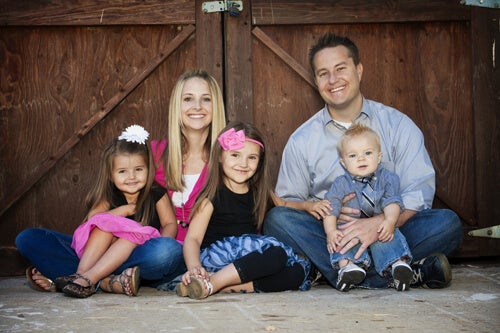 (stock photo)
Next time you're going to have a family portrait session be sure to review these handy tips.  And let us know if you have a great tip that works for you.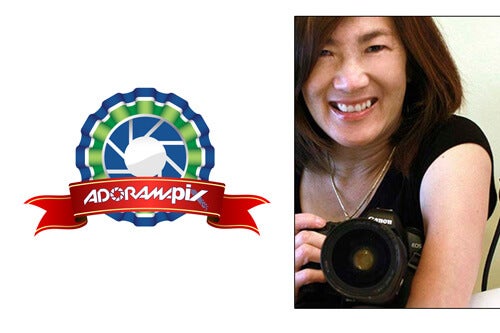 Tina Case is an Printique Ambassador and is a writer and photographer out of the San Francisco Bay area.  She co-writes for the photography blog Moms Who Click where she shares photographer tips, tricks and interviews.  Tina shares her parenting stories and more on Yahoo! where she is a featured "Parenting Guru." Check more of her photos at Tina Case Photography, on Facebook and Instagram.